Baby Shower Diaper Cakes - Photos and Tips
This page has sports themed baby shower diaper cakes. All the ideas below have been sent in by readers. So see other themes, click on the index below.
I hope the ideas on this page will help you as you create your own diaper cake.
We would love to see any photos you have of your own diaper cake. Share them with us here.
---
Sports Cake Index
---
Why should you buy a diaper cake on eBay?
Great Prices! Most sellers are work at home moms with little overhead.
You don't need to worry about being burned. The seller rating speaks for itself.
Great selection! Get a professionally designed cake to match almost any theme.
---
Photo submitted to baby shower diaper cakes gallery by:
Priscilla B. from Brooklyn, New York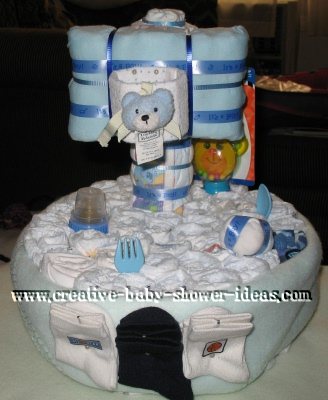 I was watching a game when I came up with this cake for a friend. It took some time.
---
Photo submitted to baby shower diaper cakes gallery by:
Suzie M. from Caldwell, Idaho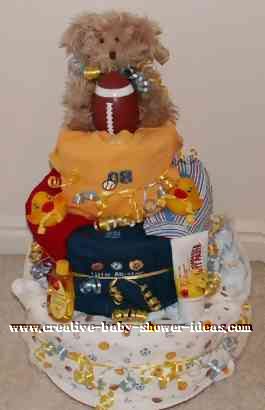 I made this diaper cake for my sister's baby shower. Her husband is a sports fanatic so I thought this would be a perfect gift for the both of them. I first rolled all of the diapers and placed clear hair bands around them. Then I stacked each layer, taking out diapers here and there to hide little gifts for them to find later.
I used onesies with a sports theme and decorated the cake with yellow and blue curling ribbon. The top layer of the diaper cake had a 4 oz baby bottle in which I put a play football and a teddy bear. They loved it!
---
Photo submitted to baby shower diaper cakes gallery by:
Cheryl from the United States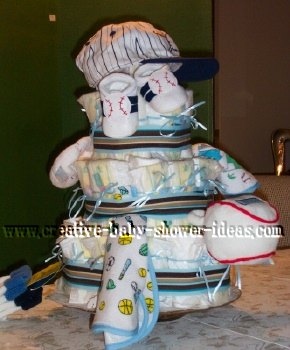 ---
Photo submitted to baby shower diaper cakes gallery by:
Pamela V. from Monroe Township, New Jersey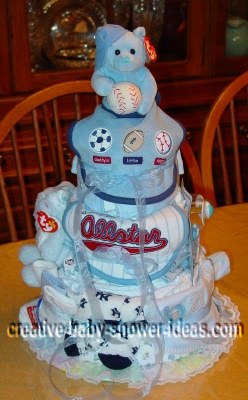 Diaper Cake "Ingredients":
40 small diapers (size 2)
1 cardboard cake plate (12" diameter)
20" square piece of baby gift wrapping paper (trim corners to make a circle)(to cover cardboard cake plate)
1 baby bottle or cardboard paper towel or gift wrap roll (15" long)
Scotch tape
40" piece of 3" wide lace
Glue
String or rubber bands to secure diaper cake layers
1 roll colored curling ribbon or 1 roll 5/8" sheer ribbon
DECORATION:
2 receiving blankets or baby towels
Baby wash cloths
1 burp cloth
Diaper pins or safety pins to hold items together
Various baby items to decorate (mini soap and shampoo bottles, baby hair brushes, teething rings, etc. . .)
1 cake topper (i.e. small stuffed animal or beanie toy)
Baby nightgown
Bibs
Any variety of items to wrap around the cake layers
CONSTRUCTION
Cut a 12" cardboard circle. Take a 15" length of a cardboard tube and cut 1 1/2 inch slits on one end. Fan the slits out, put glue on the inside of the slits, and place on the 12" cardboard circle.
Cover the base with the 20" piece of gift wrap that you have trimmed to be a circle. Scotch tape the gift wrap in place. Take the 40" piece of 3" lace, and glue it to the top side of the gift wrap. Start by rolling the diapers lengthwise around the baby bottle or around another cardboard tube, and continue to roll the diapers around themselves until you have used 20 diapers for the first layer of the diaper cake. Use scotch tape or string to secure the diapers together, or use rubber bands if you prefer.
Do the same to make the second layer of the diaper cake, only this time make it a bit smaller by only using 10-15 diapers. The third, top, layer should be only about 5 diapers round. Place each layer on the base that you have covered with gift wrap and lace.
Fold a receiving blanket to match the width of the bottom diaper cake layer and wrap around. Secure the back with a diaper pin. Do the same for the second layer. For the third, smallest layer, use a burp cloth to wrap around the cake layer and secure with a diaper pin. Tie curling ribbon or sheer 5/8" ribbon in whatever colors you choose around each of the 3 layers of the diaper cake, tie leaving enough extra ribbon at the ends to curl. Take the baby items and tuck them in the ribbon to decorate.
Top your cake off with a small stuffed animal or beanie toy, or something of similar proportion that matches your cake.
---
Photo submitted to baby shower diaper cakes gallery by:
Wendy W. from Howard City, Michigan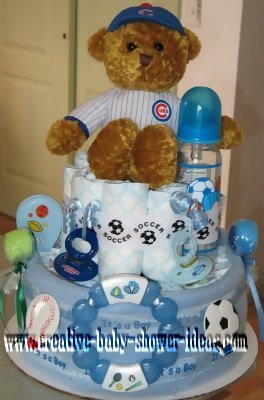 ---
Photo submitted to baby shower diaper cakes gallery by:
Connie B. from Cliffside Park, New Jersey
This is the story of two Pittsburgh Steeler fans. He is from New Jersey and she is from Pittsburgh Pa. The Pa lady went to the Big Apple to find a job. While in the office one day she noticed a desk with Steeler items on it. The occupant wasn't at the desk but our lady decides she has to meet this person. It turns out he has been a Steeler fan since childhood. A new meeting begins a friendship that turns into a budding romance. Long story short, they were married in 2004 and just gave birth to a beautiful baby girl on March 21, 2007. This cake was a gift and was made as a romantic memory of how it all began.
Items used:
15" plastic cake stand
1 very long narrow cardboard tube from gift wrapping paper
Super glue
Wide package wrapping tape
#2 size diapers
Many pipe cleaners
Very large rubber bands
Styroboard cut into circles with each circle being smaller than the one below it with circles cut into the center to slide over the cardboard tube
Dowel rods (optional)
Gold and Black wide ribbon
Fabric glue
Decorations listed below
Cello wrap
Tools- Exacto knife, Scissors
Begin by measuring up from one end of the card board tube about 6 inches. Use a ruler and draw a line down to the bottom of the tube. Do this in about 6 places around the tube. Use the Exacto knife to slice into the tube and cut from the top to the bottom of the line. Fold these lengths out from the tube to form a base to glue to the bottom cake layer. (The 15" round cake plate) Put glue on the side that will be glued to the plate and center the tube and press into place. It is best to have someone help you do this step. If the glue does not hold use several pieces of wrapping tape or duct tape to hold it in place. Roll the diapers and use a length of pipe cleaner to wrap around and hold it closed. I snipped the ends of the pipe cleaner close to the diaper and used the tip of the scissors to fold the ends in. (To prevent being pricked and to look neat) Start the first layer of the cake by placing the diapers around the tube. I placed smaller rubber bands around the first inside layer. While working outward with the diapers use larger rubber bands. You can easily slip the diaper down beside the previous diaper by simply stretching the rubber band out. Draw a circle about 1 to 1 1/2 inches smaller than your first cake plate. Measure to the center and cut a circle in the center. You will use the Exacto knife to cut these. I also cut three small circles the size of dowel rods. Slide the Styro cake plate over the tube and insert the dowel rods down to the first cake plate. This gives the cake support so it will not slide over. Start to add rolled diaper in the same way as the first layer. Continue to add as many layers in this manner until you like the size of it. The 4th layer of this cake extended beyond the tube, but was supported about half way up the diaper. Next measure the width of each layer and cut ribbon to fit. In this case I used black and gold of course. (Steeler colors) Wrap the ribbon around the cake and glue the ends together. It's good to have another person hold the ribbon as you glue together with super glue. Note: Position the ribbon on each layer to be glued at the same spot. I used the sweat suit to cover the whole line, although they were neat anyway.
Decorations used:
While home for the Holidays I was able to purchase a lot of cute things to put on the cake. The internet was also useful for finding things.
Official NFL Steeler sweat suit 18 month size
Bibs
Infant spoons
Picture frame with Mom as a baby
2 onesies
Steeler bear
Baby wipes
Diaper sacks
Rubber duck for tub water temp
Baby booties
Book
Toy football (plays the Steeler song--Dad loved it)
Most of the things were attached to the cake by using the pipe cleaners. I would punch a small hole in the packaging and leave a length of pipe cleaner and slide that length down between the diapers. The sweat suit has a hood I rolled that and inserted it into the very top center, pinned the arms into position, then pinned to the ribbon for added security. The football was just sitting on top. The whole thing was wrapped in cello paper which also helps to hold everything in place.
Grammy, who made this cake, also enjoys working on her web site at http://www.your-cup-of-tea.com.
---
Photo submitted to baby shower diaper cakes gallery by:
Renee M. from Elgin, Oklahoma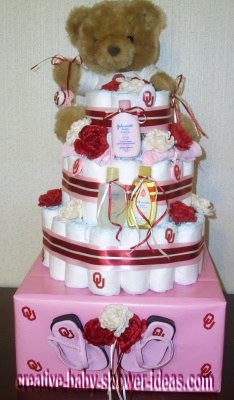 ---
Photo submitted to baby shower diaper cakes gallery by:
Angie S. from Lake Worth, Florida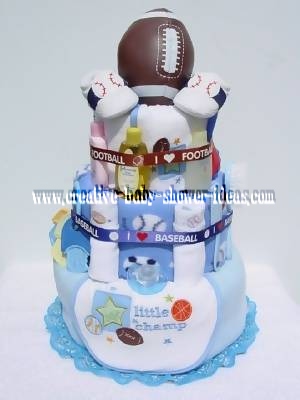 ---
submitted to baby shower diaper cakes gallery by:
Michelle. From the United States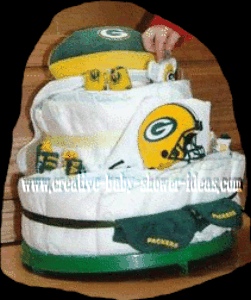 MY good friend was a big Green Bay fan, so I made her a Green Bay cake for her son's shower.
---
Photo submitted to baby shower diaper cakes gallery by:
Monique B. from Fresno, Texas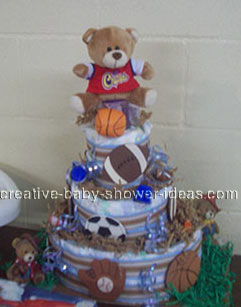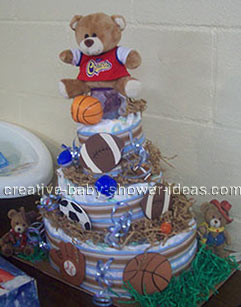 ---
Photo submitted to baby shower diaper cakes gallery by:
Felicia F from Pendleton, IN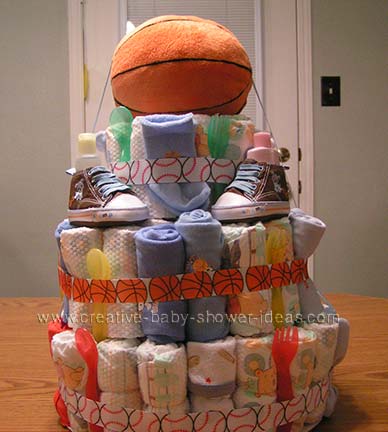 ---
Photo submitted to baby shower diaper cakes gallery by:
Felicia From the United States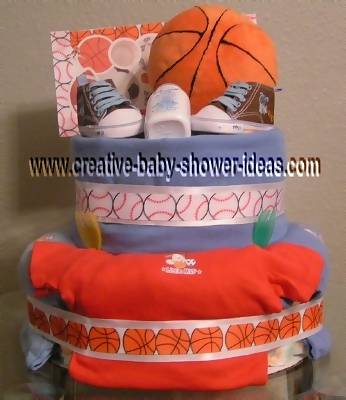 ---
Photo submitted to baby shower diaper cakes gallery by:
Heather R. from Stuart, Florida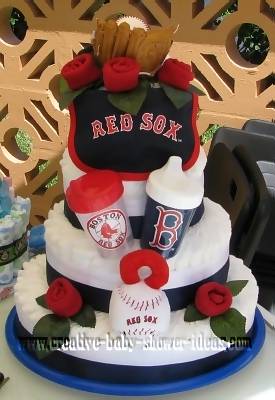 I had so much fun making my first diaper cake! My sister-in-law is a Boston Red Sox fan, and my brother-in-law is a New York Yankees fan, and they are having a baby boy, so I figured this would be a hit....and it was! They loved it and it was the talk of the baby shower! It cost me around $110 to make and I used 125 diapers.
---
Photo submitted to baby shower diaper cakes gallery by:
Stacey from Noblesville, IN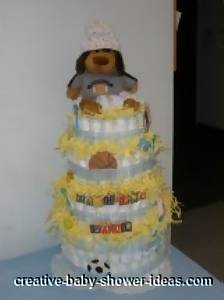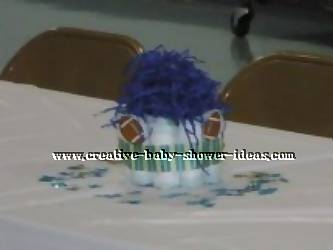 ---
Photo submitted to baby shower diaper cakes gallery by:
Amanda W. from Waterford, Michigan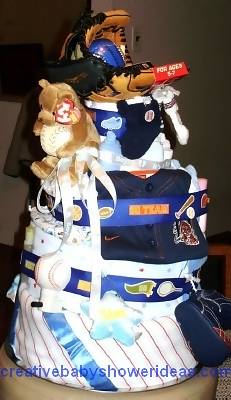 Here are pictures of a Detroit Tigers Sports Fan Diaper cake that my Mom and I made together for an upcoming baby shower. We had so much fun making it using the ideas on your website. We used 84 swaddling diapers and ended up with 4 layers. To top it off I purchased a T-ball glove and ball. Also a Beanie Baby Teddy Bear holding a baseball. We're sure to be a hit at the shower! Thank you for your great ideas!!! We think it turned out pretty good. However, these are pictures before we added the basket filler, wrapped it in cellophane, used more ribbon to secure the cellophane at the top and added curling ribbon and a bow for decoration.
---
New!

Comments

Have your say about what you just read! Leave me a comment in the box below.