Home
: Baby Shower Food Ideas
Baby Shower Food Ideas and Recipes
Take a look at some mouthwatering baby shower food ideas and recipes to serve at your party.
These side dishes can be used to compliment that perfect main dish or appetizer tray.
When choosing the perfect recipe, remember that the right recipes complement each other, can be made ahead of time, fit within your spending budget, and make your guests smile in delight. :-)
Good luck your quest of finding the perfect baby shower recipes!
You can also view and share your favorite baby shower recipes with our website readers by clicking above.
---
Baby Shower Food Ideas for Side Dishes
More Recipe Ideas:
Jello Mello Salad
Broccoli Salad
Mediterranean Orzo Salad
Melon Salad with Orange Lime Dressing
Watermelon Baby Carriage

---
YUMMY POTATO CASSEROLE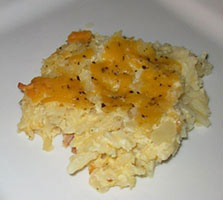 2 lbs. frozen hash browns
1 cup onions, diced
1 can cream of chicken soup
16 oz. sour cream
1/2 cup margarine, melted
8 oz. sharp cheese, grated
Salt and pepper
Thaw potatoes about 30 minutes. In a large bowl, mix potatoes and onions with combined soup mixture of soup, sour cream, melted margarine and grated cheese. Add salt and pepper. Place in 9 X 13 baking dish. Bake at 350 degrees for 1 hour.
(I like to add more cheese to the dish)
---
JELLO MELLO SALAD
~submitted by Ruth A. of Ogden, Utah~
1 pkg. Jell-O, any flavor (use color of occasion)
1 bag small Marshmallows
1 small container Cottage Cheese
1 can Fruit (mandarin oranges, fruit cocktail, etc.)
Mix all ingredients together. Chill and serve.
---
BROCCOLI SALAD
3 cups Broccoli Florets
3/4 cup Red Onion, chopped
8 slices Bacon, crispy cooked, drained and crumbled
3/4 cup Raisins
1/2 pkg. Honey roasted sliced Almonds Sunkist brand
1/3 cup Sunflower Seed Kernels
1/2 cup Mayonnaise
1/2 cup Sour Cream
Mix all ingredients together. Chill before serving.
---
STRAWBERRY SALAD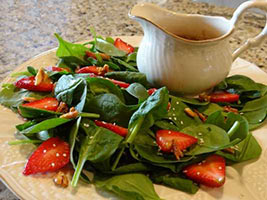 10 oz. Spinach
1 1/2 quarts of strawberries
2 tablespoons sesame seeds
1 tablespoon poppy seeds
1/2 cup sugar
1/4 cup balsamic vinegar
1/2 cup oil
1/4 teaspoon of paprika
1/4 cup slivered almonds
Clean and slice strawberries. Set aside. Cook almonds on low heat with sugar and a few drops of water until coated. Set aside. In a bowl, mix sesame seeds, poppy seeds, oil, sugar, balsamic vinegar, and paprika. Toss spinach with dressing before serving. Add strawberries and mix well.
---
SHRIMP PASTA SALAD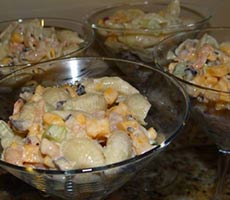 1 pkg. Shell pasta
1 pkg. Cooked Salad Shrimp
1 lb. Cheddar cheese, cubed
1 can Black Olives, sliced
2 Celery stalks, diced
1 small Red onion, diced
1 cup mayonnaise
1/2 cup Cheese Italian salad dressing
Cook pasta as directed, drain. Combine all ingredients. Chill before serving.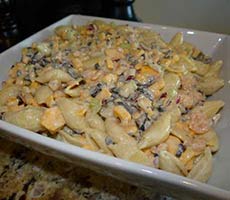 ---
MEDITERRANEAN ORZO SALAD
~ submitted by Megan P. of Brigham City, Utah~
1 lb. Asparagus Spears, trimmed, cut into 1-inch pieces
1 large Red Bell Pepper, cut into 1-inch piece wedges
1 medium Red Onion, Sliced into 2-inch wedges
1 Tbsp. Olive Oil
2 cloves Garlic, Pressed
Salt and coarsely ground pepper
3/4 cup uncooked Orzo Pasta
1 can Garbanzo Beans, drained and rinsed
1 (4 oz.) pkg. Feta Cheese, crumbled
1/2 cup Kalamata Olives, pitted, whole
1/4 cup Parsley, fresh, snipped
1/4 cup Greek vinaigrette dressing
Preheat oven to 450 degrees. Combine Asparagus, bell pepper, onion, oil, garlic with salt and pepper to taste. Spread vegetables in a single layer on a baking sheet. Bake until vegetables are tender and golden brown (around 25-30 mins). Allow to cool completely.
Meanwhile prepare Orzo pasta according to package instructions. Drain Orzo and rinse with cold water. Place in large serving bowl. Mix with vegetables and remaining ingredients. Refrigerate until ready to serve.
---
TORTELLINI SALAD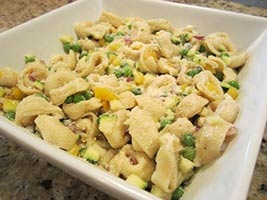 1 pound frozen Tortellini
1/2 Red or Yellow Bell Pepper, diced
1 cup frozen Peas, thawed
1 small Zucchini, cut into 1-inch sticks
1/2 red Onion, chopped
1/2 cup Creamy Italian Dressing
Cook Tortellini according to package directions. Drain and rinse under cold running water. Transfer to serving bowl. Add remaining ingredients. Toss.
Tortellini salad can be made with other mix ins. Just use the things you like, for example: cherry tomatoes, olives, artichoke hearts, and cubed cheese are great add-ins to use.
---
TOMATO, MOZZARELLA, AND BASIL SALAD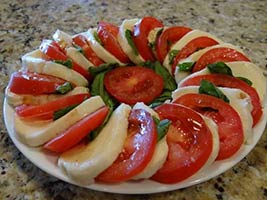 6 medium Plum Tomatoes, thinly sliced
8 oz. Mozzarella Cheese, thinly sliced
Extra Virgin Olive Oil
Balsamic Vinegar
Salt and coarsely ground Black Pepper
Fresh Basil Leaves, Snipped
Baguette Bread slices, Grilled or Toasted
Arrange tomato and cheese slices on a platter, alternating in rows. Drizzle with oil and vinegar. Garnish with Basil. Season with salt and pepper. Serve with Baguette bread slices.
---
MELON SALAD WITH ORANGE LIME DRESSING
2 limes
1/4 cup frozen Orange juice concentrate
1/2 tsp. Vanilla
1 Cantaloupe Melon
1 Honeydew Melon
2 cups seedless Red Grapes
Juice and zest limes. Combine lime juice and zest with orange juice and vanilla in a small bowl. Mix well and set aside. Cut melons into cubes and place in a large serving bowl. Add grapes. Pour dressing over fruit and toss lightly. Chill and serve.
---
STRAWBERRY (OR RASPBERRY) PRETZEL SALAD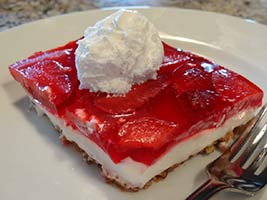 2 cups chopped pretzel bits
3/4 cup melted margarine
3 tablespoons sugar
1- 8oz. cream cheese
1 cup sugar
2 cups cool whip
1 large package strawberry or other red Jell-O
2 cups boiling water
2- 10 oz. packages of frozen strawberries or 2 cups sliced fresh strawberries (or raspberries)
Preheat oven to 400 degrees. Combine chopped pretzels, margarine and sugar in a medium sized bowl and stir to fully coat. Press mixture into a 9x13 inch dish. Bake for 8 minutes. (Don't over bake) Cool completely.
To make the cream cheese layer, combine cream cheese with sugar and blend until smooth. Fold into cool whip. Spread cream cheese mixture over cooled pretzel mixture.
To make top layer, mix Jell-O and boiling water and stir until Jell-O is dissolved. Add berries. Cool in refrigerator for 30 minutes until slightly thickened. Pour cooled Jell-O on top of cheese mixture and refrigerate for 4 hours or more. Enjoy!
---
LAYERED SALAD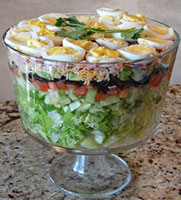 A beautiful and easy way to serve salad to your guests.
Glass serving dish (pictured above is a trifle dish)
Desired salad toppings
Layer your salad fixings evenly in a glass serving dish. Pictured in the dish above starting at the bottom is lettuce, green bell pepper, celery, cucumbers, tomatoes, olives, avocado, shredded cheese, chopped ham and sliced boiled eggs. You can add any other types of salad ingredients you would like. For instance shredded carrots, sliced almonds, crumbled bacon, shrimp, grilled chicken, spinach, feta or blue cheese, etc.
---
Baby Shower Recipes:
New!

Comments

Have your say about what you just read! Leave me a comment in the box below.