Amazing Diaper Cake Photos and Tips
"Lots of Fun! I love the photos on your site and they helped to inspire me, so thank you!"
Come see the fabulous diaper cake photos and original ideas shared by our website readers.
The average diaper cake is a 3 tier cake. But this section is not average. It is for those people who love to go all out and make the biggest, baddest, best diaper cake around.
This section I have named "above and beyond" for the talented artists who have created 5 tier and above cakes.
So, I have dedicated this hall of fame section to our dear overachiever friends. And yes, they are the best!
Have some cake photos to share with us? You can submit them to us here.
---
Above And Beyond Cake Index
---
Why should you buy a diaper cake on eBay?
Great Prices! Most sellers are work at home moms with little overhead.
You don't need to worry about being burned. The seller rating speaks for itself.
Great selection! Get a professionally designed cake to match almost any theme.
---
Photos submitted to gallery by:
Linnette G. from Oviedo, Florida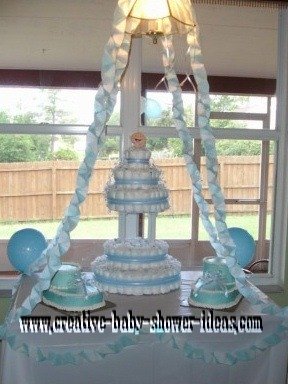 I tried a new technique when creating this tiered cake. Instead of just using string like I usually do, I used rubber bands to hold each rolled diaper together and then tied them all together with string. It was SO much easier that way, especially for such a large cake. I used about 250 size 1 diapers total. The decorations are tulle, satin & curling ribbon, and 'it's a boy' decoration sprinkles (non-edible). The frosting is made of soft string. The cake itself comes apart into three separate pieces, the bottom layer, the stand, and then the top layer. I usually place hidden items in the middle, but since it was for my own baby shower, I skipped that part!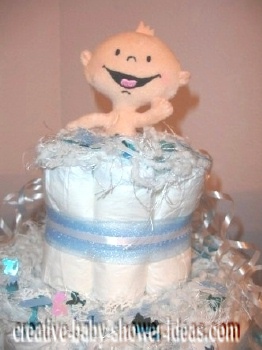 ---
Diaper photos submitted to gallery by:
Elenamarie T. from Marietta, Georgia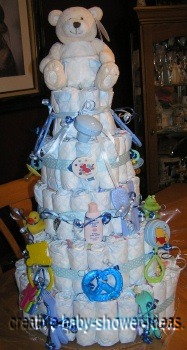 Elenamarie made this adorable diaper cake for her daughter's favorite 3rd grade teacher, Mrs. Frudden. It is 5 tiers high!! She used an empty wrapping paper roll as the center support. There are 170 size 1 diapers in it. She used curling ribbon to attach baby items such as teething rings, rattles, nail clippers, medicine droppers, fork and sppons and a comb and brush set. For the top of the cake, she added a matching teddy bear. Then she wrapped everything with cello wrap to finish it off. Beautiful diaper cake! Thanks for sharing it with us!
---
Diaper photos submitted to gallery by:
Bethany T. from Dubai, United Arab Emirates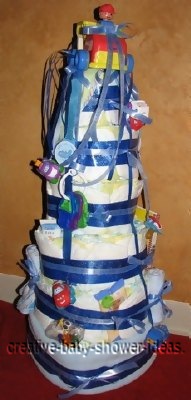 I've recently started making diaper cakes for friends and to sell. This is the most extreme diaper cake I've ever made for a friend's shower.... 7 tiers, 1 meter tall, 101 diapers, 1 blanket, 2 onesies, 2 pacifiers, 2 pacifier clips, 8 toy trucks, a book, 5 bibs, 2 washcloths, wipes, powder, shampoo, diaper cream, toy keys, a rattle and lots and lots of love!
---
Diaper photos submitted to gallery by:
Ginri J. from Conway, South Carolina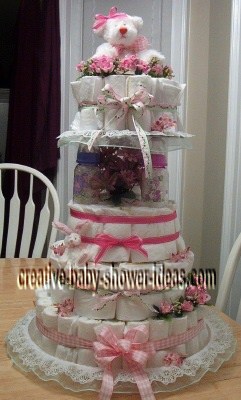 Most diaper cakes all look the same so I decided to make mine look like a real cake, it resembles a wedding cake but it is made of diapers, lace, flowers, and other baby items. Once you get the layers made decorate to your hearts/pocketbooks content. I have made several different versions of this cake but all using an open section that has bottles as the tiers. A little hot glue on the top and a card board cake board on top of it will secure the open section. Add an empty toilet paper ring in the center of the section below the bottles to have a place to put your flowers. Let your creative juices flow, the possibilities are endless.
---
Diaper photos submitted to gallery by:
Selena from Lynwood, California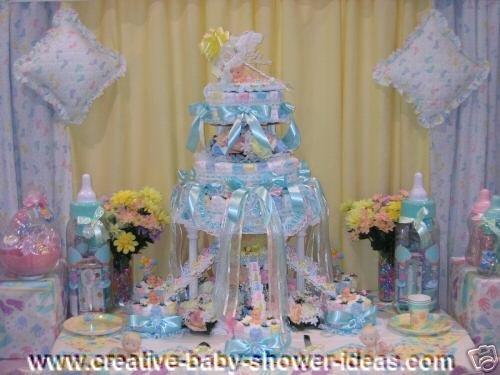 Enjoy a celebrity-style baby shower with one of my newest designs.... It LOOKS just like a "REAL" wedding cake! This design is DEFINITELY a "HUGE HIT" at any baby shower! Everything is fully usable for the new mom to be!!!
---
Photos submitted to gallery by:
Melissa L. from Redwood City, California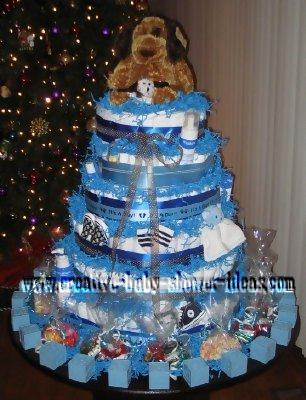 I have created a few different diaper cakes. This one was for my sister who is having a boy. I have done different research and added my own touch to these cakes. Enjoy.
---
Photos submitted to gallery by:
Joy K. from Darien, IL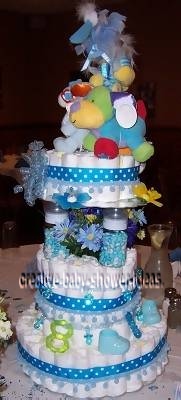 I Love your website! I got so many ideas & so much inspiration! I finally finished my 1st diaper cake for my best friend's baby shower, & I couldn't have done it without the help of the website & everyone's examples. I created my very 1st diaper cake for my best friend's baby shower- it was a big hit! I got my inspiration from viewing pictures & ideas on your website. I would like to upload the pictures of my cake here as well. Thanks again & keep up the good work with the site!
---
Diaper photos submitted to gallery by:
Connie C. from Roberta, Georgia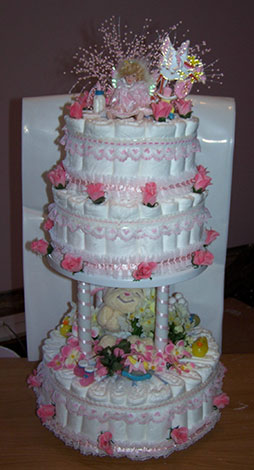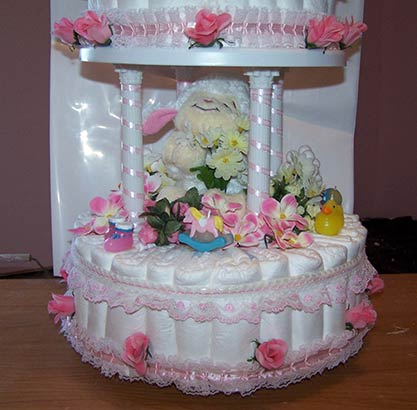 I used 150 size 1 diapers lace doubled sided tape to hold the lace around the diapers 4 cake columns to hold the other layers then I put the lamb which says the now I lay me down to sleep prayer. For the cake topper I used a porcelain doll. Everything on this cake can be used.
---
Photos submitted to gallery by:
Maranda A. from Colorado Springs, Colorado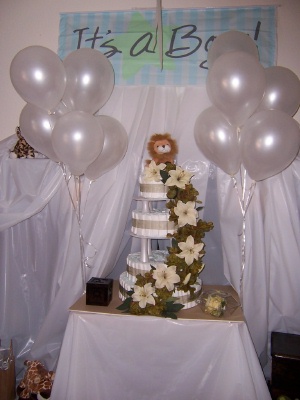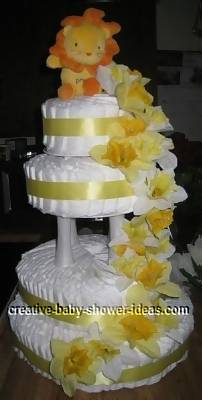 Here are some diaper cake ideas.
---
Photos submitted to gallery by:
Carla K. from Glendale, AZ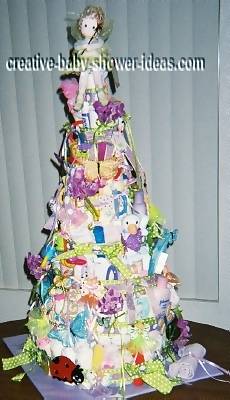 Bottom row: 2pk. size 2 diapers
7th & 6th row: 2pk. size 1-2 diapers
5th & 4th row: 1pk. size 1 diapers
3rd, 2nd & 1st 1pk. size newborn diapers
Use any thing that has to do with a baby. I bought things for 5 months before I realized I had gotten so much that the only way I could give it to my daughter was in a special way. I'm glad I did.
---
Photos submitted to gallery by:
Tami C. from Beaufort, SC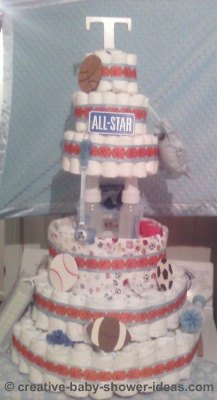 This is the first diaper cake that I have made. I made it for my brother and sister-in-law who were expecting their first son. Its 6 layers not counting the cake separator. The theme was a sports theme. This cake includes over 300 diapers ranging from size newborn to size 3.
In and on the cake there is:
A baby's birth pillow
A hand printing kit
3 pairs of hand mitts
4 baby blankets
2 bibs
4 Dr. Brown 4oz. bottles
A bottle brush
Baby powder
4 onesies
2 hats
1 pair of socks
A "T" for Triston
4 ball decorations for baby's room
1 sleeper
And I can't even remember what else.
I have since made more for my sister and others, and am trying to start selling these from my home.
---
Photos submitted to gallery by:
Angela P. from Shreveport, LA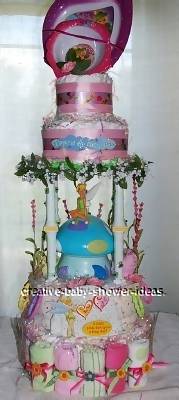 This was a really fun diaper cake to make! It's a "Tinkerbell Garden" theme! The center has Tinkerbell sitting on a mushroom bank. It is supported with pillars with 1/4" dowels run through their centers. Enjoy!
---
New!

Comments

Have your say about what you just read! Leave me a comment in the box below.