5th Avenue Baby Shower
by Nancy
(Naperville)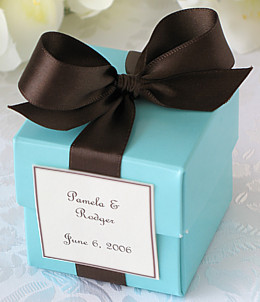 This site has given me the perfect opportunity to put my ideas out there! I always have ideas but I can never follow through with the creativity factor.
If I was just plan a shower with the theme along the lines of 'Manhattan' or '5th avenue' what steps would I take to the perfect the decor, food, and favors?
I was thinking of tiffany blue inspired favors and little prams everywhere, the 'chic' look. do you have any other suggestions?
Our Answer
:
Hi there,
A 5th Avenue baby shower would be a perfect party theme for a fashionable mom to be. Here are some ideas I came up with to match your ideas.
Saks 5th Avenue is into the ultimate luxury, so with this baby shower theme think of silver, organza, linens, crystal and china. Polka dots, stripes and mod mom styles will work perfectly with this theme.
Cover the tables with linen tablecloths to give it an upscale look. Use blue tablecloths and accent them with cream, brown or silver napkins. Since you are looking for a 5th avenue look,
use china, silver on your tables.
Some ideas for the table centerpieces, a fun idea could be fishbowls filled with water and topped off with fresh cut cream flowers. You can also use Hurricane glasses filled with blue glass beads and a tea light candle or filled with white sand and a white candle in the middle.
Use flowing fabric like organza and tulle around the room to can give it a soft, opulent feeling. Adding Christmas lights will add a soft reflecting glow. If you decide to use balloons,
opalescent pearl colored balloons mixed with blues would be perfect.
Food Ideas-
Use Food Tiers to display the food in an attractive way. Green Topiaries on the tables will also add a touch of elegance.
Some food ideas to go with your 5th avenue baby shower theme are chicken salad sandwiches, rolls, a fresh garden salad, Chinese chicken salad, and croissant sandwiches. You can offer a sparkling cider to be served in champagne glasses (non-alcoholic won't make the mom to be feel left out), teas, or even a refreshing punch would work great.
Delicate desserts like éclairs, mini cheesecakes, fudge, and other various desserts will give it a nice finishing touch.
Favors ideas that could work with your 5th avenue baby shower theme-
Tin favor pails
Glass sailboats with tea light candle
Crystal Carriage Candles
Pram favor boxes
They also have little baby carriages that you can place around the room and fill with little candies.
Best Of Luck Planning The Baby Shower!!
Mod Mom Baby Shower Invitations
Return to baby shower themes
Return To Baby Shower Ideas Home