A Dr. Seuss Baby Shower
~ This wonderful celebration story was shared with us by Maegan of www.scrapaholics.com ~
When Maegan hosted a baby shower for her friend, the inspiration came from her friend keeping the baby's name secret and calling the baby "thing".
"I don't know about you, but when I hear "Thing" I think of Dr. Seuss, thus the shower theme was born."
Since she was co-hosting the baby shower, she took on the design elements while the other two hostesses covered the food/games/guest list.
Baby Shower Invitation
As you can see, Maegan is very talented when it comes to designing. The invitation is so cute!
Baby Shower Colors
The color scheme for the shower was red and teal. Maegan decorated white tablecloths with red circles for a fun festive look.
She used blue and red feather boas and fun red polka dot ribbon on glass canisters filled with fun treats like popcorn, chocolate covered pretzels and Twizzlers.
She even found "Thing 1" Onesies and a "Cat in the Hat" hat!

She also created all sorts of Dr. Seuss-y goodness for the shower, including...
A "The Cat in the Hat" used to hold the messages to the baby from the guests.
They also had a "Guess the Jelly Beans In The Jar" game. Check out the cute sign and poem she made to go with it. Adorable!
Baby Shower Food:
At the shower, they had the most darling (and yummy) "Thing 1" cupcakes, complete with cotton candy for the hair, and Seuss-y parfaits. Have you ever seen anything so cute?!!
"It really was the perfect touch to the shower. Everyone was raving about it."

Here are the food table signs Maegan designed...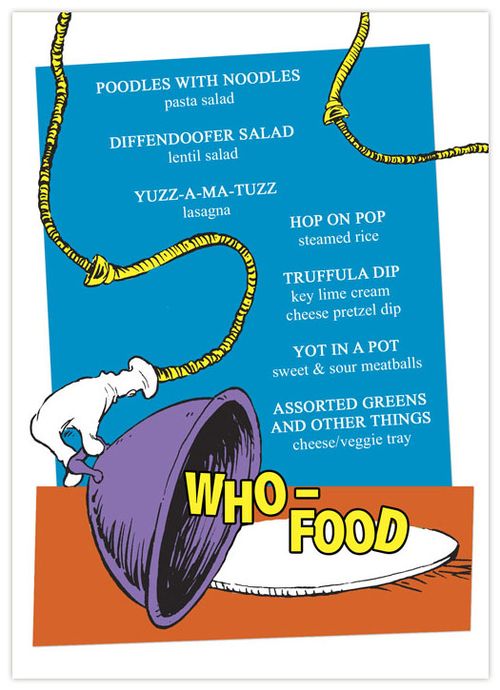 Baby Shower Activities
They set up a little "photo booth" area at the shower that she stocked with boas, flowers, a hat and a teal frame.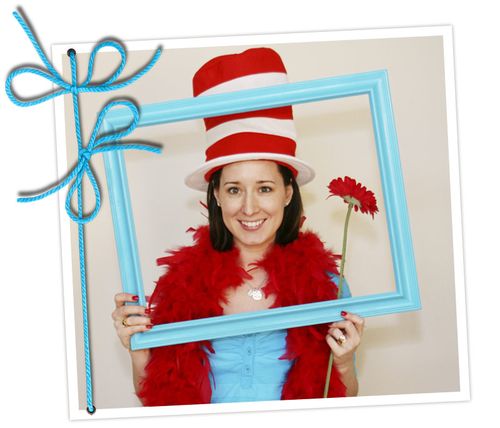 They also had the guests fill out advice cards for the new mom. Don't you love the designs?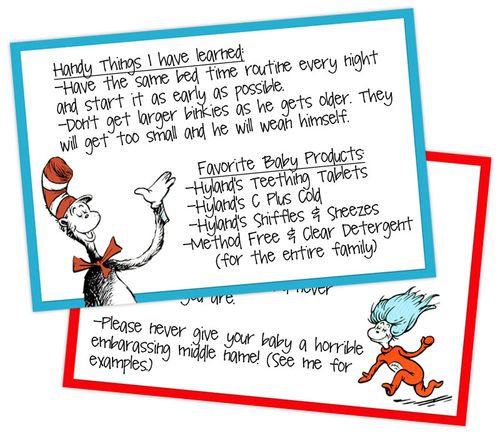 As a special mommy gift, Maegan paired the photo of each guest with their advice and created a baby shower album for Marie.
Here are some pictures of the completed photo album...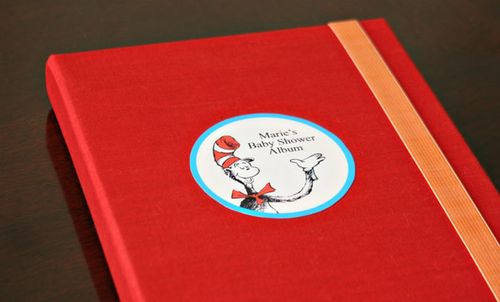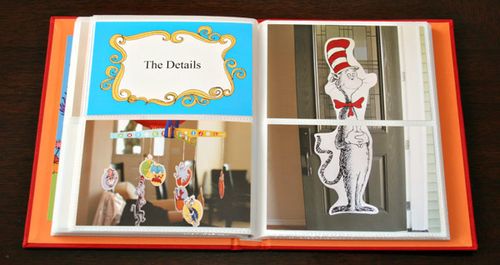 Thank you Maegan for sharing your fabulous baby shower ideas with us!
***Please note*** We've had lots of requests for a Dr. Seuss baby shower invitation like the one Maegan created above. Unfortunately, she is not able to create one for other parties due to copyright laws. She made it for personal use for the baby shower she hosted. Sorry gals. :( Here are some
Dr. Seuss baby shower invitations and supplies
can be used.
Read More Great Party Themes and Stories
Return To Baby Shower Ideas Home