A Garden Tea Baby Shower
~ This classy office celebration was shared with us
by Jill of Homemade By Jill~
When her coworker was expecting, Jill came up with a classy way to celebrate it...A Garden Tea Baby Shower!
Garden Tea Decorations
She chose the soft calming colors of pink and green to decorate the conference room at work with.
She hung tissue pom poms over the conference table. Not only was it a beautiful touch, she stated that they were mesmerizing as they swirled under the air conditioning vents.
She pieced together an eclectic arrangement of tea cups for the guests to enjoy by hitting the local thrift shops.
As a classy accent, she created miniature tissue pom poms to wrap around the silverware sets. Just beautiful isn't it?!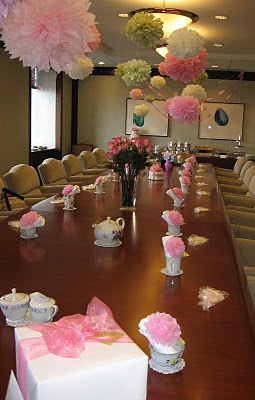 And what baby shower is complete without a diaper cake? I love how she stayed with the theme and created a garden style diaper cake. As a special touch, the flowers on this diaper cake are actually made of paper. Impressive, huh!
At the end of the conference room, she hung letter garlands as a simple and elegant touch.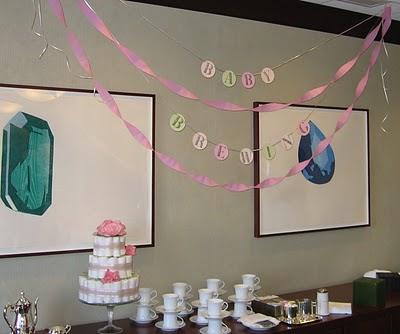 Baby Shower Food
I know most people are not lucky enough to have an in-house caterer at their work. But large companies have some great perks. All she had to do was choose the menu and they handled the rest. Talk about lucky!
They had....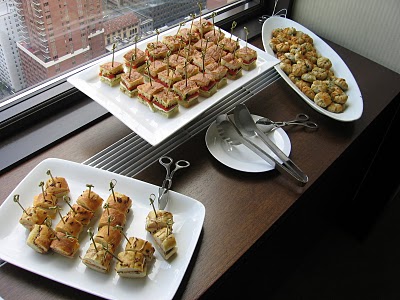 1. Turkey sandwiches with Dill Havarti on Seven Grain Bread
2. Roasted Red Peppers with Fresh Mozzarella and Pesto Spread on Focaccia
3. Truffle Risotto in Phyllo Dough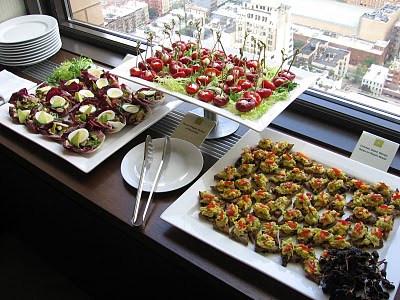 1. Chicken Cobb Salad in a Lettuce Cup
2. Piquant Pepper Stuffed with Fresh Mozzarella
3. Chicken Salad with Mango Salsa on Raisin Bread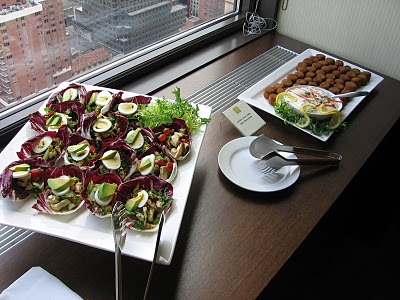 1. More of the Chicken Cobb Salad
2. Jumbo Lump Crab Cake with Dijon Remoulade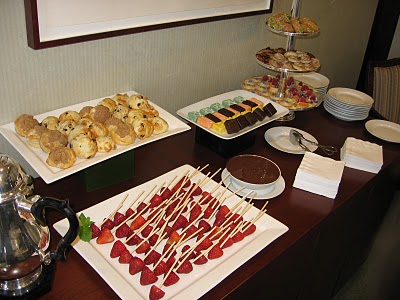 For dessert:
1. Fresh Scones with Jam
2. Skewered Strawberries with Chocolate Fondue
3. Miniature Tartlets
4. Petit Fours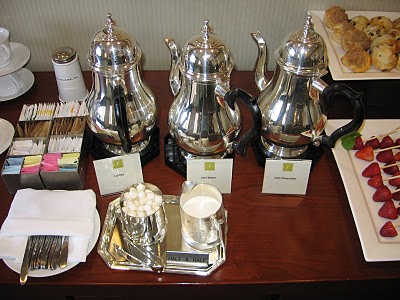 They had an assortment of hot teas, coffee, and hot chocolate for the guests to enjoy. They also had pink lemonade and an assortment of sparkling ciders available.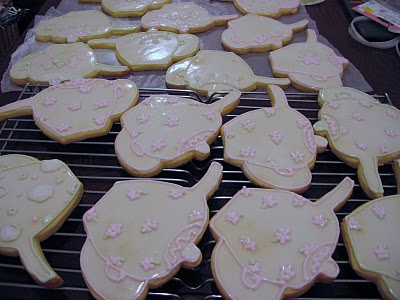 As a special baby shower favor, Jill made teapot cookies for her guests got to take home.



Thank you Jill for sharing this beautiful garden baby shower with us!






Read More Great Party Themes and Stories
Return To Baby Shower Ideas Home