A Little Pumpkin Baby Shower
by Jennifer M.
(Salem, VA)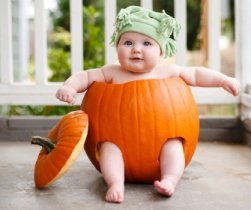 My nephew is due in November so for our October baby shower we wanted a fall theme. We did little pumpkins. I made invitations using a real pumpkin photo that I pulled from the Internet and cropped and pasted a sonogram picture on the pumpkin. We made cloth pumpkins out of blues and baby fabric for centerpieces.
We made 3 Onesie cakes and used real clothes pin and hemp rope to make them look like they were on a clothesline. Scattered fake fall leaves on food and cake tables. We used brown table cloths on all tables except the cake table. We used blue table cloths for cake table. Really wanted to have fall feel but also very baby. We placed lots of real little pumpkins around the room with baby ribbon tied to stems. We also turned a few pumpkins into babies by using pacifiers, ribbons and baby blankets. For the pumpkin themed games, we had guests guess how many candy pumpkins in a jar. We also played a bit of pumpkin trivia.
For the meal, we served BBQ with all of the fixings. We had warm apple cider to drink. To finish it off, we gave out bags with pumpkin sugar cookies with tags that read "Thank you! Love, our little pumpkin" and reused pumpkin w/ sonogram. The baby shower was not extravagant or fancy but turned out great! Couldn't get pictures to upload. I may try to add some later from my desktop.
Return To Baby Shower Ideas Home