An Alice In Wonderland Baby Shower
by Dana
(Minneapolis, MN)
The story behind the "Tea Party Cake" is: I made this cake for my sister-in-law who was having a baby girl. Her shower was held during the summer, and the theme was Alice in Wonderland, hence the tea party idea.

We had different styles of tea pots on each table as well as treats that suggested "eat me" and the tea cups had tags stating "drink me" to go along with the story.

The diaper cake, adorned with a white rabbit, clocks and a "tea cup" tied in nicely. We kept the theme, as well as all of the decorations, food and other details secret from the mom-to-be and she was thrilled with the result!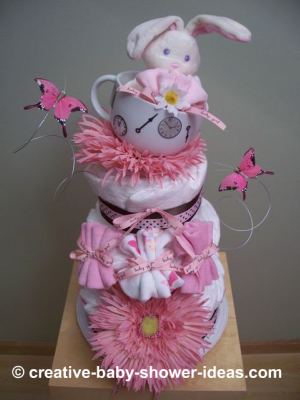 She could not get over the diaper cake. It was our centerpiece for the shower, and she was just blown away! I was so happy that she loved it! I couldn't have asked for a better response!
Diaper cake: bunny, "teacup" (actually a latte cup) 44 Pampers stage 1 diapers, flowers, washcloths, hat and bootie set, butterflies and ribbon.


The Invitation: An oversized Queen of Hearts playing card in which I used a whimsical font for the print and adorn it with bunnies and a harlequin diamond pattern in pink and brown. The nursery colors are pink and brown.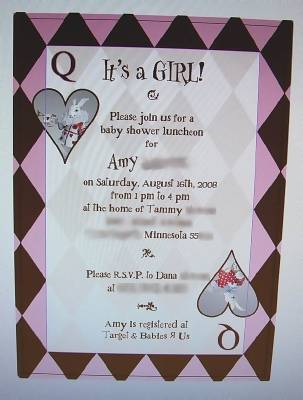 Table setting: miscellaneous teapots filled with mums and copies of pages from a beautiful children's story book used as the place mats. The "teacups" all have pink and brown ribbon tied to them along with a tag that says "drink me".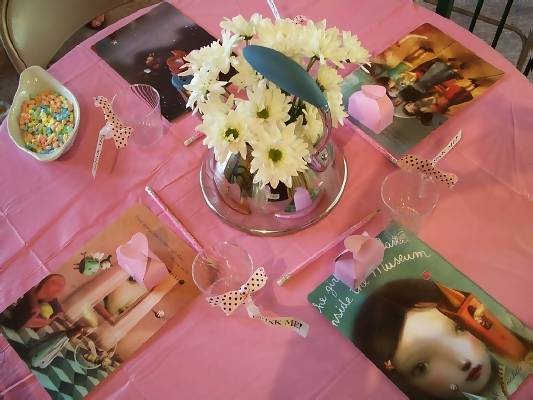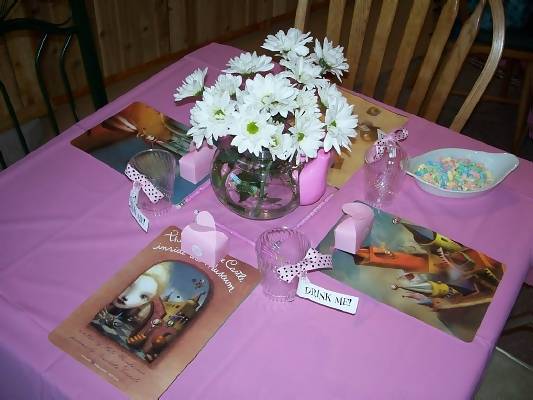 Dessert: Pink marshmallow and graham cracker sandwiches with toothpick flags stating "eat me".


Thanks Dana! Read more Alice in Wonderland Baby Shower ideas in our themes section.


Read More Great Party Themes and Stories
Return To Baby Shower Ideas Home