Baby Bootie Shower
by Char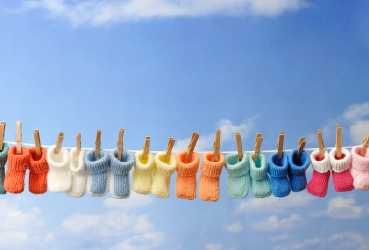 The baby will be 6 weeks old by the time we give the shower. We have chosen to make a Bootie diaper cake and have made bootie favors for each guest.
I did see the foot trivia game and thought that might be a good thing to add in. We thought of adding in various boy toys. Help! :) I don't want it to look like a hodge-podge mess either.
There could be as many as 30 guests. The guests will mostly be older ladies from the church and family members.
Dad's in the Air Force and Mom is a Photographer with the ambition to become a pilot.
The reason we chose the bootie cake is because she has had 2 other showers (first baby) before the baby's birth and they were done in traditional cake form and with Noah's Ark theme.
Thanks for your help. I have seen a lot of baby girls shower ideas, but not on baby boys much.
Our Answer
Hi Char,
Thanks for your theme question. I personally would love to have a plane theme for your friends. My husband is a helicopter pilot and
I love to snatch up any baby items I can find with helicopters on it! Depending on what kind of bootie favors you already have, you might
be able to mix the planes with the baby booties for a fun shower.
I will mainly stick with the bootie theme with my ideas. If you would like some ideas for a plane theme just fill out another form and I will work on it for you.
Good Luck!
Baby Bootie Shower Invitations
Here is an idea if you would like to mix both together.
Use patterned scrapbook card stock paper as your background paper.
On white paper print the following to paste onto the background.
Download some cloud font from online and use it for the top of your invitation.
Spell,
"Let's Celebrate"
out of the cloud font.
Then underneath have something like:
The arrival of (mom and dad's name)'s baby boy!

We're gathering together to share baby wishes,
snuggle a baby and give lots of kisses!

Guest of honor- (baby's name-if it's known yet)

Decorate with plane and baby bootie stickers.
Baby Bootie Shower Decorations:
It would be fun to use the season's popular colors of brown and blue. Use those colors for balloons, crepe papers and other decorations.
(You can also substitute that with pastel colors)
There is bootie confetti you could use to sprinkle on the table. Gather up baby shoes and booties to decorate around the room with.
Centerpieces- You are going to have a bootie diaper cake.
Baby Bootie Shower Games and Activities:
(Since the baby will be at the shower. He will be the main attraction. So the only thing you need to worry about is keeping activities and conversation flowing so there isn't any awkward silence. The best way to do that is a few activities. You can also add a game or two if you would like to bring everyone together.)
Baby Bottle Guess-
Use a baby bottle (or clear baby bootie) and fill it with candies. Set out a paper for guests to guess the number of candies in the jar as they arrive.
Purse Weigh In-
This game is always a crack up and would be fun to do for this shower. Set a scale in the middle of the floor and announce to the guests that it
is time to weigh in.
Your guests will most likely get a horrified look on their face about now. Let them know that you will be weighing their purses to see which one is the most prepared. The heaviest purse wins a prize! This is a great ice breaker to get everyone laughing.
Baby Wishes-
Use a picture frame that has a thick mat. Leave out a black permanent marker for your guests to write their baby wishes.
The parents can later put their favorite picture of the baby in the frame.
You could also use a trivia or bingo to engage your guests. I have some
trivia ideas
located here.
Baby Bootie Shower Food-
Since this is more like a meet and greet, you can keep your food fairly casual for your guests. The baby bootie theme mainly covers your decorations
so you are wide open to any kind of food you would like to use.
Make a refreshing punch and match it up with some hand friendly food like tortilla pinwheels, bacon wrapped wienies, chips and dip, mini sandwiches... and of course plenty of sweets to keep them smiling. ;)
Baby Bootie Shower Favors-
You mentioned that you already have bootie favors for the shower. Here is another idea for others who would like this theme also.
I have a wonderful
baby bootie cup craft
that is perfect way to thank your baby shower guests. It is both easy and very cute.
Return to baby shower themes
Comments for Baby Bootie Shower

Average Rating
Click here to add your own comments
Return To Baby Shower Ideas Home