Baby Bootie Cake Instructions
~ This baby bootie diaper cake idea was submitted to our website by Linnette G. from Oviedo, Florida ~
After getting a bootie-shaped cake (the edible kind) for my first baby shower, I decided to create a non-edible rendition made with diapers!
For this bootie cake project, you will need:
1 package of diapers
Receiving blanket
Johnson & Johnson travel kit
String frosting
Tulle
Ribbon
Non edible sprinkles- if desired
Additional baby items- if desired
It consists of two layers, the bottom being oval-shaped and the top round. The two layers are held together by a receiving blanket in the middle which holds hidden Johnson & Johnson baby goodies inside... things like travel lotion, shampoo, powder, body wash, socks, washcloth, and cream.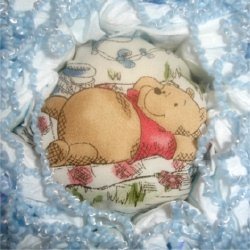 I just use string to tie the diapers together but have found that binding each diaper with a rubber band first makes the whole process much faster - and easier. I finish off the cake with string 'frosting', tulle and ribbon details, and sometimes add sprinkles as requested.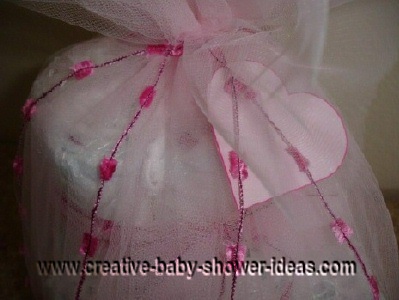 The cake is then wrapped up in tulle and bound together with some pretty matching ribbon and a heart-shaped gift-card. The large version holds 56 size 1 diapers while the smaller version (which doesn't include the hidden central core) is made with 28 size 1 diapers.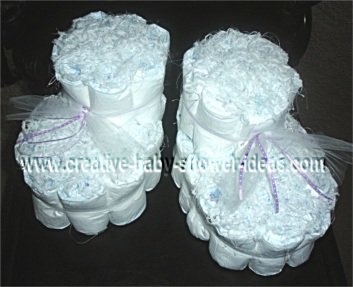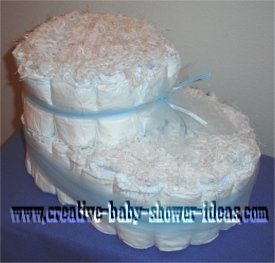 ---
Bootie Diaper Cake Photos submitted by our readers:
Photo submitted by :
Elizabeth from Springtown, Texas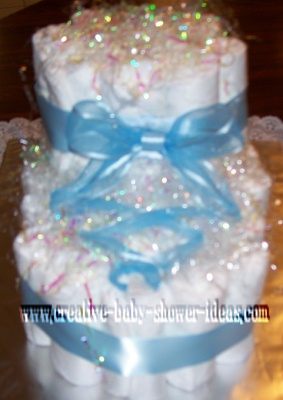 This was a baby bootie diaper cake I made for one of my bosses. I got the idea from your site and THANK YOU! It was a last minute shower and I was scrambling to find a beautiful useful gift!
---
Photo submitted by:
Ranette from Wichita Falls, Texas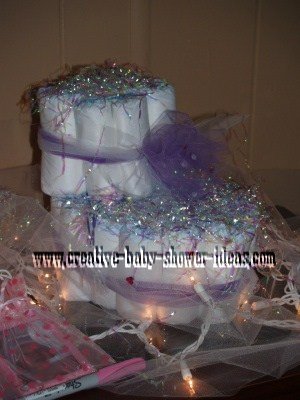 This is the first ever diaper cake that my best friend and I did. It was for my sister's baby shower and we thought we would share it with those that are thinking of making one.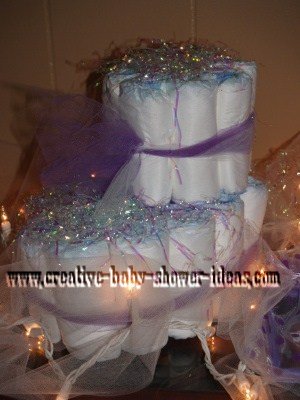 ---
Photo submitted by:
Lisa D. from Canada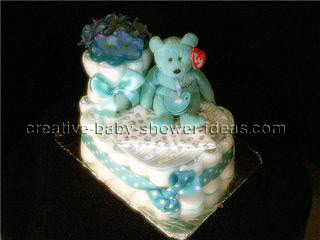 ---
Photo submitted by:
Kristy M. from Hempstead, Texas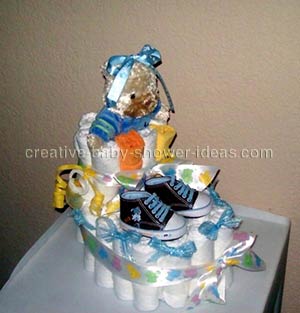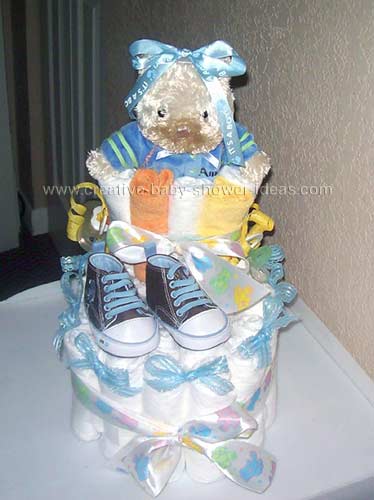 I made this baby bootie for my daughters shower. I wanted to have something different for a centerpiece, and decided the "bootie" was the way to go. I started with Huggies (size 1) diapers. I rolled each diaper up, and secured it with a rubber band. Once I got all of them done, I put the rolled up diapers in the form of a baby bootie (to form the bottom part), and secured it very tightly with string. I then did the same thing for the top layer of the bootie, but I added a couple of baby washcloths in the front to give it more color, and added a cute little bear to the middle for decoration. I then added baby ribbon around both layers of the bootie and tied it in a bow. The rest is all up to you. You can use whatever kind of decorations you like. I happened to love the little brown shoes, and thought they were really cute for decoration. I attached the blue bows with scotch tape and used curling ribbon to attach a pacifier on both sides. This was really fun to make, and I will not hesitate to make another one for the next baby shower.
---
Photo submitted by:
Karen O. from Valrico, FL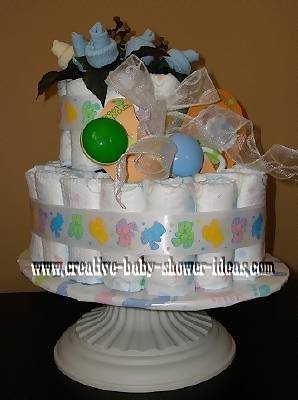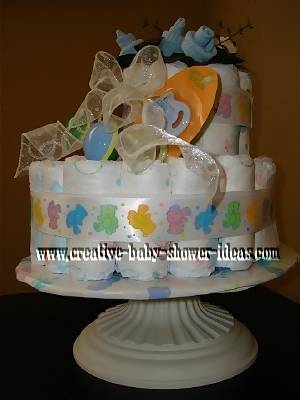 I made a traditional diaper cake when my daughter was pregnant for our granddaughter Evie and now she is having our grandson Vincent so I couldn't wait to try my hand at the Bootie cake. I inserted a bottle of Sweet Pea body lotion (a surprise for the mommy-to-be) in the center of the cake to anchor the two layers. The 'cake stand' was made from the bottom of a plastic plant container and two pieces of cardboard glued together. After assembling the cake I traced the outline onto the cardboard allowing for a little overlap, glued them together and covered them in wrapping paper. I pre-drilled holes through the cardboard and base, inserted a nut and bolted it underneath the planter base. I used large washers on the top and bottom to be sure it was stable. I made baby sock roses as a topper. The clear ribbon bow added some sparkle and allowed the rattle and pacifiers to be seen.
---
Photo submitted by:
Marsha W. from Kansas City, MO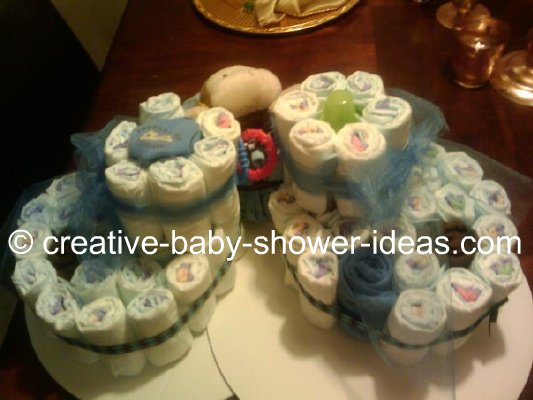 This is a pair of booties made with diapers and onesies and other baby items.
---
Photo submitted by:
Charlie M. from the United States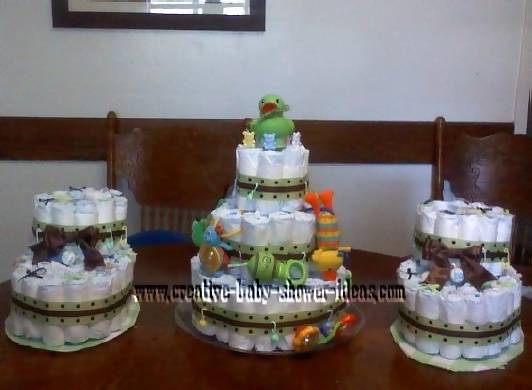 Diaper cake and matching booties was made for my daughter's friend baby shower for boy.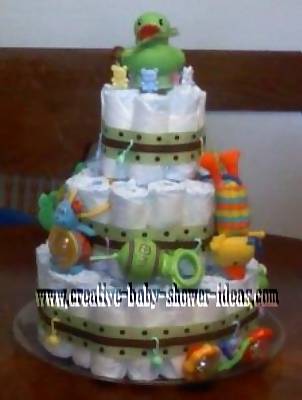 ---
Photo submitted by:
Rebekah G. from Richardson, Texas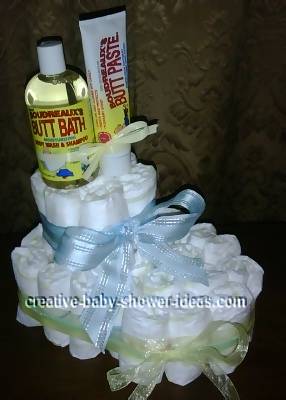 I wanted to make something special and I think this is it! Thank you all for the great tips and ideas!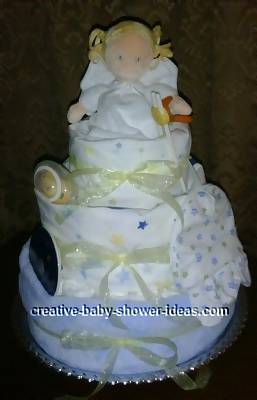 ---
New!

Comments

Have your say about what you just read! Leave me a comment in the box below.