Baby Boy Shower Invitations
Here is one of the many styles of printable shower invitations we have on our website to be used for a baby shower.
This polka dot invitation uses the popular season's colors of brown and blue. It would go great with a mod mom theme.
Visit the baby girl shower invitations page to get a matching invitation in pink.
We have provided an invitation with and without the wording so that you can adapt it to your needs and preference. Enjoy!
Polka Dot Boy Invitations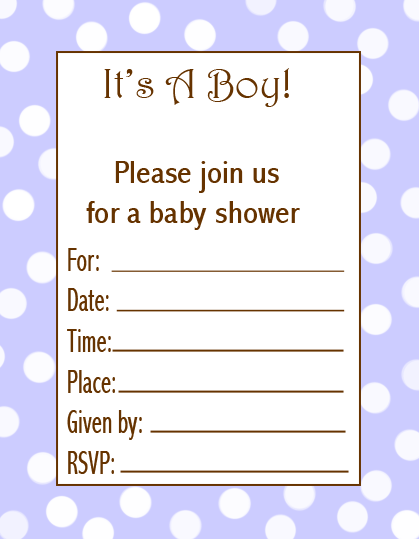 Download the Invitation:
It's easy to download the invitation for your use. Just right click on the image you want and save it to your computer. To print, double click the image and send it to your printer.
Cusomizable Temple:
To customize a blank invitaiton with your party details, open the image in your processing program. Then add your wording and print!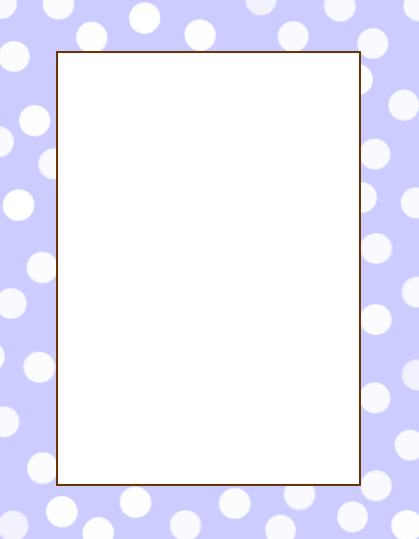 Wording Ideas to Go With Baby Boy Shower Invitations:
Boy, Oh Boy!
Baby (name) is on his way.
Please join us as we honor his mommy (name).
Bottles and booties, diapers and pins
this is where the love begins!
(Mom and dad's names) have a baby on the way
so we are celebrating with a special day!
It's A Boy!
A sweet face & tiny feet,
Someone new for you to meet...
Please join us for a Sip and See
in honor of (name) and baby (name).
It' A Baby Shower!
Please join us as we celebrate (mom's name) and her new baby boy.
It's A Boy!
A treasured gift from up above
A sweet baby boy for us to love.
Please join us for a shower in honor of (name)
There's nothing like a sweet baby boy,
to fill your heart and bring you joy.
Please join us for a baby shower in honor of (name).
Boy Invitations You Can Buy:
Below, we have gathered our favorite invitations to go with a baby boy theme. Enjoy!
New!

Comments

Have your say about what you just read! Leave me a comment in the box below.