Baby Cupcakes and A Special Bassinet Cake For The Mom-to-be
by Nickie
(PA)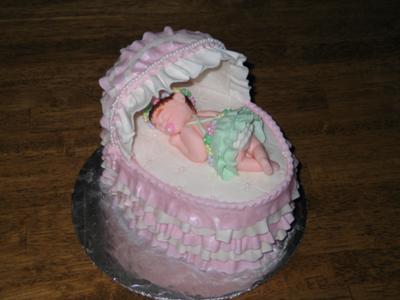 Baby Bassinet Cake

My friend was having a baby shower for her daughter-in-law and asked me to make her something really special. I decided to make baby cupcakes for the guests and a bassinet cake for her daughter-in-law! I molded the babies out of fondant about two to three weeks in advance and allowed them to dry well. Then I decorated each one individually so each guest would have their own "special delivery".

The bassinet is made out of cake with a fondant hood. I used a small mixing bowl to mold the hood out of white fondant and allowed it to dry for an entire week. I added it to the top of the cake and used fondant to decorate it in pink and white ribbons. I added shiny sparkles to give it a luster.

The baby was hand molded to look like the mold I used for the smaller babies. It was approximately four inches long and was decorated similarly to the cupcake babies.

Absolutely stunning pictures! Thank you so much for sharing them with us Nickie! I love all of the detail you put into both the baby cupcakes and bassinet cake. They turned out absolutely adorable!
Join in and write your own page! It's easy to do. How? Simply click here to return to Baby Shower Edible Cakes.
Return To Baby Shower Ideas Home