Baby Feet Shower
by Deborah
(Chattanooga, TN)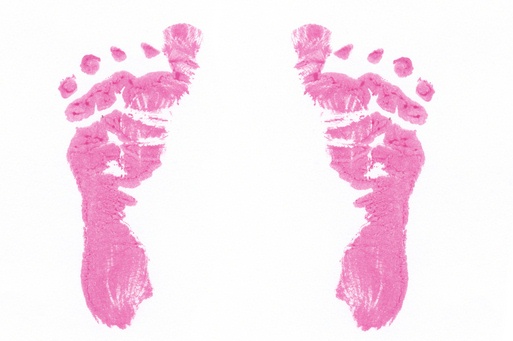 It's a Girl and we wanted to make these beautiful pink baby feet (imprint) invitations.

We were then trying to somehow carry that theme to the shower but we are at a loss past buying Baby Feet cookie cutters and making cookies for the party.

Please - any ideas??

Our Answer:

Hi Deborah,

We've put together some great ideas to help you decorate and plan your baby shower. Enjoy!


Baby Feet Themed Decorations-

Use a footprint stamp and pink ink to stamp cute footprints on a white paper tablecloth. You can randomly stamp it, outline the border or have feet lead from one food item to another.

Another alternative is to cut a footprint shape out of a sponge and stamp it in pink craft paint.

Use pink streamers and pink balloons to decorate with. They make cute pink footprint balloons which would make a great accent!

Make a sock rose bouquet for the centerpiece or use fresh pink flowers like roses, carnations or gerbera daisies.

Sprinkle footprint confetti on the table. You could use a footprint paper puncher we found here.

Baby Feet Themed Food-

You can make your traditional baby shower favorite foods and not worry too much about the baby feet theme, since your table decorations cover this for you.

But if you would like to add another touch to the food here are some additional ideas...

Use footprint cookie cutters to bring life to your food table. A meat and cheese tray cut with a footprint cookie cutter. Footprint shaped sugar cookies. Foot print shaped sandwiches.

Baby Feet Themed Games-

Feet Trivia-
How well do we know our feet? Give your guests the "All Things Foot Trivia" for a fun way to find out!

Match the socks-
As a mom, speed is of the essence when it comes to keeping up with children. You can test out parenting skills with this game. Throw a pile of baby socks on floor make sure that none of them are matched up. Then choose two or three seasoned
mommies and time each of them separately on how quickly they can pair the socks up together. The one that does it in the shortest amount of time wins.

Make this game harder by using different colors, textures, and designs on the socks.

Find The Pacifier*-

Select 2 to 3 bold guests to race to find a pacifier. The only catch is, they have to use their feet to do it! Set aside an area with a covering to protect your floor. Line up chairs for them to sit in.

Place a bucket in front of each guest. Inside the bucket is oatmeal (or another slimy goop). Hidden in the oatmeal are pacifiers. The contestants must take off a shoe and sock off of one foot, insert it in the
oatmeal and pick each pacifier out with their toes. Set a time limit and have fun! (You might want to video record or take pictures of this!!It will be pretty funny!)

*This game might add a lot of color to your baby shower with squeals of delight and yes, disgust!

Baby Themed Favors-

Here are some Baby Feet Themed Favors you could use for your baby shower...


Flip Flop Pedicure Set

Candy Bar Wrappers
Here is a cute poem you could use with your favors...

Itsy – Bitsy fingers,
Wiggly little toes,
Teeny – tiny tummy,
Baby button nose -
Lullabies & Laughter,
Lots of "baby things,"
And then to fill your heart,
The Love a baby brings.
~ Author Unknown ~
Then add, Thanks for coming to our shower!

Back to baby shower themes
Return To Baby Shower Ideas Home