Baby Garden Isabella Cake
by Aleisha
(Dexter, MO)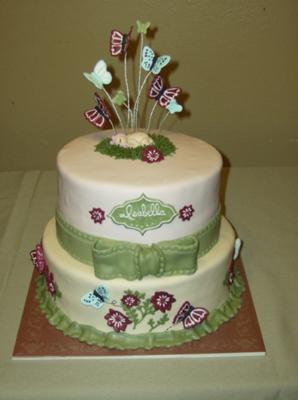 Baby Garden Isabella Cake
The most beautiful cake I have ever made. A friend of the mother-to-be gave me photos of 10 different cakes that she liked, so I pulled ideas from three of them, and the baby's room decor to make a special cake for a special friend.
Overall it was off and on, about a week-long process.

I started with butterfly and flower patterns that I had traced from photos of the baby bedding. I placed small squares of wax paper over top of the templates then drew them with royal icing. I did the butterflies in halves and let them dry overnight. Then I glued them together slanted in a cardboard holder to make the wings stand up. I let them dry overnight. The flowers were left to dry in the Wilton flower form trays to give them some depth. I used the same process with the name plate, making the green shape, allowing it to dry then adding the white details and lettering.

I made more than enough flowers and butterflies and two nameplates, just in case anything broke during final construction. The only time I had used royal icing was during a Wilton class that I had attended a couple of years ago. I knew it would take too long to try and re-make new ones.

Next, with royal icing I attached a floral wire to the back some of the butterflies and let them dry overnight.

I searched online for help with creating the fondant baby. I didn't know how skilled I was at sculpting until I got it finished.

I used two 12" (my recipe) buttercream filled and covered chocolate layers for the bottom and two 8" vanilla layers for the top. I covered each layer in marshmallow fondant, which I had only attempted once before. The fondant was made the day before so that the coloring would be set. I rolled it too thin and ended up with several air bubbles that I tried to fix, but some were still visible. I then stacked the tiers.

I wrapped them with the ribbon and ruffle I created from marshmallow fondant using the Wilton ribbon cutter tool.

Next, I used royal icing to draw the greenery on the cake and attached the nameplate, flowers, and butterflies with royal icing. I used buttercream icing and a grass tip to make the "bed" and laid the baby in it, then, stuck the wired butterflies in behind her.

The cake board was made from two layers of foam craft board covered with a piece of pretty scrapbook paper and clear contact paper.


Join in and write your own page! It's easy to do. How? Simply click here to return to Baby Shower Edible Cakes.
Return To Baby Shower Ideas Home