Baby Girl Shower Invitations
Are you looking for cute and adorable baby girl shower invitations? These free printable invitations can be used as a cute and inexpensive way to share the party news with your guests!
Here are some adorable pink polka dot invitations for your to use, we have matching invitations for boys on our boy shower invitations page.
Enjoy!
Polka Dot Girl Invitations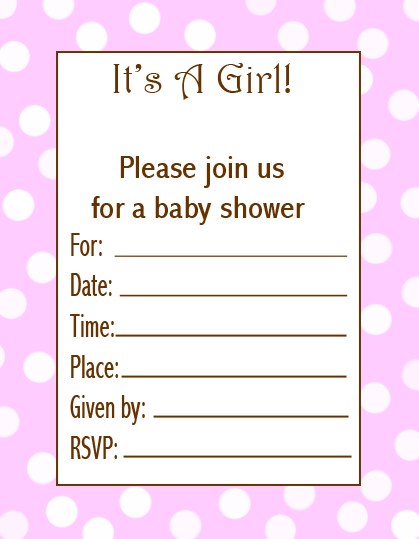 How to use the templates:
Save the file to your computer by right clicking and choosing the save option. To print the pre-filled out invitation, double click it and send it to the computer.
Save the image you want to your computer by right clicking on it. Then select the save as option. Save the image to a desired location on your computer. To print, either double click the image and select print or insert it into Microsoft word and print.
Blank Invitation:
Once you have saved the blank invitation, open it in a program like word, photoshop or illustrator to customize it.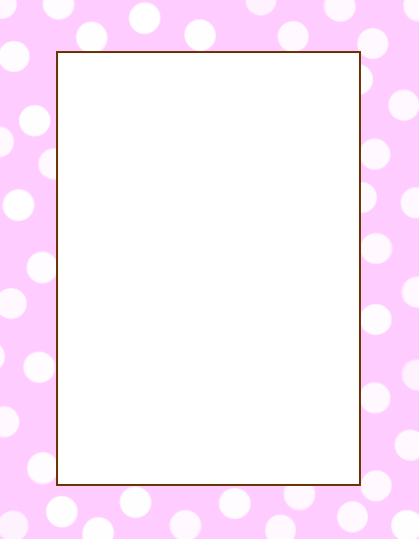 Ways to Customize Your Invitation:
Attach an embossed flower petal to the top with a gemstone brad.
Tie a bow with satin ribbon on the top of the invitation to add a cute touch.
Use a hole punch to punch 2 holes at the top. Thread brown satin ribbon through the holes and tie a bow.
Mount card on brown card stock that has been trimmed to a size that is a little larger than your card. The brown card stock will make a nice border around the edges.
A rhinestone or gemstone embellishments.
Wording Ideas to Go With Baby Girl Shower Invitations:
We're Tickled Pink!
It's a girl
Please join us for a baby shower
honoring (name).
A little girl is on the way.
Her mommy needs a special day.
It's a baby shower honoring (mom's name).
It's A Girl!
Please join us as we celebrate the baby girl coming to the (Last name) family.
An adorable baby is on her way,
Let's shower her parents before the big day!
It's a baby shower honoring (mom and dad's names).
Dresses, ribbons and cute little curls.
(Mom's name) is expecting a girl!
Please join us for a baby shower.
Baby (name) is almost due
We know it's pink, not blue!
(Name) can hardly wait
So join us and celebrate!
---
New!

Comments

Have your say about what you just read! Leave me a comment in the box below.