Baby Shower Games -
An Element Of Fun For Everyone!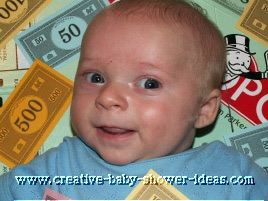 This section is full of creative, fun, and free games that can be adapted to any theme. Since most of the games could work for any theme, you might find just what you need in any of the categories.
When choosing your games, keep in mind the personality of the mommy-to-be and the age ranges of your guests. Select games that will complement the theme and type of guests you are hosting.
If you need a little help planning your games, read our Secret Hostess Game Tips Guide.
Some great tips for your shower games:
The daring games would require some animated people to give them personality.
You can use written games to help stifle awkward conversation.
Icebreaker activities get everyone warmed up and ready to play.
Keep the games moving! Game lag can sour a fun baby shower quickly.
Mix it up! A good selection of written and active games can help to make your baby shower well rounded.
If you do not know the guests, choose a few different kinds of games so you have some to fall back on if you realize others will not work.
Just a dash of creative twisting and you will have the perfect fit you need to make any baby shower a success!
Need games quickly?
I found a great site that has all kinds of unique and cute games you can print last minute. They might have the perfect game to go with your party. Click here to check it out
---
~ Free Baby Shower Games ~
Diaper Games Video Clip Included
Coed Games Video Clip Included
Baby Bottle Games Video Clip Included
What Are Your Favorite Baby Shower Games?
Found a great game to play at a baby shower? We would love to hear about it!!

Share your game ideas with us and we will feature your ideas on its own page for everyone to read.

Readers will be able to:



vote for their favorite games


comment on your great ideas


add their own ideas and twists to the game
And, if you...
Have a question about how a game is played or are looking for something that is not corny... You can also ask questions about a baby shower game. Our readers love to help each other with baby shower questions!
Our Visitors Baby Shower Games
Baby Raffle- We had a baby raffle at my daughter's baby shower. I asked guests to bring small baby items...
Don't Cross Your Legs Game!- This is a fun game that we played at the baby shower. We bought mini clothespins for guests to wear...
My Water Broke! Baby Shower Game- I played this game at a friend's baby shower. You will need tiny plastic babies and small containers...
Baby Taboo- I created a Baby Taboo version of the Taboo game for my friend's baby shower. She is a HUGE fan of the game!
Winner Takes All Baby Shower Game- A fun game that we used to collect money to go towards the mom was "the winner takes all game".
What Did Daddy Feed the Baby?!- For this game, you will need different kinds of candy bars and some baby diapers...
The Baby Bottle Race- This game was both fun and provided a good amount of baby bottles to the new mom. We started out with...
What Kind of Prizes Do You Give?- I have a question to ask...What kind of prizes or gifts do you give to the winner of the games?
Find the Pin Game- You take mini clothes pins and mix them together in a bowl of uncooked rice. This game was really tricky!
Purse Bingo- Here is a game that I played at a shower recently that I really liked. Purse Bingo! You start out with blank bingo cards...
The Mommy Memory Game- This is another version of the traditional memory game played at baby showers. This one is all about the mom-to-be.
Sock Folding Game-How quickly can your guests match up socks? We played this game to see who the laundry pro was out of our guests!
Who Am I? Game- We played this fun game as an ice breaker for my daughter's baby shower. We put names of famous moms on...
Thank You Card Activity- We had this activity at a baby shower I went to. We set out a table with envelopes filled with thank you cards...
Measure Mommy's Belly This is an easy game to play at a baby shower. We passed out toilet paper and instructed our guests to rip off as much as they...
Build A Baby Activity- Here is a fun activity we will be doing at my baby shower coming up. I have the guests bringing baby items and then during...
Baby Scavenger Hunt- We played a fun scavenger hunt at a party I recently went to. Start with a list of baby items that you have purchased for this game...
Guess How Many Diapers Game- This game is played like the traditional "guess how many" games, but it is with diapers...
Share the Wisdom Activity- A new mom needs all the advice she can get! For this activity, provide cards to the guests to share helpful advice and tips...
Lapel Baby Game- A simple door prize game for the guests. We gave a baby lapel to each guest as they arrived. On the back of each one there was a number.
Change The Baby Race- This is a great game for a co-ed event! Test the skills of the guests (and future parents) on how quickly they can change a diaper.
More Game Ideas From Our Guests- More game ideas for your party sent in by our guests...
New!

Comments

Have your say about what you just read! Leave me a comment in the box below.