Find the Best Baby Shower Supplies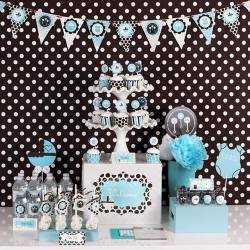 Looking for some great baby shower supplies to finish off your party theme?
Whether you are looking for something basic for your celebration or have a special theme to coordinate with, sometimes it is best to start your search online.
This way you can research the best designs and prices for you shower supplies without having to drive all over town to find them. ;)
Here is a list of my favorite online stores for supplies...
They all have baby shower sections but each one has their own strengths.
eBay is always the first place I start. I love to find great deals without all the driving! Just type in your search terms to begin.
Celebrate Express - is the one of the biggest and well respected party stores online. If you have a special theme, they most likely have something to match it.
Some of my favorites...
Baby Shower Stuff- has over 75 great themes to choose from for your baby shower. They have beautiful designs and lots of do-it-yourself ideas, including tableware, games and favors. They also have diaper cakes with customized ribbon to match the themes. So cute!!
Some of my favorites...
Beau-coup has the best favors at great prices. Their tableware supplies are pretty good too. They just came out with a cute party kit line that covers the invitations, favor tags, decorations, food labels and banner.
Here are a few of their designs
Some other great places to check out if you want to continue price comparisons are...
Invitations:
Tiny Prints and Vistaprint
are both great places to pick up invitations. They both fit my criteria above other places because #1 style-they both have beautiful and chic designs and #2 price- you can easily stay within your budget and have amazing invitations.
Here is just a few of their designs...
I hope all these ideas help you as you put together your party. I hope everything turns out great! :)
Best of Luck with Your Baby Shower!
New!

Comments

Have your say about what you just read! Leave me a comment in the box below.