Baby Shower Wishing Well Centerpiece Idea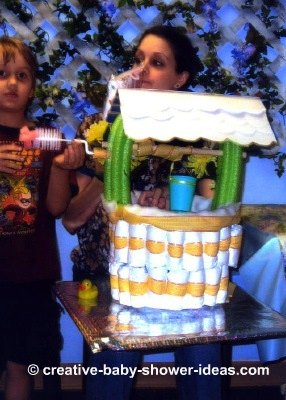 ~This wishing well centerpiece idea was submitted to our website by Pat G. from Churubusco, IN~
To make your own Wish-It-Well, you will need:
Use a round trash can size laundry basket (base diameter about 9 in). It will have open slits in the sides.
60 pack newborn diapers.
a foam wacky noodle
a bent bottle/nipple brush
a sippy cup
Use packing foam from any shipment.
1 sheet of poster board
2 pieces of cardboard
Wide ribbon in any color
6 artificial flowers
dowel rod or cardboard from a hanger.
tissue paper in same color as ribbon.
any other gifts for the well.
How to Assemble The Baby Shower Wishing Well
A. Roll the diapers and secure them to the laundry basket by winding wired ribbon through the slots. Secure the beg. and end with a twist tie.
B. Bend the wacky noodle so that the ends fit inside. Measure the top of the basket on the noodles and mark. Cut the noodles from that mark down in half so that it fits nicely inside the basket. Secure noodle with twist ties in slats.
C. Use packing foam to roll over the basket top and down inside. Use twist ties to secure to basket.
D. Cut a square piece of cardboard from a box for the base. Cut another small square and bend for the roof. Secure roof with twist ties or pipe cleaners to noodle.
E. Cut scallops in poster board and use double sided tape to attach to cardboard.
F. Stick nipple cleaner part of bottle brush into the wacky noodle side.
G.Insert dowel rod through one noodle and into the other. It gives it support and a place to hang cup.
H. Hang sippy cup, without lid, by ribbon from dowel rod and wrap ribbon loosely around rod.
I. Stick the 6 artificial flowers anywhere into the tacky noodles of the well.
J. Cut 1 by 2 inch rectangular pieces of poster board or larger (small enough to fit into cup) for guests to write their wishes for the baby on. Mom can scrapbook those later.
K. Use the inside of the well to place any other gifts inside.
L. Then lay a piece of tissue paper on top to hide the gifts.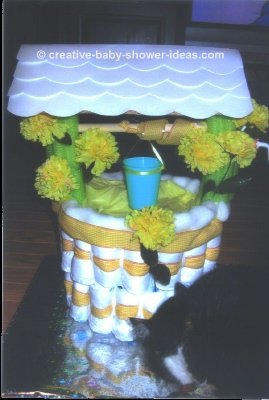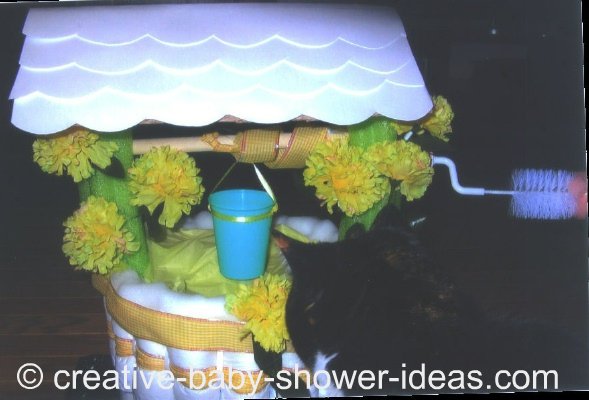 Thanks for sharing your adorable craft with us Pat! The baby shower wishing well is a very fun centerpiece idea!
New!

Comments

Have your say about what you just read! Leave me a comment in the box below.