How to Make a Baby Sock Boutonniere
I love the soft look of baby sock roses. I made this boutonniere for my brother in law and it really turned out great! Look at how classy it looks on him. You can make a boutonniere just like this for an upcoming baby shower. Just follow the photo instructions below to make your own.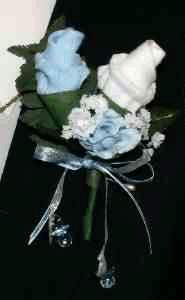 ---
Items Needed To Make Your Baby Sock Boutonniere:
1 pair of baby socks
1 small silk rose
silk baby's breath
1 silk fern
2 kinds of thin ribbon
floral wire
floral tape
miniature pacifier decorations
double sided tape
a dab of hot glue
A corsage pin
Sock Boutonniere Instructions:
Start by rolling your baby socks into roses. I used the open rose rolling technique we have on the site. Then take your floral wire and thread it into the back of each sock. You will want to cut the length of the wire a little longer than you will need to create the boutonniere.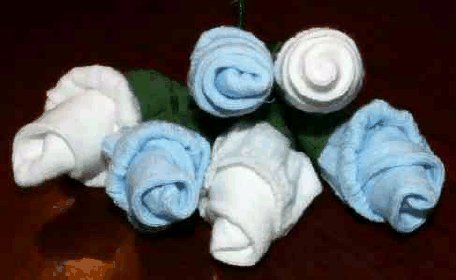 Using scissors, cut the baby's breath and fern into smaller groups. Then wrap the floral wire around each one and cut the length to match the sock roses.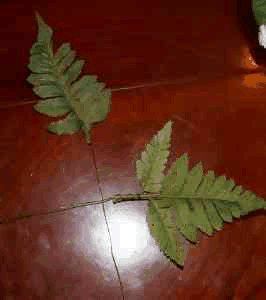 Wrap your items with floral tape to give it extra strength. I used one small fern, one silk rose and two small baby's breath sections for the boutonniere.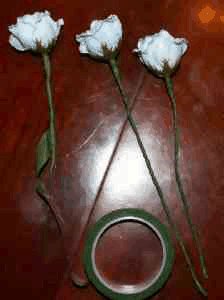 Start arranging your sock boutonniere. You will start with the fern. Place your two sock roses on top of the fern and use the baby's breath and silk rose as fillers around it. Once you have achieved the look wanted, wrap all of the wires with floral tape to hold it all together.
Add a Bow to The Boutonniere:
Take your 2 ribbons and lay one on top of the other. Cut both ribbons to the length that you will need to tie a bow around the boutonniere. Make sure you cut it a little longer than you think you will need (just in case). Tie ribbons into a single bow and separate them. Add some hot glue to hold the bow together and tie mini pacifiers to the ends.
---
Design Tip:
Add hot glue or double sided tape to the boutonniere to give the ribbon something to "grab" onto. It will want to slip off without anything else there to help hold it in place.
Want a matching baby sock corsage?
New!

Comments

Have your say about what you just read! Leave me a comment in the box below.