Create The Perfect Setting With A Baby Wreath
Create a beautiful baby wreath that can be used as a decoration and then used by the mom-to-be to welcome the little one when he/she arrives!
An adorable baby shower wreath can be hung above the food table or set as a centerpiece in the middle. Create a circle of gifts and add a beautiful art form to your baby shower table at the same time!
For the baby wreath below, I wrapped a package of onesies (baby bodysuits) around an extruded foam wreath.
I used double sided tape to attach it. Then I used curling ribbon to add fullness around each onesie.
I wrapped a blue sheer ribbon around the center and attached a baby bottle as the focal point.
Then I added trial sizes of baby supplies to the wreath. Finally, it is hung with the same kind of sheer blue ribbon.
For a variation, you can do a combination of 2 centerpiece ideas. I decided to combine the basket centerpiece with the baby wreath.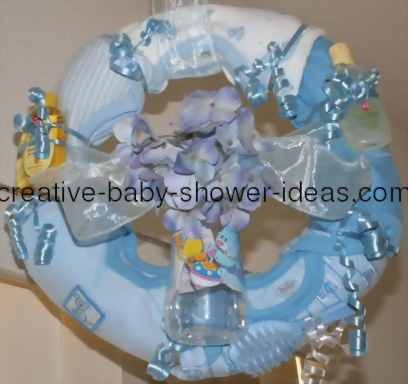 I wrapped a terracotta pot with a blue baby blanket. Inside I filled the pot with diapers and baby supplies.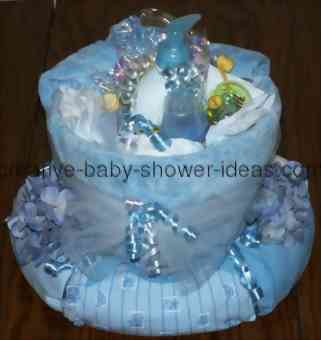 Everything you need to know to make a decision on your baby wreath.....
When making your own creative baby wreath, you will want to look at the materials necessary and decide which direction you will go with the style and design.
After you choose the type of wreath to use, you can choose how big of a role the flowers and accessories will play in your wreath. I have listed out all the information you need to know below to make an informed decision on your own beautiful wreath.
Types of wreaths available:
Straw-This type of wreath is naturally beautiful. You would not need to cover or paint any exposed wreath. Since there is a solid look to it, do not use it for light and airy looks.
Extruded foam- This type of wreath is made of a tightly packed plastic and has a very smooth look to it. It has an inner wire ring running through it for added stability. It is easy to paint.
Plastic foam- Styrofoam. Do not use it with heavy items, for it is not as sturdy as the extruded foam wreath. It is easy to paint, cut, and shape to your desired look.
Wire- This wreath is stable and very light. It holds both light and heavy items well. Everything added to it will need to be wired on.
Floral foam- The floral foam is used for fresh flowers. It is soaked in water to keep the flowers fresh.
Natural vine- This wreath is beautiful on its own. Any gaps or spaces would not need to be covered or painted.
Wood- It can be cut out of wood or bought as pressed wood particles. It is the type of wreath for crafty items like sea shells and rocks. Just glue your items to the wreath.
Ready to decorate wreaths- These types of wreaths already have the greenery on them, making it quick and easy to put a wreath together.
Floral items needed for a baby wreath:
When using flowers with a wreath, there are some needed supplies that make the job of attaching the flowers a little easier.
Silk flowers- they come pre-bundled up and you can use the stems with any further attachments
Fresh flowers and dried flowers- Cut the stems to the desired length. Most flowers are bundled and laid sideways onto the wreath. Wrap the stems with tan or green tape in bunches. Then they can be attached to the wreath with u-pins or plastic
(When using dried flowers, make sure to purchase a clear sealer floral spray. This will keep the flowers from becoming to brittle and breaking.)
Tools to attach flowers or items to your baby wreath:
You can choose the type of attachment that works best for you.
Floral wire
U-pins
Hot glue
Wooden picks
Cable tie
Fill your wreath with baby items:
Now that you have decided on the type of wreath, flowers and attachment method you are using, the fun begins! Design your wreath to give it a baby friendly feel.
Here are some great baby items that you can use:
Baby toys
Baby supplies
Baby's breath
Add green filler, cover the wreath with a blanket or onesies or add matching flowers or ribbon on top or in-between spaces to give it a finished look.
Another design idea for a baby wreath:
Baby Nest- Use blankets or onesie to make a false bottom for the wreath. Fill the baby's nest with supplies. A grapevine wood wreath would look really good for this design idea.
Don't be afraid to try new and different things and experiment. Creativity dwells in the heart of every woman. Let your creativity blossom!
Make a focal point either on the top or bottom of the wreath using flowers and/or baby supplies.
Options on making homemade hangers for your baby wreath-
Now that you have a lovely baby wreath, here are some great homemade ideas to hang it with...
Take floral wire and wrap floral tape around it. Loop the wire and twist at bottom. Attach it to the wreath in the desired location with a U-pin.
Use a chenille stem that has been looped and attached to a wooden pick.
Use a ribbon to hang the wreath from a hook or attachment in the ceiling.
You can also make a cute baby wreath out of diapers. See our diaper wreath instructions for more details.
New!

Comments

Have your say about what you just read! Leave me a comment in the box below.