A Barbeque Baby Shower Theme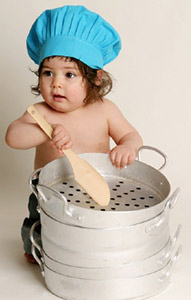 A barbeque or BaBy-Q baby shower is a fun way to bring friends and family together for a relaxing celebration of a new baby. It is typically held as a backyard celebration, with lots of natural elements coming together for a fun and comfortable experience for everyone.
This theme works great as a father-to-be baby shower or a coed party.
To ensure the guys are also involved in the party, make sure that the invitations also include the guys' names on them.
You always have the flexibility to be geared towards both parents and can include some great coed games with this theme.
Barbeque Invitation
Please join us for a BBQ baby shower in honor of Shannon and Michael Walker. (I've also seen it written as a BaBy-Q, which is such an adorable play on words.)
Include with the invitation a recipe card and instructions for the guests to share their favorite grilling recipes with the new dad.
Barbeque Baby Shower Theme Activities
Have 2 activity tables set up for guests to work on throughout most of the shower.
One table will have the supplies to create a custom grilling cookbook for the dad. Have supplies to decorate the outside of the cookbook. Make sure it is a card cookbook so the guests can insert their recipe card into the cookbook. If the cookbook has room for 2 cards on each page, the guests can fill one card with new daddy advice.
The other table will have some crafts for the guests to work on. It is good to have a few items so everyone has a turn of creating a masterpiece.
One item can be an apron for the dad to cook with. It can have a cute saying inscribed on it like," I cook for survival" or "A man's grill is his best friend"
Another item to decorate can be a baby clothing such as an onesie or bib. You can put something on it like "Got Meat" or "I'm a meat eater"
Guests can take turns decorating, signing names or writing advice on the clothing articles. You can also set out shape templates and material to do iron on designs such as a tie, cowboy hat, crocodile, owl, dinosaur, etc.
Barbeque Theme Gift Table
Set up a separate table for guests to put their gifts for the mom and dad. With it being a barbeque theme, you can use a red and white checkerboard tablecloth or have a few hay bales set up as a gift table. You could also use a vintage dresser or crib if you have one to place the gifts in.
Barbeque Baby Shower Theme Decorations
I love the look mason jars can give to a celebration. Create an inexpensive and beautiful centerpiece for your tables with mason jars that are filled with flowers. Burlap cloth also is a great cover to use over white tablecloths to add nice texture.
Fill mason jars with sand and candles to add some ambiance as the sun goes down. If you have some nice shade trees, you can also hang the jars or some Christmas lights to light up the area as it gets dark. I also love the look of using mason jars as drink containers. Line them up next to your lemonade pitcher and prep them with cute straws and drink tags for a nice touch.
Country and vintage decorations work well for a barbeque baby shower theme. Hay bales, saddles, cowboy hats and old lanterns can liven up a yard quickly. You can use a baby bathtub, giant plastic cowboy hat or aluminum tubs to put the drinks and ice in.
Hang cute baby onesies on a clothesline of twine with clothespins. It really adds to the celebration and it is a great gift to give to the parents once the baby shower is over.
A display of hay bales in the front yard with a cute sign directing guests to the back yard can also be a nice touch.
Barbeque Baby Shower Theme Food
The typical barbecue food will do for this theme. Serve the food buffet style and make sure there is plenty of seating places to accommodate your guests. Cute food signs and chalkboards can really dress up the food area. Guys can huddle around the grill shooting the breeze while the women add final touches to the activity pieces.
Additional Activities during the meal
Arrange beforehand to have a close friend of the mom and dad prepare a roast for the meal. A roast is where the friend stands up and gives funny or remember when stories. This is always entertaining for the group. The person giving the roast can end it with a toast to the new mom and dad.
You can also have guests come prepared with advice to give the new mom and dad. You can pass tongs around for them to hold while they have the floor.
Make sure you have a video recorder handy, for this will be a great addition to the couple's library!
Barbeque Baby Shower Theme Favor Idea
I love the idea of the glass bottled barbecue sauce or hot sauce. Create your own labels to go on them as a nice parting gift to your guests. They look elegant on the tables and are a fun gift to give.
Or
put together your favorite dry rub grilling mix and put in small jars as a perfect baby shower favor.
Best of Luck with your Barbeque Baby Shower Theme!
New!

Comments

Have your say about what you just read! Leave me a comment in the box below.