A Basket Baby Carriage Craft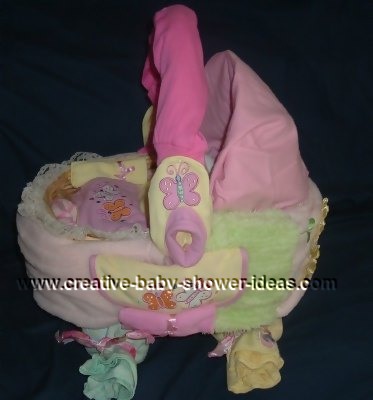 ~ This basket baby carriage idea was submitted to our website by Janice H. from Canada. ~
Craft instructions sent in by Janice
Items needed to make a baby carriage:
Two wicker baskets - a larger one with handle, and a slightly smaller one without

Hot glue gun - glue sticks

Plush blanket

4 receiving blankets

1 sleeper

1 t-shirt

1 onesie

One large baby powder

One baby bottle

Booties, Bibs, washcloths, etc.....

Safety pins, straight pins

Lace, ribbon

One doll

How to Make a Basket Carriage:
I used a large wicker basket with a handle to start (it was about 16 inches long). I then placed the smaller basket standing on its end inside the first one to make the "canopy" and hot glued it into place.
I think you can actually buy wicker baskets that already look like a bassinet.
I covered the bottom with a nice plush blanket. The handle is covered with a sleeper and the canopy is covered with a receiving blanket. These were all secured with either safety pins or straight pins.
The "wheels": one was a baby bottle and the other a bottle of baby powder wrapped in receiving blankets with ribbons tied on both ends. On each side where the handle meets the buggy are booties.
Inside the buggy is lined with a receiving blanket and the "blankets" are a matching T-shirt and onesie folded to cover the doll. I also attached bibs and washcloths here and there for extra decoration.
Most of these items can be changed up - i.e you could use all onesies, or all receiving blankets. I had bought a pack of receiving blankets and then I had a gift pack with the t-shirt, onesie, bib, booties and washcloth in it. So I just used stuff wherever it worked.
Thank you so much for sharing your adorable craft with us Janice! Simply beautiful! I love how cute it turned out. I am sure it was a hit at the party!
---
Related Pages:

New!

Comments

Have your say about what you just read! Leave me a comment in the box below.