Use A Basket Centerpiece To Add Serenity To The Mother And Gifts For The Baby!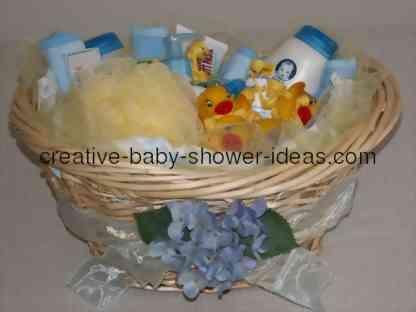 A beautiful basket centerpiece is not that hard to create. All you need is a basket and some creativity.
If you are not sure how to proceed in making the perfect centerpiece for your upcoming baby shower, relax. Keep all your eggs in one basket and we will walk through it together.
You can fill the centerpiece with items for the mommy, baby or even the guests as favors.
Let's start with the basket and end with some great theme ideas.
Choosing your basket-
There are many styles and sizes of baskets to choose from. When using a basket as a table centerpiece, you will need to look at the layout of your table.
Design-
If there is no basket handle, you will be able to work with flowers and greenery to accent the outside edges of the basket.
If there is a basket handle, you can use it to wrap ribbon and flowers around.
Do you want a large basket or small little baskets for individual tables?
A taller basket works well for bath supplies. The bath soap and lotion usually come in larger bottles.
A low, shallow basket can work with any theme. Use trial size items or a few big items to fill it.
Filler Items-
In the top example picture above, I used baby diapers to line the bottom and sides of the basket.
You can also use tissue paper, shredded paper, Spanish moss, or any other type of filler you would like. Get creative to match your theme of the baby shower.
Adding the Supplies-
Customize the items inside the basket to match your theme and the person you are making it for.
A basket centerpiece for the mommy...
The mother might be a basket case after giving birth. Which is understandably so! Give her all the materials she needs to recoup in style.
If you are doing a spa night, it would be fun to decorate the inside of the basket with items to give the mommy serenity.
Moms need alone time for a little serenity and healing after giving birth. Supply that lucky mommy to be with everything she needs to allow for "her own" spa at home.
Suggested items for a spa night centerpiece gift:
Shower cap
Bath salts
Bubble bath
Body scrubbers- loofah
Rich, thick lotions
Exfoliating scrubs
Aromatherapy
Manicure or pedicure set
A relaxing- non baby cd
A good book- maybe a cute mommy sayings book or something deep to keep her mind off of baby stuff
Hair treatments
Coupons for salon or spa treatments
Hand or foot gloves- to lotion them overnight
Chocolate- never hurts!
Makeup or a makeover coupon
Hair salon coupon
A donut to sit on
A basket centerpiece for the baby...
Supply the baby on the way with anything and everything your heart desires. Any kind of baby supplies will work for this centerpiece.
Suggested items:
Onesies- bodysuit
Lotion
Baby Bath
Bath toys
Teddy bear
Teether
Pacifier
Bottle
Socks
Sleeper
Cute outfit
Formula
Diapers
Hair accessories- for a girl
Toys
Towels or washcloths
Wipes
Lullaby cd
A basket centerpiece for the guests...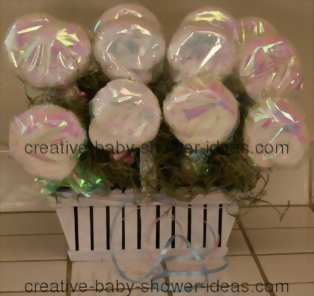 Make a lovely centerpiece that also displays cute favors for the guests to take home with them. You can use almost any kind of favor to display.
Place in a basket and decorate appropriately for your theme.
Here is any example of washcloth lollipops that I used for a centerpiece.
I tied them up with iridescent wrap to add allurement to it. The colorful wrap almost made it look like candy. Then I used floral foam to display the lollipops and Spanish moss to cover the foam.
The guests loved it! Not only was it cute for the food table, but they got to take home a useful item. No one can ever have too many washcloths!
Dress up the outside:-
Spruce up any basket with floral decor. You can also use theme items like seashells for a beach theme or flower pots for a floral theme.
Greenery, flowers, and bear grass can be weaved throughout to add a special touch to your basket.
Attach ribbon and curling ribbon to add fullness to the basket or hang balloons above it.
Add a touch of mystery-
Use tulle or plastic wrap to cover the basket. It will be harder for your guests to see the items inside, but might add the excitement of the gift giving.
Basket Centerpieces submitted by our readers:
Basket Centerpiece submitted by:
Charlene J. Natrona Heights, PA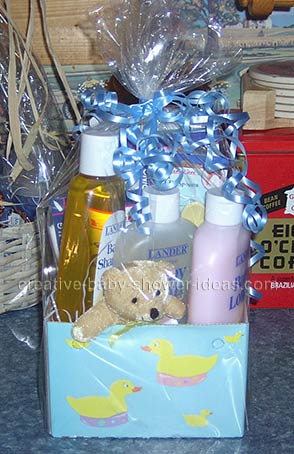 This was the center pieces at my sister's baby shower. We purchased the boxes along with the cello bags (they come in a set) at the dollar tree, we filled each box with different baby items, and this one is bath items. Baby shampoo, soap, lotion, wash clothes, and the tiny teddy bear. These were inexpensive, and gave her a nice start on the needs of bath time.
---
Basket Centerpiece submitted by:
Charlene J. Natrona Heights, PA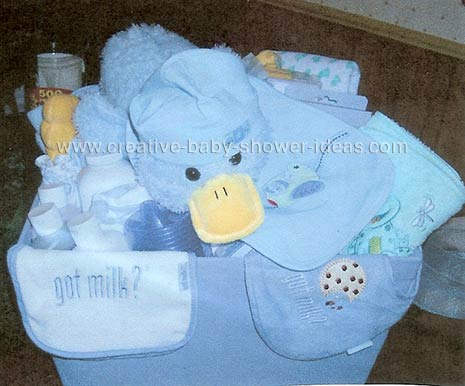 This was done as a gift for my sister's co-worker, she wanted to give her something different, and useful, but not all diapers, because she wanted her to have something more permanent. I got the idea from your site, a cross between the towel bear, and a diaper baby, and a cake. I took 3 burp clothes, wrapped them around an open diaper (cinnamon roll style) secured it with a clear rubber band, The body is a velour blue baby blanket, wrapped the same way, I attached them together by tying blue ribbon around the head, and then around the body, the base is made of 24 diapers, in cake form, I assembled the entire baby by tying ribbon through the cardboard plate (I put 4 holes in the bottom to form an x) and up around the body, then up around the head, and back down through the plate. I dressed the little guy in a blue undershirt, and a bib, the eyes and nose are wash clothes rolled up and stuck where I thought they should be, and a pacifier for the mouth. On the base, because I thought it too plain, I tied in bath products, and a cow rattle, to go along with the got milk theme.
---
Basket Centerpiece submitted by:
Christina C. from Britton, MI
I made this along with a diaper cake for my sister-in-law. It consists of a baby tub that she had on her registry, an assortment of bath products, lotions, toys, washcloths, towels, a hooded robe and a plush robe.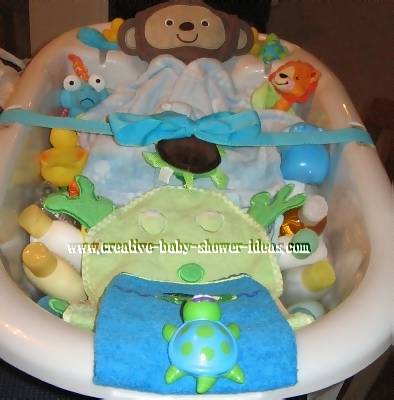 ---
Basket Centerpiece submitted by:
Brittany C. from The United States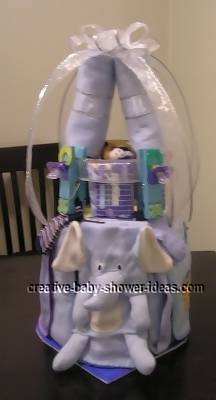 One of my friends is having her first child and I thought that a diaper cake would be perfect for her baby shower. I really didn't have that big of a budget to do this cake so I didn't actually include any diapers.....But I think it turned out ok for my first cake. Best part? Total cost for all the supplies was $37 dollars!
---
New!

Comments

Have your say about what you just read! Leave me a comment in the box below.