Bassinet Cake
by Nancy F.
(Pioneer, Ohio USA)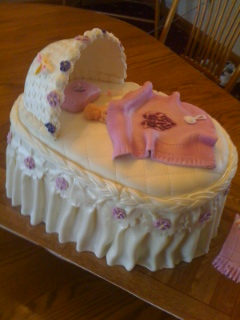 Bassinet Cake

We received beautiful photos of a bassinet cake recently that I just had to share with everyone. I love all of the detail work that was done on this cake. It turned out so elegant. Love it! Thank you for sharing your beautiful baby shower cake with us Nancy!

Nancy said...
This cake was fun to do! I made 4 -1/4 sheet cakes. After baking I cut them into an oval shape and frosted between the layers. I based iced the cake with buttercream frosting and then covered the cake with fondant. I then rolled out fondant 8 inches wide and did this in 18" sections.

Using Karo syrup as glue, I ruffled the fondant and adhered it around the top of the cake. The lace look around the ruffle was fondant cut out with a lace look cutter. I used a mold to make the rope trim and placed it on top of the lace ruffle. The hood to the bassinet was made using pastillage. I simply rolled out the pastillage and used a basket weave rolling pin to give it bassinet hood look. I then place it over a glass bowl, trimming it so it was even. When it was dry I placed it on top of the cake and trimmed it out with buttercream frosting.

The baby was made out of chocolate using a baby mold. The blanket was fondant rolled and trimmed. I used a stencil to spray a pretty design in the middle of the blanket. using buttercream flowers for the finishing touches!! The cake was adored by all and I had fun baking this for the new mom!!

Join in and write your own page! It's easy to do. How? Simply click here to return to Baby Shower Edible Cakes.
Return To Baby Shower Ideas Home