Bear Towel Cake Craft Instructions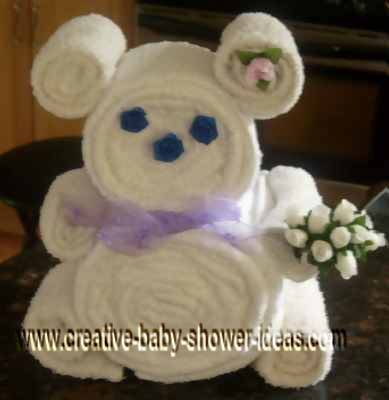 ~ This bear towel craft idea was submitted to our website by Jeraya D. of Englewood, New Jersey ~
I made this bear towel cake out of two bath towels, two hand towels and six wash cloths.
Start by folding your 2 bath towels in half lengthwise. Fold it in half again so it is folded in fourths.
Roll one towel side to side jellyroll style. Place it in the next towel and roll around it.
Tie a ribbon or use a rubber band to hold both towels in place.
Take your 2 hand towels, fold and roll them in the same fashion as the bath towels. Place a ribbon or rubber band around it. Take each of the washcloths and individually roll each from one side to another.
To construct your craft, place the hand towel layer on top of the bath towel layer.
Place two washcloths on top of the head for the ears, and two on each side of the body for the arms and legs.
To get the look of above where you do not see the ribbon attaching the bear together, you can use the same color of ribbon as the towels to blend in. Double sided tape or glue dots can also be used to attach the parts together, but test it on your towels first to make sure it does not pull the threads out.
Decorate it with cute roses and baby items. I also added a cute purple bow on front to look like a bow tie. I added ribbon roses for the eyes and nose, but you could also use squiggly eyes and a pom pom for the nose.
Thanks for sharing your bear craft idea with us Jeraya! It is fabulous!
New!

Comments

Have your say about what you just read! Leave me a comment in the box below.