Blessings Scrapbook
by Laytona E.
(Nashville, Tennessee)

How fun! Latoya shared a blessings scrapbook she made for a recent baby shower. I love this type of scrapbook because it holds sentimental details of who was at the shower and any advice or wishes that they have for the expecting mom. I love that Latoya crafted her own special version of it out of cute scrapbook paper and fun buttons. It turned out adorable. Great Job Latoya! Thanks for sharing your project with us!


Latoya shared:
I made this book so that the Mom-to-be and later the child him/herself could look back on who was there and read the blessings they wrote for the baby.

It is cardboard covered with scrapbook paper. I used the plastic from the scrapbook paper to cover the outside of the book. I used ribbon to hold the various scrapbook pages in the book and make a Velcro closure that allowed for expansion. The ducks and the bear diaper pins are actually buttons I added just for fun.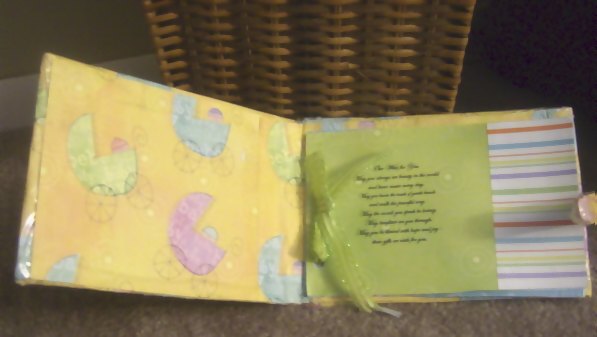 Return To Baby Shower Ideas Home