Candy Shop Baby Shower
by Nancy
(Naperville, Illinois)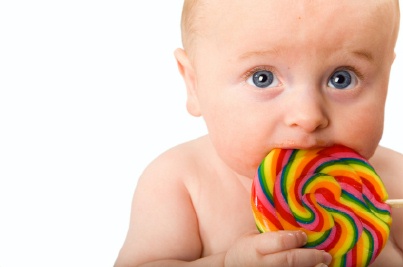 I'm looking for decoration, food, and game ideas for a baby shower with the theme of candy. I was envisioning bright lollipops and big gum balls everywhere; the colors all bright. I've seen some bistro/cafe ideas, but I like the fun part of that with all the deserts and less of the coffee. I'm planning this for my sister and she has a huge sweet tooth this pregnancy. Can you help me??
Our Answer:
Hi Nancy,
A candy shop baby shower is a "sweet idea"! Here are some ideas we have compiled to get you started...
Candy Shop Baby Shower Decorations:
The malls often have specialty candy shops that have the really big lollipops. You can use them around the room to decorate with, as a table centerpiece by placing a few in a basket or pot that has Styrofoam in it to hold them in place, or use them as fun favors for your guests to take home.
Cut big circles out of bright construction paper and tape to the walls to look like big gum balls. You can also use blue or pink as the main color and an accent color like black or brown to make it go with the baby's gender.
If you are throwing the baby shower around Valentine's Day, you can also do hearts with different love phrases on them.
Make candy striped poles by painting wooden dowels white and then use painter's tape to spiral around the dowel. Tape on both sides of your line and use another paint color to do the stripes. Use a Styrofoam ball on the top, hot glue it in place and paint it. You can place one on each side of the entry way in pots or around the room as decorations.
Place candy dishes around the room with different candy for guests to enjoy during the baby shower.
Baby Shower Game and Activity Ideas:
Candy Bar Match Up
- Use our printable game sheet to have guests match up their favorite candy bars to pregnancy words.
Since candy brings us back to our childhood, why not have a piñata? This typically is used outdoors during the summer, but if you have a space with plenty of room for them to do this indoors, it might be a fun activity. And everyone gets their own bag of candy.
Another activity that would bring the girls back to their childhood is a cotton candy machine. If you have access to one, it could be really fun to make each guest some cotton candy. (We actually had one growing up, and us girls would
literally eat it all summer!!)
Prizes for the games are of course...candy!! Or you can have homemade sweets like cookies, fudge or brownies for them to enjoy.
Food Ideas:
For food, sweet is the theme so give them lots of different selections for them to enjoy. You can do a chocolate fountain with lots of fun stuff to dip it in. You can give them a selection of... apples, pineapples, pretzels, marshmallows, cakes, and strawberries to dip in the chocolate.
You can serve shakes to the guests to give it a feel of and old fashioned candy/ice cream shop.
Candy Bar Tree Centerpiece-
This is a fun and perfect way to bring the candy theme into your table centerpiece. You can also use different shaped Styrofoam centers to make it look different.
You will need a Styrofoam cone, glue gun, lots of mini candy bars and other favorite candies(still in their packages), dowel, a square Styrofoam, and a container(terracotta pot) to put it in. Use the dowel to make a 1/2 inch indent into the bottom of the Styrofoam cone and hot glue it in place. While it is drying, cut your square Styrofoam so that it fits in your container. Once the hot glue has dried, stick the other end into the Styrofoam square and glue in place.
Once it is set, make a line of hot glue around the base of the Styrofoam cone. Stick the edge of a candy bar and hold until it is attached. Repeat this process (layer by layer) as you slowly make your way up to the tip of the cone. Each candy bar will hang over the one before, which will look really cool when you get done. You can also do this method with hard candies if you would
like. It is a bit faster since it is lighter than the candy bars.
Candy Shop Favor Ideas
-candied apples, candy necklaces, candy lipstick, lollipops, candy bars with shower info on the wrapper.
There are also lots of "Sweet" baby shower ideas on our
valentine baby shower
page that could be used with your theme.
I hope these ideas get you off to a great start! Good Luck Planning the baby shower!
Return to baby shower themes
Comments for Candy Shop Baby Shower

Average Rating
Click here to add your own comments
Return To Baby Shower Ideas Home