A Candy Sundae Centerpiece Idea
~ This candy sundae centerpiece was submitted to our website by Jeraya D. of wrapped4theoccasion.~
This fun and delicious candy centerpiece is a tasty treat to use at baby showers and mommy get-togethers. It could also double as an ultimate party prize to make the games a little more competitive.
Materials needed for this centerpiece idea:
1 glass
3-4 bags of candy
1 straw
Hot glue gun
Styrofoam ball
1 bamboo skewer
1 plastic spoon (optional)
Step 1-- Buy a Styrofoam ball that is 1 inch bigger than the sundae glass. Example... If you have a 5 inch wide glass buy a 6 inch ball you want the ball to overlap the glass.
Step 2-- Cut ball in half. You only need to use half.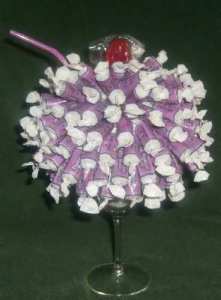 Step 3-- Fill the sundae glass with candy of your choice.
Step 4-- Glue the ball half to glass using hot glue gun.
Step 5-- Glue candy to ball starting at the bottom and work your way around. For each row place candy as if you are putting shingles on a roof.
Step 6--Cut a bamboo skewer in half. You need about 6 inches push down in to sundae leaving 3 inch visible to put straw on cut stray tip the same as skewer and place on the skewer.
Step 7--Complete the sundae by placing a red lollipop in the center and adding the tip of a plastic spoon (optional).
Extra Tip: I attached the candy to the styrofoam ball using a hot glue gun but straight pins work well also but I don't recommend doing so if the centerpieces will be used around children.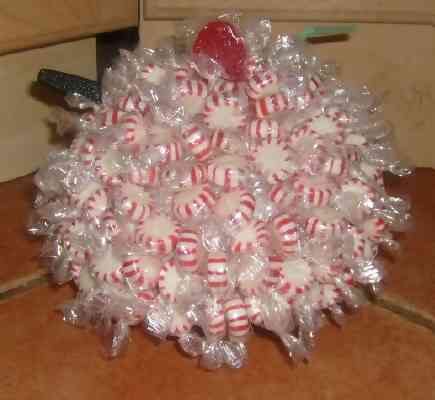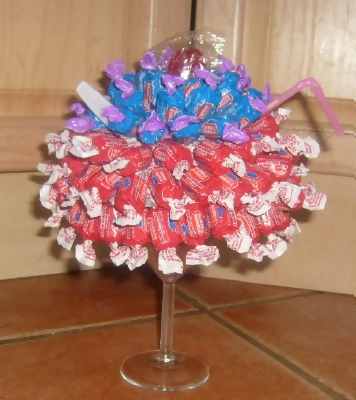 New!

Comments

Have your say about what you just read! Leave me a comment in the box below.