Cheap Baby Shower Invitations
We have lots of cheap baby shower invitations with many styles and designs for you to choose from. All of our invitations are free for you to download and use for personal use. This page has our princess invitations.
Give your guests the royal treatment with our selection of princess invitations below.
Looking for a prince invitation? We have the matching card in blue on our custom baby shower invitations page.
You can download the first one and fill out the information once it is printed. The second invitation is a blank template for you to use your own wording with. For best results, use high quality card stock when printing these invitations.
Little Princess Baby Shower Invitations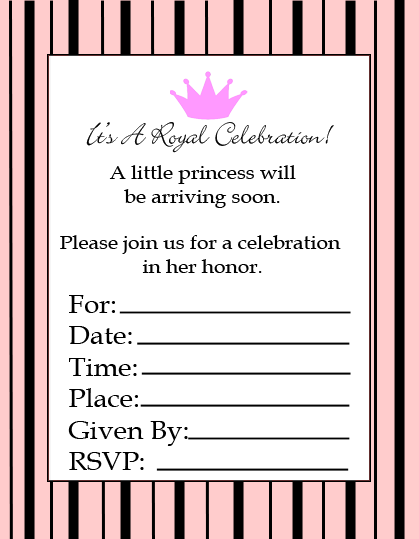 Downloading Instructions:
Save the image you want to your computer by right clicking on it. Then select the save as option. Save the image to a desired location on your computer. To print, either double click the image and select print or insert it into Microsoft word and print.
Tips for downloading and using the templates...
For best results, print the invitations on high quality card stock.
If you don't like the fonts you currently have, do an internet search for free fonts. There are lots of great fonts available online that can really dress up your invitation.

Blank Template:
Save to your computer using the method above and add the wording you would like to the invitation.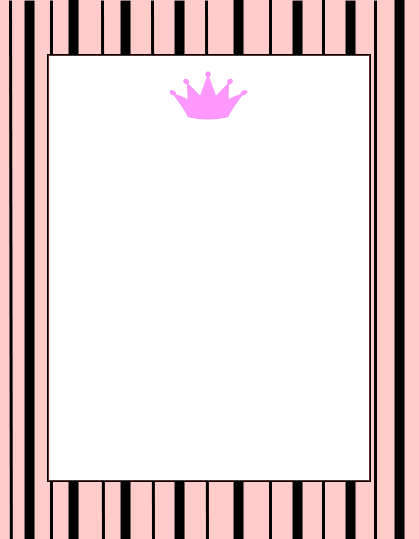 Fun ways to dress up your little princess baby shower invitation:
Add little rhinestones or gemstones to the crown
Mount the card on black card stock that is slightly larger so it shows a pretty black trim around it
Use a hole punch to punch 2 holes at the top. Thread black satin or organza ribbon through the top and tie in a bow.
Use a crown charm and attach to the card on top so it dangles.
Wording Ideas To Go With A Little Princess Baby Shower Themed Invitation:
We're tickled pink and proud to say,
Baby (name) is on her way!
Please join us for a baby shower honoring her mommy (name).
It's A Royal Celebration!
Honoring (mom's name) and her little princess.
Hear Ye! Hear Ye!
By Royal Proclamation, you have been cordially invited to a celebration in honor of the new princess arriving soon!
Hear Ye! Hear Ye!
Their little princess
will arrive soon.
You are hereby summoned to attend a
Baby Shower in her honor!
Princess (name) is on her way
So set aside this special day.
It's a baby shower!
New!

Comments

Have your say about what you just read! Leave me a comment in the box below.