Chocolate Covered Oreos
Easy Instructions for Yummy Cookie Pops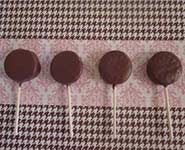 Chocolate covered Oreos can make a HUGE creative statement at your baby shower or girl party. I want to kiss the person who came up with the idea. They are so fun and so delicious. You can make them simple or get creative with the design and presentation for a yummy treat that will WOW all of your guests.
The best part is how easy they are to make. Just a little bit of time and planning and you will get great results. Dress them up and use them for your dessert table, as baby shower prizes or baby shower favors.
Just take a look at how amazing these oreo cookie pops are. I mean...really! You can't get any better than Oreos covered in chocolate and decorated to match your theme. AH-Maz-Ing is all I have to say about it! ;)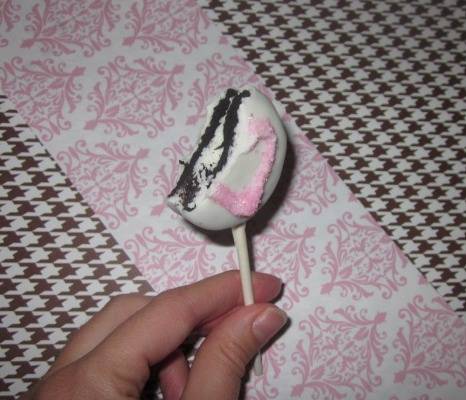 I just had to take a bite to show you the inside. Yep, there it is. Oreo bliss!
How To Make Chocolate Covered Oreos Cookie Pops- You will need:
1 package of Oreo cookies
Candy melts or chocolate- in the colors of your choice
Lollipop sticks
Wax or parchment paper
Bowls to mix candy melts in- narrow is better than wide for dipping
Spoons
A cookie sheet or large flat tray
Decorations- sprinkles, crushed Oreos or other treats, drizzled chocolate, etc.
Let's Make Chocolate Oreo Cookie Pops
Melt your candy melts or chocolate in a bowl or in a microwave safe glass. Use 30 second intervals and stir until melted. Remove the top to the Oreo cookie. Dip your sucker stick in the melted candy melts and place in the center of the Oreo cookie filling. Press down slightly into cream filling so it sets a little.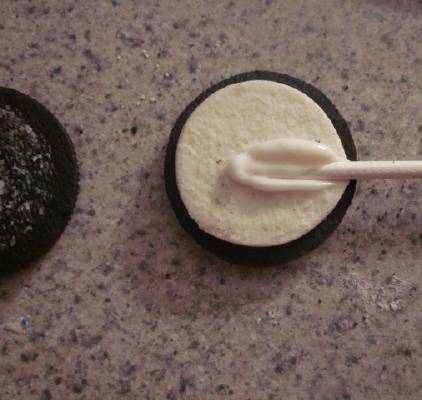 Place top of cookie back on and lightly press to reattach.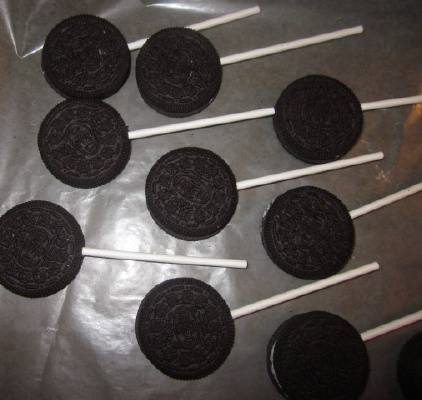 Melt candy melts in a bowl or narrow microwave safe glass. Dip the Oreo suckers in the chocolate, making sure that the whole cookie gets covered. At this point you can either place them on a waxed paper sheet to dry flat or stand them up in a sheet of styrofoam to dry standing up like a lollipop. It just depends on the look you want in the end. They are both fun!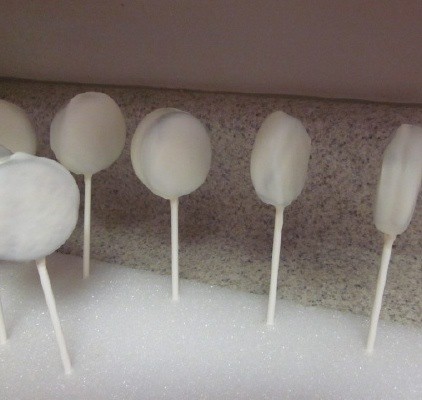 Decorate To Your Heart's Content
There are so many fun ways to decorate your oreo cookie pops. You can drizzle chocolate over it.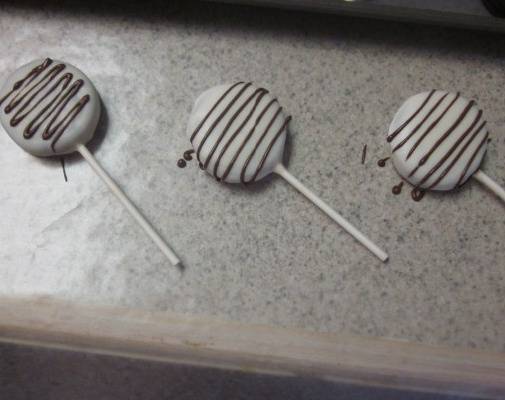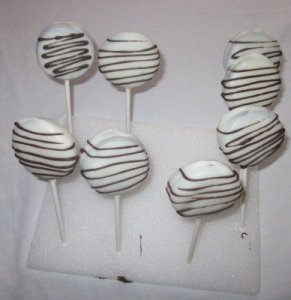 Decorate with sprinkles or sugars.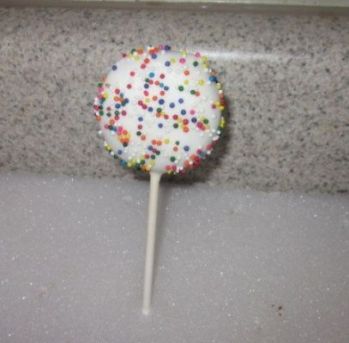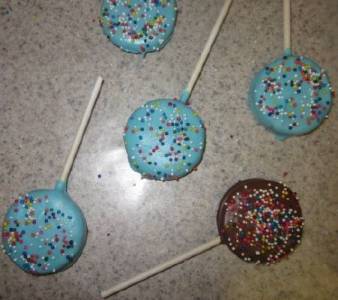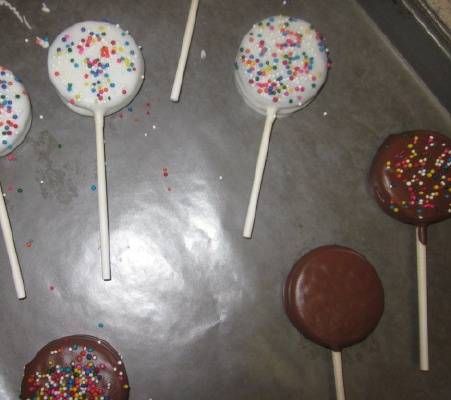 More Decorating Ideas:
With a little creativity, scrapbooking paper and some serving dishes, you can really make a statement. Here are some decorating ideas to get you started...
Pink damask and brown hounds tooth scrapbooking paper with chocolate covered suckers.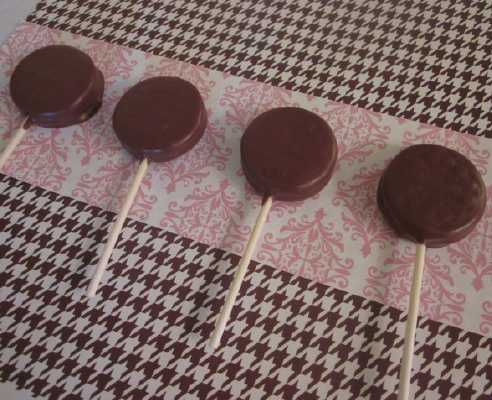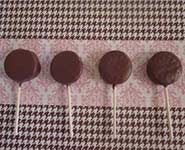 I played around with sanding sugars and did stripes with candy melts to create these designs.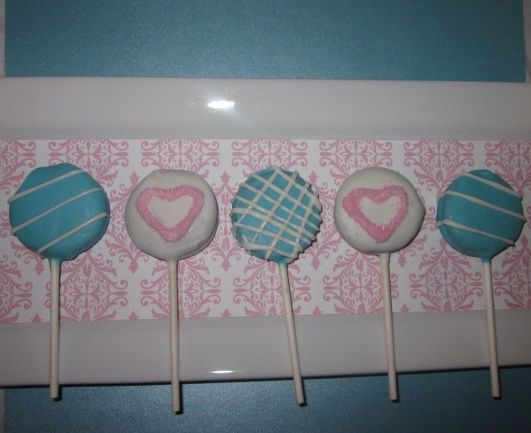 And here I just changed the background colors to get a different look.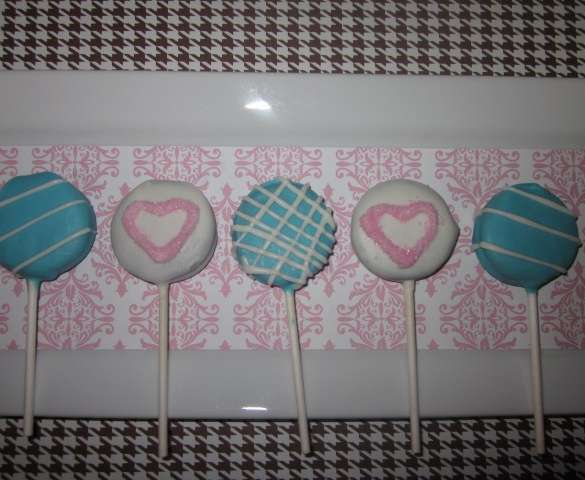 Drizzled chocolate covered Oreos.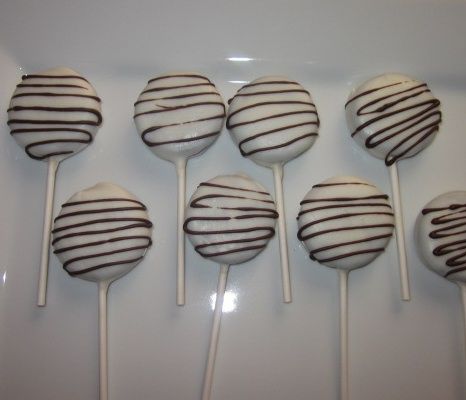 Stripes and plaid designs with candy melts and candy pearls attached with candy melts.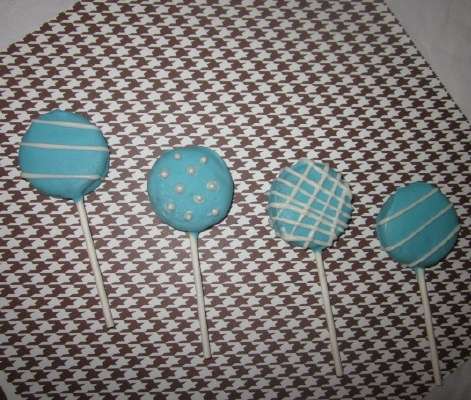 I drew heart shapes with candy melts and then covered them with colored sugar.
Colored sprinkles. Kids love these! The Oreo pops with sprinkles always go the fast when there are kids around.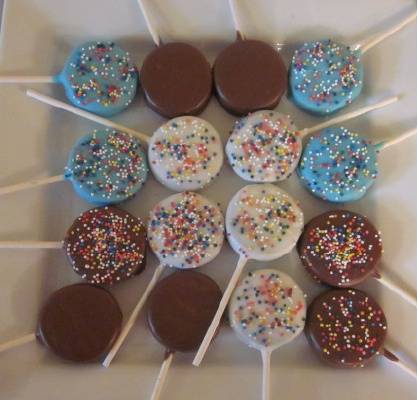 New!

Comments

Have your say about what you just read! Leave me a comment in the box below.