Home
: Chocolate Covered Strawberries
Chocolate Covered Strawberries
For An Upscale Event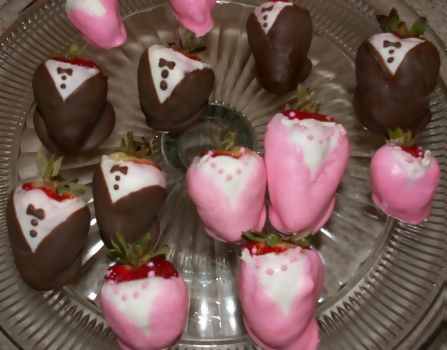 If you love chocolate, you will love our adorable chocolate covered strawberries!
Create a refined touch to your baby shower by using our tuxedo strawberry and evening dress strawberry instructions.
Tuxedo strawberries have been used for years and weddings and bridal showers, but I felt it was time to match it up of an equally elegant chocolate dipped strawberry, the "evening gown dress".
Our tuxedo strawberries are located here .
You will need:
Strawberries
White Almond Bark
Food coloring
Toothpicks
Shortening (optional)
Wash the strawberries and blot them dry with paper towels. Leave all the strawberry stems on for dipping.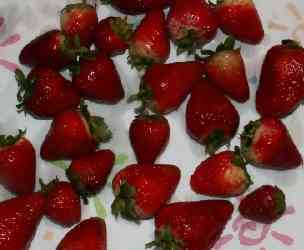 In a microwave safe bowl, slowly heat almond bark in the microwave in 15-30 second increments, stirring inbetween. Continue until chocolate is melted and smooth.
***Tip*** Your chocolate will need to be smooth. Stir until there are no more lumps in it. If you would like to thin the chocolate for the dipping process, add a little shortening and stir. Make sure to only use shortening, no substitutes. The shortening can change the flavor a little, so only add a tiny amount.
Place some wax paper on a flat surface to begin. Hold your strawberry by the stem and carefully dip it ino the almond bark to coat evenly.
Lightly shake the excess chocolate off the strawberry and set it on the wax paper to dry. Continue dipping the rest of the strawberries.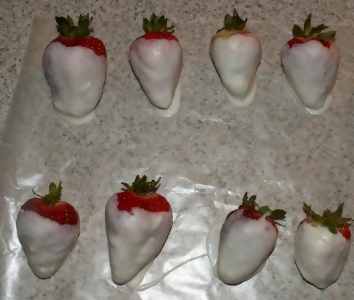 Use your red food coloring to tint your remaining white chocolate pink. Add more almond bark and reheat if necessary. Once the consistency is what you desire you are ready to create the evening dress on your strawberry.
How To Make Your Evening Gown Design:
Hold the strawberry at the stem and angle the strawberry so that when you dip it in the chocolate, it will cover the side. Angle it to the opposite side and dip again. The two dipped sides will cause a "v" similar to the top of an evening gown. Lay on the wax paper to dry.
Make A Matching Necklace:
Dip a toothpick into the pink chocolate. Dot a necklace at the top of the strawberry to finish off the look.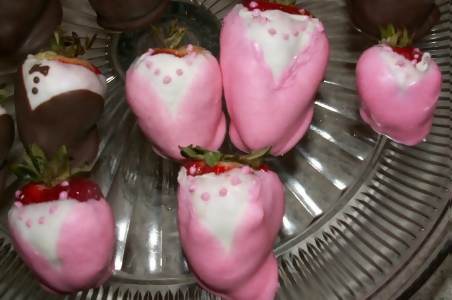 New!

Comments

Have your say about what you just read! Leave me a comment in the box below.