Christina Aguilera's Baby Shower
A Kiddie Land Carnival
Christina Aguilera's baby shower was a kiddie land carnival thrown at her home in Beverly Hills. It was an intimate gathering of close friends and family.
Since the Christina Aguilera event was not open to the public, there are not many details other than the pictures the paparazzi were able to sneak in.
Here is the information we were able to dig up about it.
She was pretty tight lipped on the sex of the baby, so the blue wrapping paper on the gifts was a clear indication that they were having a boy.
At the entrance, there was a big blue sign that said Welcome to Christina's Kiddie Land Carnival.
There was a large blue and white balloon arch over entrance with large wooden baby blocks and bottle balloons.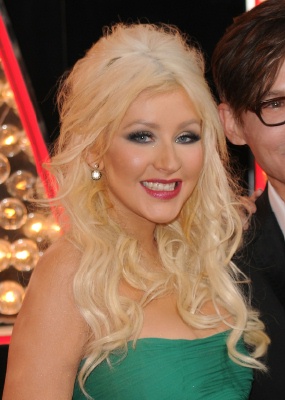 The table centerpieces had blue and white balloon bouquets on them and there were red Chinese lantern lights hanging above.
Christina wore a hot red dress and her husband had a daddy's team shirt, which was quite hilarious. It had his face on a baby's body and it also said Christina's Kiddie Land Carnival. Christina looked great at the party. She was just glowing in the pictures we saw.
She was registered at Bel Bambini, a popular celebrity baby store.
One of the more comical gifts was a whiz kid wee block- for changing boy's diapers.
Christina Aguilera Baby Shower / Nursery Details
Christina is known for her diva style, so decorating the nursery for her new baby was no different. They decorated the room with lots of Paddington bears, Nintendo figures and a huge mural along the walls. The biggest feature of the room though, is an 11 ft. long moon that used to be one of the props from the stage of her Back to the Basics Tour. I've got to give her props for originality. Wow! That is definitely the first time I've heard of something like that in a baby's room.
Christina has also mentioned on several occasions how excited she is to be a new mom. The excitement definitely shows in the celebration. Great job Christina!
Update:
Christina Aguilera and hubby John Bratman welcomed their baby boy on Sunday January 8, 2008. They named him Max. We would like to congratulate both of them on the new addition to their family.
Sources- accesshollywood.com, people.com
New!

Comments

Have your say about what you just read! Leave me a comment in the box below.