Classic Pooh Baby Shower Theme
by Mary
(United States)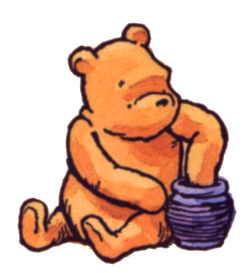 Hi, I am having a party for my niece, I haven't had one in years and years. I know her nursery is done in classic pooh, I thought I would do her shower in that, but I am having trouble coming up with ideas to coordinate, food, decorations, etc.
Any ideas?

Thank you for your time.

Our Answer:

Hi Mary,

The classic pooh bedroom set is adorable and I am sure you can come up with some great ideas to go with it. Here is some thoughts I have had on it that might help you.

Decorations - They used to make a classic pooh baby shower tableware set, but that has been replaced by the Baby Pooh party line. There are some remaining classic pooh items being sold on Ebay, along with custom invitations, candy bar wrappers and some games.

If you are not able to find tableware, I would go with the basic colors of Winnie The Pooh. I would use yellow, black and white and then accent pink or blue colors here and there if you know the baby's gender. Since Winnie the pooh is a bear, you can also bring in cute bees into the decorations.

Coordinating tissue paper flowers or balloons in black and yellow would really look pretty with this theme.

I've also seen the classic pooh baby items sold at Target. It was a couple months ago but they might still have it. It would be cute to make a diaper baby or diaper cake with it.

A fun and simple decoration you can make to go with this theme is a baby clothesline. Get onesies that are in the theme colors or that have Winnie the pooh on it. Hang on a clothesline with clothespins for a cute baby look.

Games:

I have 2 baby shower theme ideas on the website that are close to your theme. Check them out to get ideas that will also match your theme.

teddy bear baby shower

winnie the pooh baby shower



Food- Try to think of the type of food that goes with bears, honey and berries.

Some ideas would be peanut butter and honey sandwiches cut with a bear cookie cutter, caramel popcorn, sweet Chex Mix, honey and a selection of teas, bear claw bread,Gummy bears, trail mix, and bear face cupcakes.

A fun cupcake idea would be to frost your cupcakes with a yellow buttercream and then place a bee sugar decoration on top.

I hope that helps. Good luck with planning the baby shower!



Return to baby shower themes
Comments for Classic Pooh Baby Shower Theme

Average Rating
Click here to add your own comments
Return To Baby Shower Ideas Home