Custom Baby Shower Invitations - Simply Easy!
Looking for a great invitation?
We have lots of different custom baby shower invitations and style ideas for you to choose from. On this page you will find our little prince invitations.
Check out our cheap baby shower invitations page to get a matching princess invitation.
How to download the templates...
We have provided 2 free templates for your use. You can select from the top image, which already has the wording for you to use. Just print and fill in! The second image is a blank invitation template that you can add your custom wording to.
We hope you like it!
Little Prince Baby Shower Invitations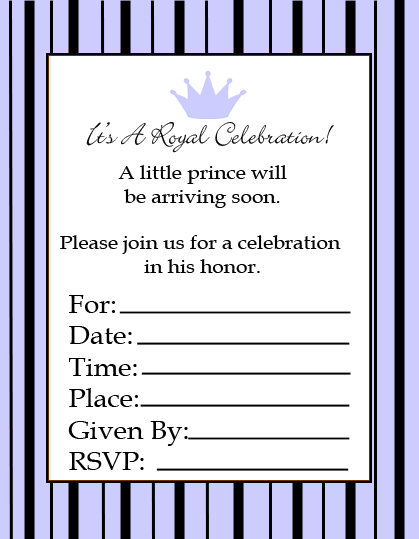 Instructions:
Right click on the image to save it to your computer. When you are ready to print, all you have to is double click on the image and send it to your printer.
For the blank template, go to your preferred editing program and open it there. From there, you can customize the wording to match your party. Did you know there are more fonts available than those you have on your computer? Just do an internet search for free fonts and download them to use!
Print them on good quality card stock to get the best results.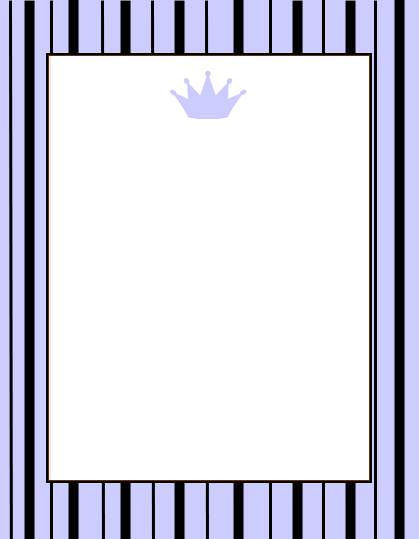 Wording Ideas to Go With a Little Prince Baby Shower Theme:
Hear Ye! Hear Ye!
Their little prince/princess
will arrive soon.
You are hereby summoned to attend a
Baby Shower in his honor!
Hear Ye! Hear Ye!
The little prince will be arriving soon!
Please join us for a Royal Celebration
in honor of (mom's name) and (baby's name).
It' A Baby Shower!
Please join us as we celebrate (mom's name) and her little prince.
It's A Royal Celebration!
Please join us for a baby shower honoring (mom's name) and the little prince on the way!
A little prince is on his way;
let's shower his mom before the big day!
It's A Baby Shower for (mom's name).
New!

Comments

Have your say about what you just read! Leave me a comment in the box below.