A Diaper Baby Shower Theme
Perfect for a New Mommy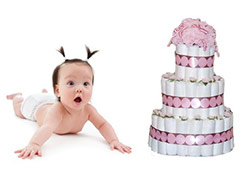 With a new baby on the way, who doesn't need diapers? I didn't realize how quickly babies go through diapers until I had my first baby. They are a necessity for a new mom. Whether it is baby #1 or beyond, diapers are needed to keep that sweet baby happy and healthy. What I love about a diaper shower is how many crafts and creative elements go with it.
Help the new mommy stock up by placing a message in the invitation if you want it to be strictly a "diaper shower" or if you would like the guests to bring a bag of diapers to be entered into a drawing. :)
Diaper Baby Shower Theme Invitation:
Make an easy and cute diaper invitation for the party. Start with a piece of card stock that has been cut into a square.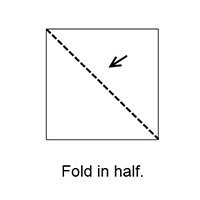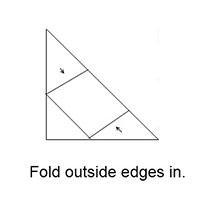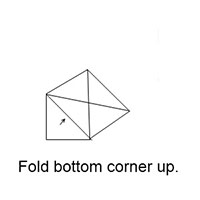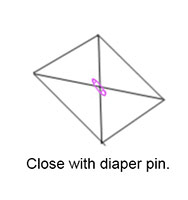 A fun poem can really set the tone for the whole baby shower. Insert a square piece of paper in the middle of the diaper for the wording. You can use something like...
Bottles and booties, diapers and pins
this is where the love begins!
(Mom and dad's names) have a baby on the way
so we are celebrating with a special day!
You will want to try different sizes of squares to find the perfect size for you. As you can tell from the pictures, the square will turn out a lot smaller when you are done.
There are also some really cute themed invitations to go with this theme at tiny prints and vista print
Diaper Theme Activities:
Diaper Decorations! Lay out diapers, markers, fabric paints and iron ons on a table for your guests to decorate. They can write cute messages, advice, jokes, etc. for the new parents to find later.
Some ideas might be "Sleep is overrated!", "So many diapers, so little time", and "Daddy's Turn!."
Diaper Baby Shower Theme Games:
Toilet Paper Waist Size- Pass around a toilet paper roll to the guests and instruct them to take as much toilet paper as they think it would take to go around the mother's waist size once. Make sure you ask the pregnant mommy if it is ok to do this game. The guests will use their toilet paper to measure what they think the waist size of the mommy is. The person closest to the actual size wins!
The Candy Bar Game- A fun a disgusting game to play with your friends! To begin, take a marker and number the outside of a few diapers. Place a candy bar in each diaper and microwave until melted. Then pass out a paper to your guests to have them guess what candy bars are in each diaper. Make the game a little harder by using candy bars that are not as well known. It is really funny to see people smell, and sometimes even taste the candy bars.
Instead of candy bars, you can also use other things in the diapers for people to guess. Some ideas would be root beer, pickle juice, essential oils, kool aid, and juice.
Pin the diaper on the baby- This game is just like pin the tail on the donkey, except it is with a baby and a diaper. On a poster board, display a picture of a baby boy. Blind fold the guests and have them pin and paper or felt diaper onto the posterboard. The closest one to the baby's bottom wins a prize!
Play a gag with this game. When it is the mom-to-be's turn, blindfold her like everyone else. When she walks forward to pin the diaper on the baby, squirt her with a water gun. You have to watch out when changing boys! lol! Only do this if you know the mom-to-be is okay with it. You don't want to make her upset.
Diaper Baby Shower Theme Decorations:
Toilet Paper- just like toilet papering the neighbor's house, but this time it will be looked at as cute and creative. Toilet paper can be made into roses and bows, used as streamers, add extra padding to the mom's chair, it can be even used to make a decorative canopy around the gift table. You will never look at toilet paper the same way again!!
The color white is suitable for the diaper theme. Jazz it up by using an accent color.
Napkin Diapers- why use normal napkins when a napkin can be folded into a diaper. Small touches like this really make a baby shower fun.
Decorate the table with diapers in any fashion you can think of. Cover the punch bowl or flower vase with a diaper. If you are having rolls you can place a cloth diaper under the rolls in the basket.
You can also decorate by putting diapers on stuffed animals and placing them around the room.
Diaper Corsage-it would be made the same way as the invitation, but with a smaller piece of paper. Attach a safety pin to the back for guests to wear! You can add brown eye shadow or squirt some mustard in one of the corsages. The person who ends up wearing the dirty diaper wins a prize.
Crafts: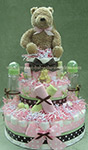 There are some great crafts that double as gifts and decorations that go perfect with this theme. A diaper cake is easy to make and adds a creative touch to the decorations.
After you learn how to make a diaper cake, you can check out our HUGE diaper cake photo gallery to get decoration ideas.
A diaper wreath can be hung on the wall to greet guests and then given to the mom-to-be after the baby shower. You could even make a diaper baby or a diaper bear using our easy instructions.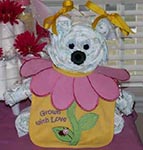 Food:
Add a touch of class to the baby shower with an assortment of all white foods.
1.All white- chocolate covered marshmallows, white cake with white frosting, white chocolate covered raisins or pretzels, milk, fettuccine alfredo (if you are planning on a full meal), Mexican wedding cookies, divinity... etc.
2. Cover up your food!- any foods that are stuffed or covered will work for this idea. Some examples are pigs in a blanket, stuffed mushrooms, calzones; cake pops chicken pot pie, stuffed strawberries and cobbler. Check out our baby shower desserts section for some great recipes.
Diaper Baby Shower Theme Favors:
Make diaper nut cups and fill them with whopper candies.
Thank you for coming! Love (mom-to-be) and her little whopper.
Prizes:
Wipes, air freshener, hand sanitizer, and candy bars like rocky road.
New!

Comments

Have your say about what you just read! Leave me a comment in the box below.