Diaper Chair Craft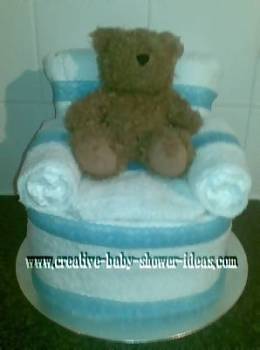 ~ This diaper chair craft idea was submitted to our website by Karan L. of Hartlepool, England ~
I made this diaper nappy chair as an alternative to a diaper cake it can also be made bigger as a sofa for twins.
Instructions: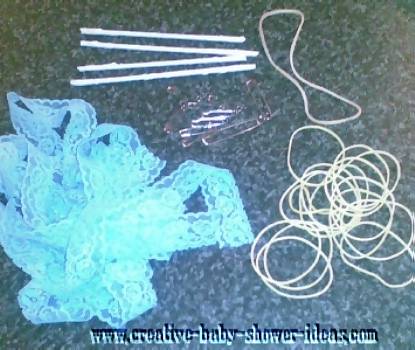 Items you will need to make this baby shower craft are:
Base of chair- 12 rolled nappies and 6 flat nappies & 1 baby towel or hand towel
Chair back- 4 rolled nappies & 1 baby washcloth or 1 face cloth
Chair arms- 2 rolled nappies & 2 baby washcloths or 2 face cloths
4 dowels, rubber bands and safety pins
Ribbon or Lace for decoration
Teddy or other soft toy to sit on chair
Assemble the Nappy Chair Centerpiece
Start by rolling up 18 nappies and secure them with the rubber bands. Then place 12 of the nappies together secured by a large rubber band.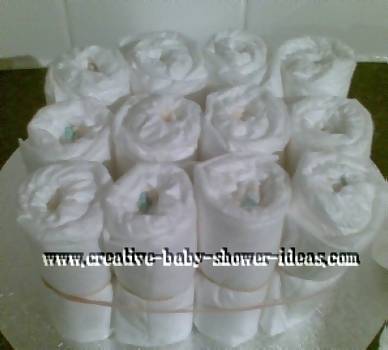 Place the flat nappies into the rolled nappies. One in-between each section of 4 nappies and also around the outside of the base.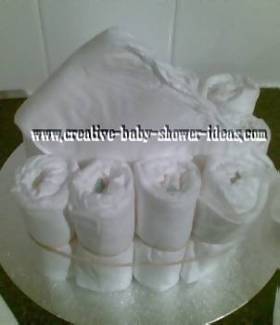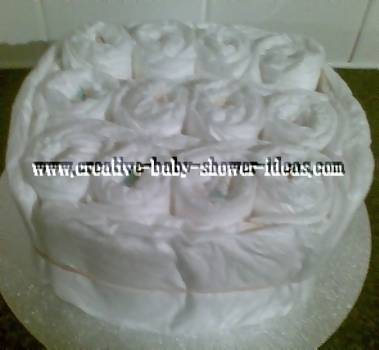 Place the towel around the base of the chair and secure with safety pins and trim with lace or ribbon.
Place dowels into 4 rolled nappies and fix to the base Cover with baby washcloth or face cloth secure this with safety pins then decorate with lace or ribbon.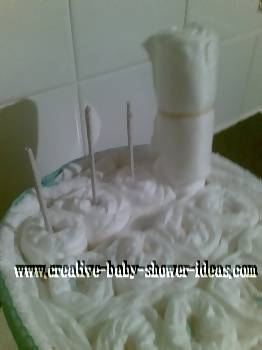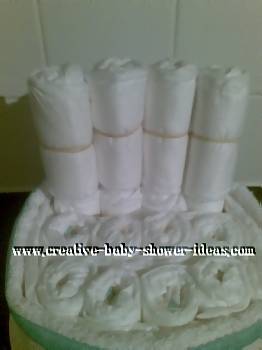 Tuck a baby washcloth or face cloth into each side of the chair and roll the nappy inside it Secure with the lace or ribbon.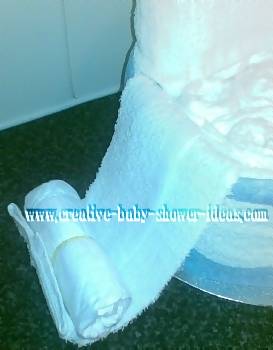 Place a folded baby washcloth on the seat of the chair.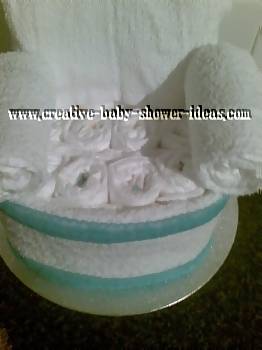 And now you chair is ready for your soft toy or teddy bear.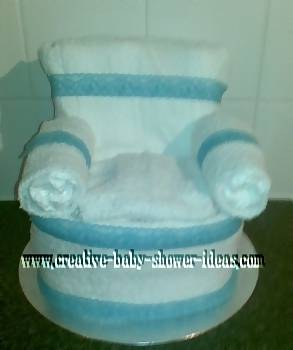 Thanks for sharing your diaper / nappy craft idea with us Karan! It is awesome!
Photos Sent In By Our Readers:
Diaper chair craft submitted to gallery by:
Gloria S. from Cambridge, Ma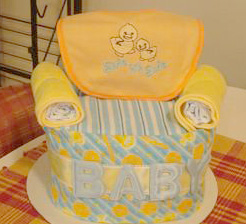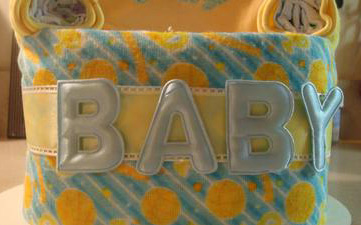 Tell us about your diaper cake! We would love to hear all about it... A friend of mine had made one of these for the first time, so I decided to make one too. The both of our diaper cakes came out beautiful for beginners.
Who did you make it for? I didn't make it for anyone but, hopefully when someone sees it on my facebook diaper cake page they will fall in love with it. :)
Was there a theme or style you followed? The theme is yellow duck.
How many diapers did you use in your cake? I used 24 size-2 Luvs diapers.
What were the ingredients? I used 24 Size-2 Diapers, 2 receiving blankets, 2 baby washcloths and 2 duck safety pins.
Anything else you would like to share with us about your diaper cake or the occasion? Everything in this chair is useable for the new mom to be.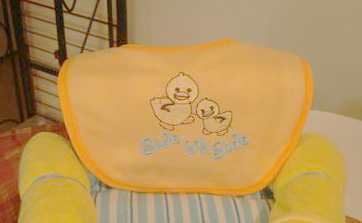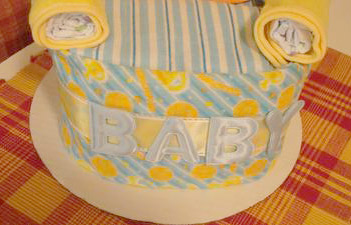 New!

Comments

Have your say about what you just read! Leave me a comment in the box below.