Diapers, Bottles, and Bathtime!!!
by Christine
(Katy, TX)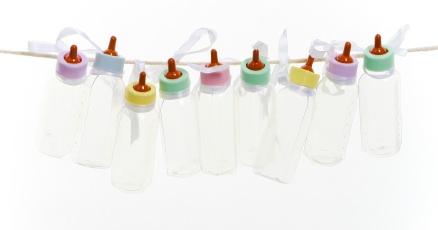 I want a baby shower were these are the main presents from the guests. There will be about 15 women and I want fun and relaxed. The gender is a surprise. The ages range from 25-56.
Our Answer
:
Hi Christine,
Thank you for your theme request. It sounds like a baby sprinkle might be the best type of baby shower for you. All of those items fall under the sprinkle category so I think it might work perfect. A sprinkle baby shower is a "smaller scale" baby shower in which guests sprinkle" the new mom with items that need to be replenished with each child. They are generally used for moms who have already had a baby shower for their firstborn and just need to stock up again for the next. But it can also be used for a new mom that has all of the big stuff and needs the smaller items.
I don't know if this is a first baby or not, but I have a poem that might work for your invitation if it is.
Pins, Diapers, Bottles Galore
(mothers name) & (father) are having one more!
Big (sister/brother) has plenty to share
This is a "sprinkle" to show we care.
Please join us to celebrate the baby due
We still don't know if it's pink or blue!
© Grandma Chris
With a sprinkle you could decorate with a Noah's ark theme, a duck theme or pastel baby colors so that it is generic. To make the baby shower fun, you will need to pick 1 activity and 2
baby shower games
to use at the shower. The games and activities will keep everyone entertained, but allow a little bit of chatting.
With the gender unknown, it might be fun to play a prediction game where the guests guess the baby's height, weight, gender, birthday, and time of birth.
I hope that helped. Good Luck With The Baby Shower!
Return to baby shower themes
Return To Baby Shower Ideas Home