Doll Diaper Cake Craft Idea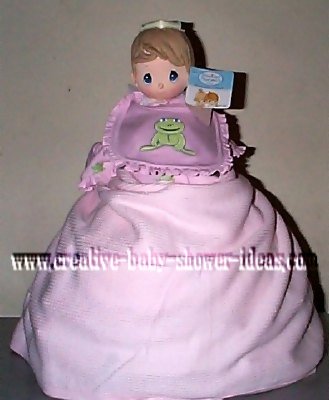 ~ This doll diaper cake craft project was submitted to our website by Leah G. of Peoria, Illinois ~
I have attached two photos of the craft that I made. One shows the completed project and the other shows what it looks like under the skirt. What a cool site you have!
Items Needed To Make This Doll Diaper Craft:
A package of diapers (this used the 56 package)
Precious moments doll
receiving blanket
diaper wipes case
baby bath
baby shampoo
baby outfit
bib
ribbon
double sided sticky tape
The bottom layer of this has a box of wipes with diapers stacked and tied on both sides to make the length and width equal so the doll skirt will be round instead of oval.
A bottle of baby bath and baby shampoo are tied together and placed on top of the box of wipes. The top is a Precious Moments prayer doll. An outfit is placed over the doll and bottles.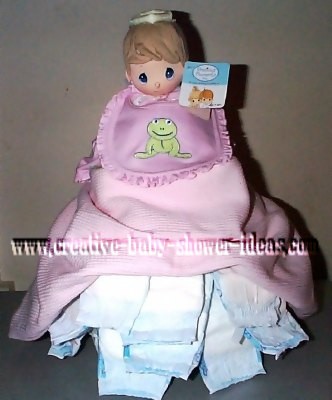 The rest of the diapers (this one used a package of 56) were hung over ribbon and then tied in layers to form the fluffy full slip. The skirt is a receiving blanket that is wrapped around and tucked into the top layer of the diapers.
Thanks for the great baby shower gift idea with us Leah! It's awesome!
New!

Comments

Have your say about what you just read! Leave me a comment in the box below.