How to Make an Edible Fruit Bouquet
a Beautiful Mouthwatering Centerpiece for Your Party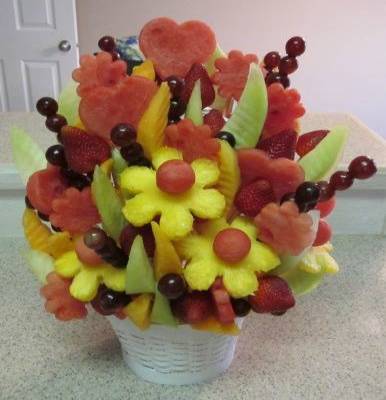 Looking for a sweet way to dress up a table? An beautiful edible fruit bouquet arrangement can be both inexpensive and easy to create. Make it for an upcoming baby shower, an evening with friends, girl get together or as a special gift to let someone know you care.
How easy is it? I've created a step by step tutorial to help you create the perfect touch for your party. All you need is a few ingredients, supplies and a couple of hours and you can have a masterpiece! Let's get started...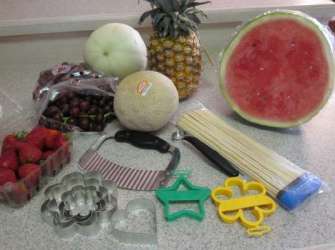 Fruits to Use in Your Edible Arrangement:
Watermelon
Pineapple
Honeydew melons
Cantaloupe
Grapes
Strawberries
Other Supplies Needed To Make Your Edible Bouquet:
Basket/pot or other container
Melon baller
Wooden skewers
Various cookie cutters (heart, flower, stars)
Crinkle potato cutter
Floral foam, cabbage or iceberg lettuce as filler for inside the container
Step By Step Photos to Create the Edible Fruit Bouquet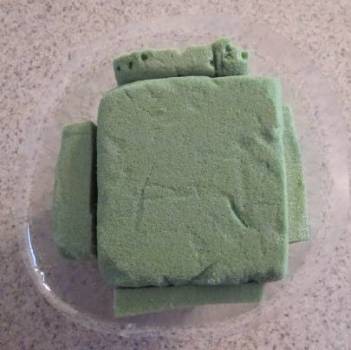 Cut your floral foam to fit inside the container.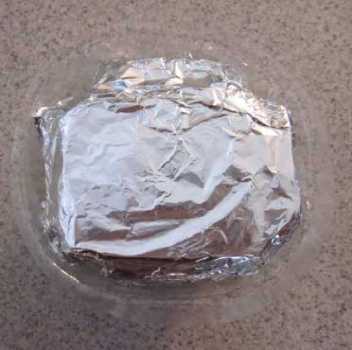 Next, cover the foam with aluminum foil. This will keep the fruit clean and ready to eat. :-)
Alternatives to the floral foam:
could also use cabbage, iceberg lettuce or play dough.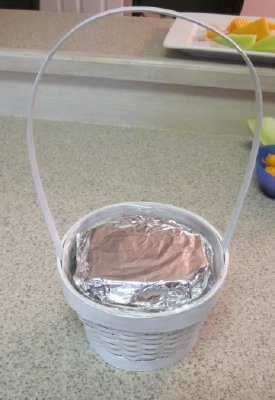 Here is the basket I used for my fruit bouquet.
Half of your time will be spent getting your fruit ready. Be sure to use fruit that is at the peak of freshness so that it stays in good shape for your party. Have everything fully prepped before you start arranging to make it easy on yourself. :)
Grape Skewers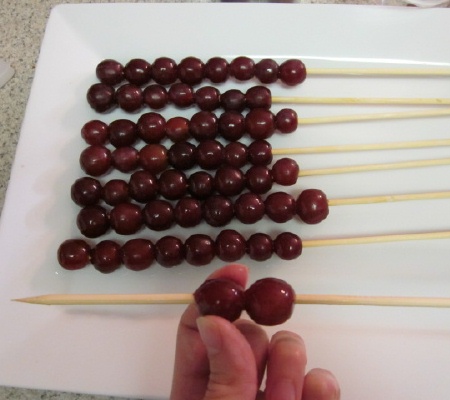 Wash your grapes and thread them onto your skewers. Depending on the size of your bouquet, you might have 5-7 skewers.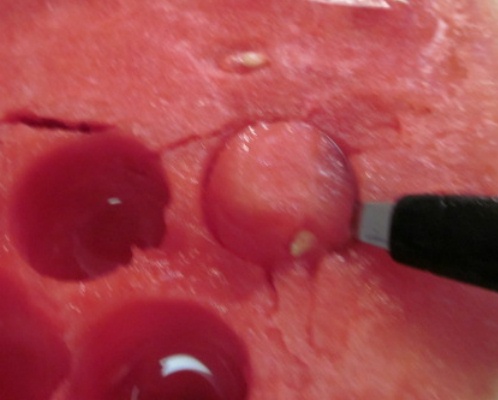 Use a melon baller to scoop out ball shapes from your watermelon.
Pineapple Flowers: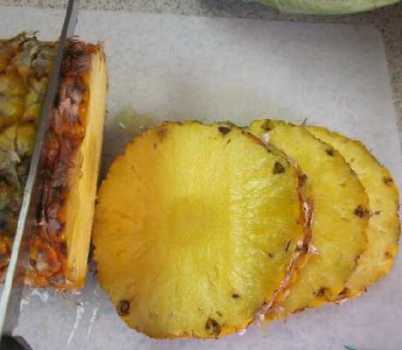 Cut your pineapple in slices. Make each slice approximately the depth of your flower cookie cutters. Cut them approximately 3/4 to an inch thick.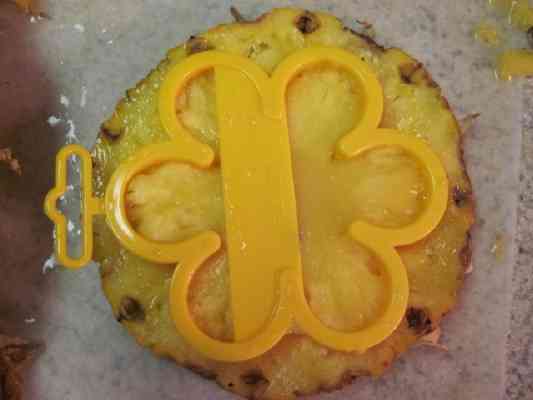 Cut out your flowers.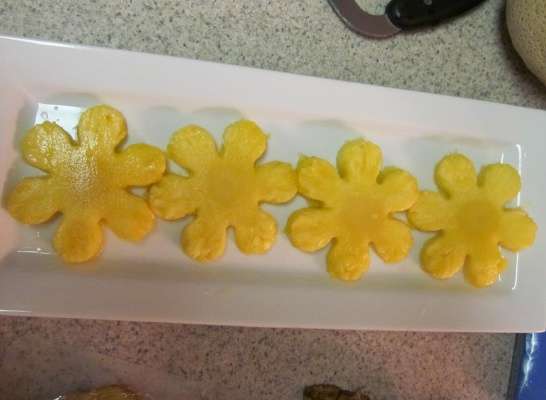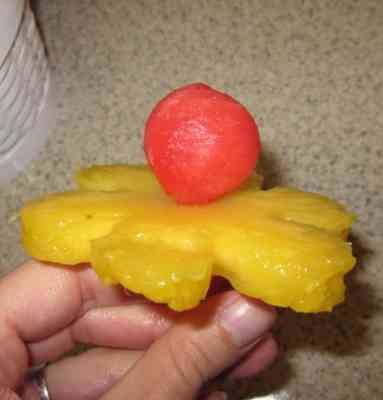 Push the skewer through the center core of the pineapple so it has something solid to hold onto. Leave just enough of the point out so that you can slip the watermelon ball on top without poking through the ball.
Edible Fruit Bouquet Tip: My pineapple was a little over ripe so it was hard to cut through without the shreds. Use a paring knife around your cookie cutter before pushing through to get the cleanest cuts.
Strawberry Skewers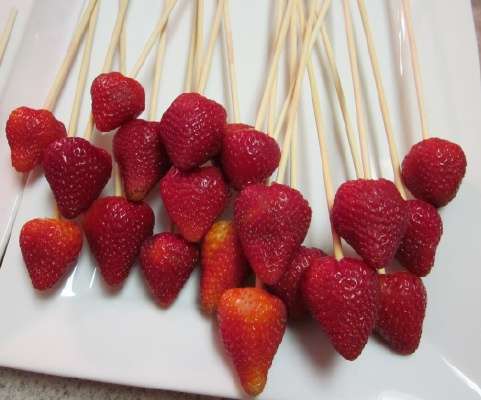 Wash strawberries and cut off the green stems. Push end of skewer through center of strawberry, being careful not to push it through the end.
Cantaloupe and Honeydew Spears:
Cut honeydew melon or cantaloupe in half and clean out the seeds.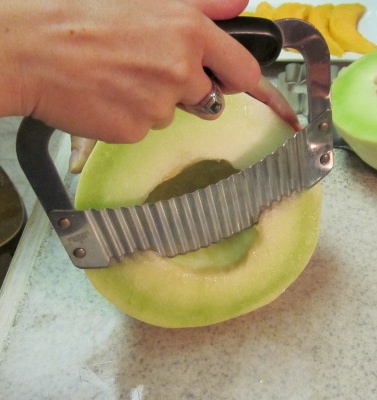 Use a crinkle potato slicer to cut slices off. Hold the melon at an angle as you cut.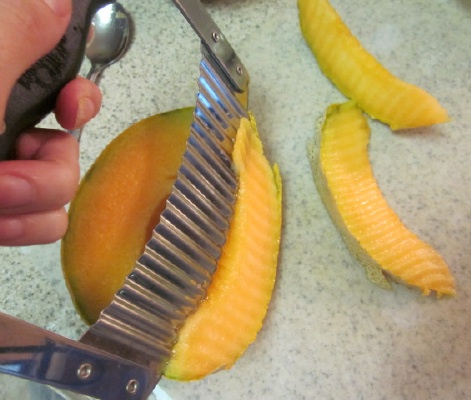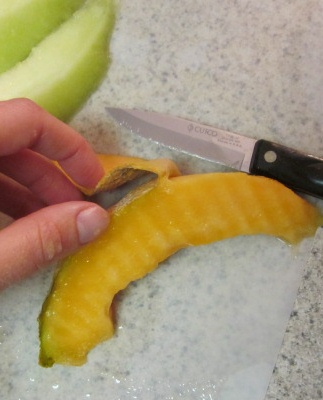 Using a paring knife, remove the outside skin from the melon. Cut each moon shaped melon in the middle so you have 2 separate spears. Push skewer through the middle of each spear, being careful not to push through.
Watermelon Shapes:
Cut slices of your watermelon in the thickness of your cookie cutters. You can use all kinds of fun cookie cutter shapes. I used a heart and flower shape in mine.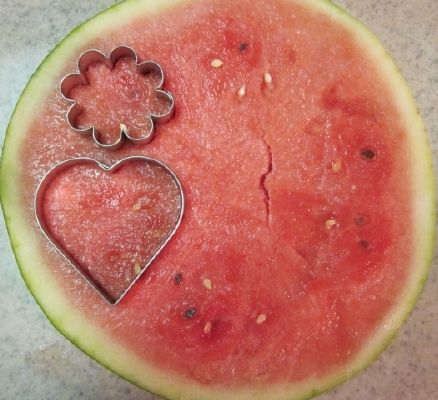 Push the cookie cutters through and add the skewers.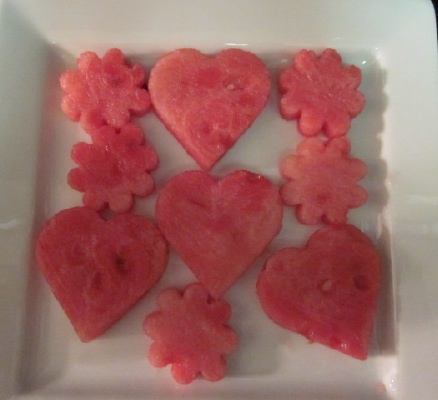 Phew! Your half way there. The fun is ready to begin! Now let's make your masterpiece. ;)
Putting Your Edible Flower Bouquet Together:
Start arranging your fruit in the container. I used odd numbers when I put mine in and used different heights to make it aesthetic. Use sturdy kitchen scissors or shears to cut the skewers to the right lengths.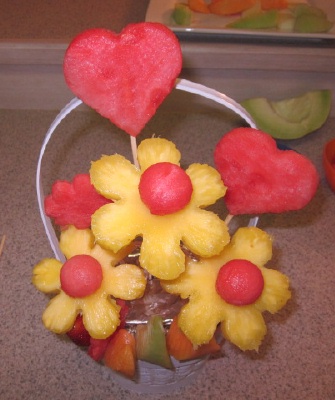 More Tips For Your Edible Flower Bouquet:
You can use lettuce or other greenery as fillers if needed.
Dip or drizzle some strawberries in chocolate to add a fun (and yummy) variation
Line the bottom edge with fruit in the beginning so you don't have a problem fitting it in later. ;)
Wrap arranged fruit as soon as possible and refrigerate to keep it fresh for the party.
If you decide to use fruit that might brown (bananas, apples, etc.), make sure to cover it with chocolate so it has a layer of protection from the air.
Make the arrangement no more than a day before the party. (Make it within hours of the party if possible and get it into a refrigerator a.s.a.p.)
Have fun! I would LOVE to see your pictures on how your edible fruit bouquet turns out!
Where to next?
Other Resources:
Learn how to make a watermelon baby carriage.
Create a candy bouquet centerpiece.
My favorite cake pops recipe.
Delicious baby shower food and recipes.
New!

Comments

Have your say about what you just read! Leave me a comment in the box below.