First Birthday and Christening Cake
by Grace
(El Paso, Texas)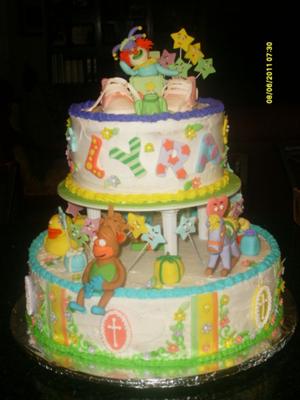 Cake Front

I love how creative this first birthday/christening cake turned out! It is so fun to look at. Just check out all of the little details. There are so many fun colors, characters, and designs on the cake. Grace really out did herself with this one! Thank you for sharing your cake photos with us Grace. I can tell you put lots of time and energy into making this the perfect cake for your niece!

Grace's first birthday and christening cake instructions:

Last year I was talked into making the cake for my nephews baby shower. It was my first attempt at it and I surprised myself by how well it turned out. Well, it's now her first birthday and they had her Christening on the same day. Needless to say, they asked me again to make the cake.

Because it was a combination Christening and Birthday cake the bottom layer was done with a religious theme and the rest was birthday.

I found so many ideas on the internet! The converse shoes are made out of gum paste and everything else is fondant. I had to make my own template for the converse since I couldn't find one online. I used boxed Betty Crocker yellow cake mix with an additional tsp. of almond extract and almond buttercream frosting. Royal icing was used to assemble the box for the Jack-in-the-box, a garlic press for anything that needed to look like hair, and an inexpensive flower cutter for the tiny flowers. This was so much fun to make and they loved it.

Join in and write your own page! It's easy to do. How? Simply click here to return to Baby Shower Edible Cakes.
Return To Baby Shower Ideas Home