Give a Sweet Treat with a Rice Krispie Flower Bouquet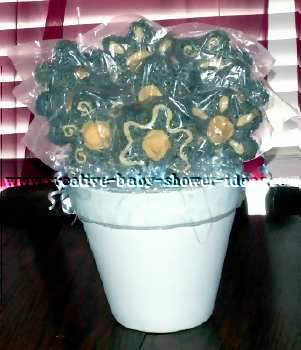 I made this Rice Krispie flower bouquet for a friend who had a boy. I colored the flowers blue and used candy melts to make designs on the flowers.
This is a quick and fun baby craft to make. It can double as a gift and a baby shower centerpiece. It is also a creative way to give treats to the family with a little extra surprise of diapers for the baby for them to find.
Rice Krispie Flower Bouquet Ingredients:
6 cups of Kelloggs Rice Krispie cereal
Food coloring
3 tablespoons butter
Wilton's flower treat pans
Cookie sticks
1 bag of Wilton's candy melts
40 large marshmallows
Other items needed:
25-30 diapers (depending on the size of your container)
Shredded paper or plastic(to cover the diapers)
A terracotta pot-painted to preference
Curling ribbon
Plastic or cellophane bags
How to make your flower bouquet:
Melt the butter over medium heat in a large pan. Add the marshmallows and stir continuously until it is melted. Add your food coloring to get the desired color. Turn the heat to low. Add the 6 cups of rice cereal and stir until it is coated. Spray your flower treat pan with Pam.
Grease your hands with butter or shortening to prevent the mixture from sticking to you. You will need to work quickly to get the cereal into the forms before it cools. Press the cereal mixture into the flower forms, paying special attention to the petals.
Push the cookie stick into the center of your treat. Reinforce around the stick with additional mixture. When all of your flowers have been formed, transfer to wax or parchment paper to continue cooling while you use the forms for the next group of flowers. One batch should make 9 Rice Krispie flowers.
Place the candy melts in squeeze bottle and melt in the microwave. (Available in the cake supply section of most stores.) Once melted, shake bottle and use for decorating your flowers. Once the flowers are completely dry, place a plastic or cellophane bag on each individual flower. Cover the twist tie with curling ribbon.
Roll diapers up individually and place into a large terracotta pot. You should have 2 rows of diapers stacked on each other.
Arrange the flowers by placing them in the diaper rolls. For this design, I used 9 Rice Krispie treats for my bouquet. I placed 1 flower in front with 2 flowers slightly behind it. I finished it off with 2 rows of 3 flowers.
To get the layered look, push the front flowers as low as they will go into the diapers. Each level of flowers will be slightly higher than the flowers in front of them.
Decorate your pot! Use shredded paper or plastic to cover the diapers and give your bouquet a polished look. I used shredded plastic filler with an opalescence shine.
I also used a sheer blue ribbon around the edge of the flower pot. (It does not show up very well in the pictures.)
Tips for your flower bouquet:
The shredded plastic filler has a tendency to be full of static and stick to your container. To counter act the static, use double sided sticky tape to attach the loose ends to the top of the diapers.
New!

Comments

Have your say about what you just read! Leave me a comment in the box below.