Free Printable Baby Shower Invitations
Free printable baby shower invitations and ideas to help you plan the perfect celebration! The printable templates on this page are a baby boy footprint style. They will print best if you use high quality card stock to print them on.
This boy version of the footprint invitation, we have a matching one in pink on our baby shower footprint invitation page.
We have included 2 versions of the invitation. One can be filled in with the details of the party. The other is a blank template that you can customize with your own wording. Enjoy!
Boy Footprint Invitation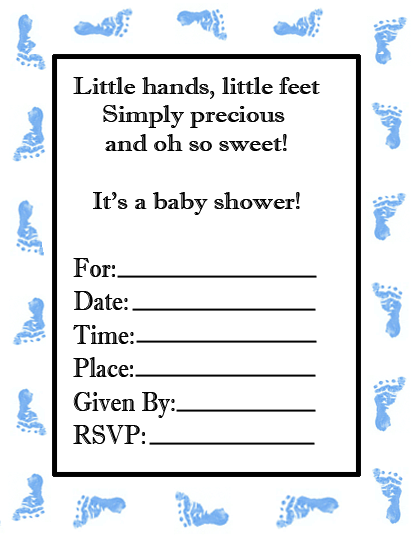 Downloading Instructions:
To download the invitation to your computer, simply right click on the image you want to save. Select the option to save it to your computer. From there, either double click on the image and send it to your computer to print or open it in your word processing program to edit.
Invitation Tips
Use thick cardstock to give invitations a high quality look.
Customize the look of your invitation by downloading free fonts online to use.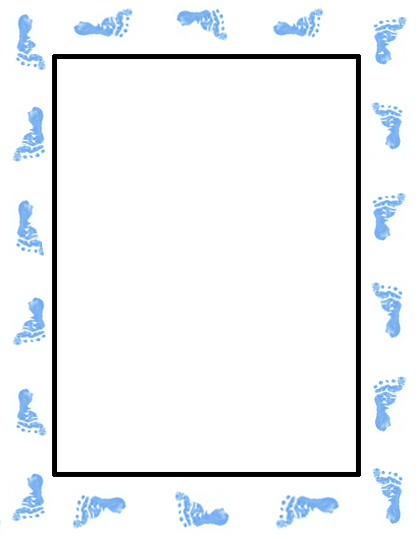 Ways to dress up your free printable baby shower invitations:
Attach a scrapbooking foot charm on top of the card.
Add 4 self-adhesive gems to the corners of the card.
Mount card on a slightly larger blue card stock. It will give a pretty blue trim around the edges.
Use a hole punch and punch 2 holes on the top. Thread black satin ribbon and tie a bow.
Wording Ideas for Boy Footprint Invitations:
It's A Boy!
A treasured gift from up above
A sweet baby boy for us to love.
Please join us for a shower in honor of (name)
Tiny fingers, tiny toes
Little itty bitty clothes
football, baseball, lots of toys
Guess What?
It's A Boy!
Join us for a baby shower in honor of (name).
It's A Boy!
Please Join us for a baby shower honoring (name).
A baby is cuddles and tickles on toes,
The sweet scent of powder
A kiss on the nose.
It's A Baby Shower! Honoring (mom's name).
The (last name) family is growing by two feet!
Please join us for a baby shower in honor of (mom and dad's name).
New!

Comments

Have your say about what you just read! Leave me a comment in the box below.