Current Giveaways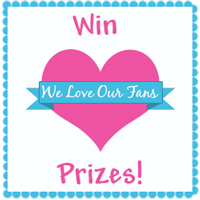 From time to time, we do fun giveaways for our readers on our website and social media pages like facebook, pinterest and twitter.
But we will also always list them on this page as an easy place for you to find and participate.:)
We are always open to ideas for giveaways so let us know what you would like to see. If you would like to be considered as a possible sponsor, feel free to contact us through the site. Good luck!
Win a Little Bow Tie Onesie Gift Set
We are giving away an adorable little bow tie onesie gift set to one of our readers! Give as a baby shower gift or save for your favorite little guy. ;)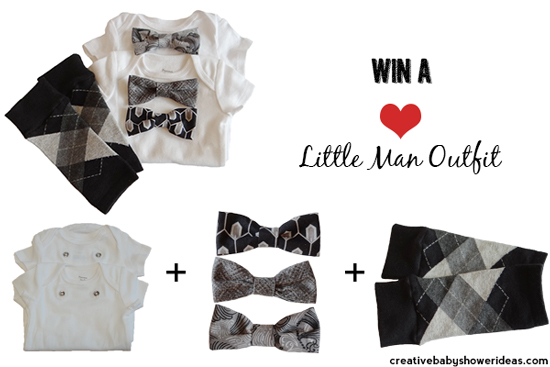 Prize Includes:
1 baby onesie with snaps (size 3 months)
1 baby onesie with snaps (size 6 months)
3 snap on bow ties
matching legwarmers
(Open to US Residents only due to shipping restrictions. We will have giveaways in the future for all of our worldwide friends.)
How To Enter: You need to log into the form below to enter. You can use your facebook account, or you can CREATE an account with your email address.
Why Do You Need My Email Address? We will need your information to contact you if you have won. This form uses an automated system that randomly chooses the winner.
The Best Part! You will only need to do this once. After that, all you have to do is log in to enter any of our future giveaways! ;)
---
a Rafflecopter giveaway
---
Stay In Touch! To be notified of our giveaways in the future, join our notification list below. We will let you know each time we start a new giveaway.
Our Giveaway Guidelines
The winner(s) for the giveaway will be randomly chosen using a drawing that will be held the day after the contest ends. The winner(s) will be notified by email and announced on our Facebook Page. Keep an eye out for our post! :)
Please double check your email when entering it in the form. We will give our best attempts to reach the winner(s) of the contest. We cannot be held liable for prizes unclaimed due to emails entered into the system incorrectly.
We want your prize to reach you! To help our emails arrive safely in your inbox, be sure to WHITELIST our website creative-baby-shower-ideas.com to make sure your email does not go to the spam folder.
Prizes not claimed within 30 days will be considered forfeited and will be returned into the giveaway pool for a future contest.
In cases of physical items to be shipped to the winner(s), please allow 4-6 weeks for them to arrive safely.
---
Join our Notification List and get emailed details of our next giveaway! Just submit the form below and you will automatically added to our list.
***We promise that your email will only be used to update you on the giveaway and will not be used for any other purposes.***
New!

Comments

Have your say about what you just read! Leave me a comment in the box below.