Hollywood Baby Shower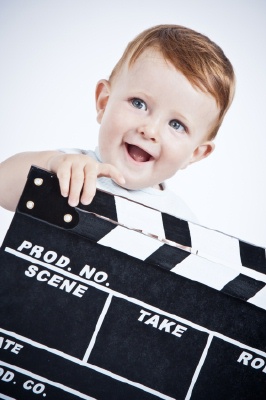 Looking for some ideas to match a star is born hollywood theme.
Our Answer:
A Hollywood theme is a perfect way to celebrate "a new star" in the family. Here are some ideas we came up with to match your baby shower theme.
The glamor starts with the invitations. Create an invitation to look like a ticket to a movie premiere. Include the details of
Roll out the red carpet for your guests. Literally!! A red carpet walkway is a great way to get your guests in the mood for your star studded baby shower. Take pictures of your guests as they arrive. Hand them cool sunglasses to wear (check out your local dollar store for these), disposable cameras for lots of pictures and a water bottle.
Decorate with Hollywood colors such as black, silver/gold and another color like red/pink/or blue. Drape shimmering fabric around the room. Hang star cut outs from the ceiling and use Christmas lights and candles to give great effect to your party. Hang up pictures of movie stars or any movie memorabilia you might have on the walls.
Some fun Hollywood theme game ideas are:
Celebrity Name Trivia-
Celebrities use the craziest names for their children. See if your guests can match up the Celebrity mother with the name of their child. Your guests will wonder what they were thinking!
Celebrity Baby Ballot-
Put together a ballots form for your guests to fill out with their guesses on the new star about to make its debut.
Some statistics to include would be height, weight, labor time, hair color, arrival time, etc.
Guest Celebrities-
Hand your guests fill out a questionnaire about themselves. Ask questions about how many kids they have, what they do for a living, things they craved when they were pregnant, and more. Their answers will determine their academy awards for "longest labor", "heaviest baby award", etc.
Make sure you also have questions and awards for people who do not have children so they don't feel left out.
For food, think of food you might see on a movie set. Set out fruit, meat and cheese trays for your guests to enjoy. Light sandwiches or tortilla roll ups are also great to use.
Some fun prizes could be:
feather boas, lip gloss, nail files and nail polish, mud masks, facial scrub, loofah, body wash, and any other pampering products.
For a great favor, hand out packets of popcorn with custom thank you label printed on them.
Hope these ideas help. Good luck planning your baby shower!
Return to baby shower themes
Return To Baby Shower Ideas Home