Bath Time Ice Cream Sundae Centerpiece Idea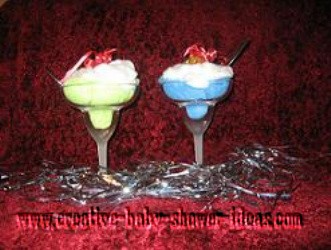 ~ This washcloth ice cream sundae centerpiece idea was submitted by Jenifer S. from the United States ~
This decoration idea is great to use on your baby shower tables. It could even be used in place settings as favors for your guests to take home.
To make this centerpiece decoration; I used a sundae glass, any colored wash cloth, Johnson and Johnson baby wash, cotton and a cherry pacifier!!!
Reply:What a great centerpiece idea Jenifer! Thanks for sharing it with us! Some other decoration ideas for your ice cream sundae would be to use.
Share Your Centerpiece Decoration Ideas
Have a great centerpiece idea? We would love to hear it! Share it with us and it will be featured on your own craft page!
Related Pages:
New!

Comments

Have your say about what you just read! Leave me a comment in the box below.