A Surprise Jessica Alba Baby Shower
Tyra Banks threw Jessica Alba a surprise party when she was on the Tyra Banks show to promote her new movie, The Eye.
The main attraction was of course, the gifts, $6000 worth to be exact.
A section of the stage was decorated for the surprise party and concealed with curtains. Jessica was clearly surprised and touched by the gifts.
They had clusters of blue balloons hung from the gifts and 2 baby balloons.
This is a great example of how simple and elegant balloons are and how well they can dress up a room.
Here is the low down on the gifts she received...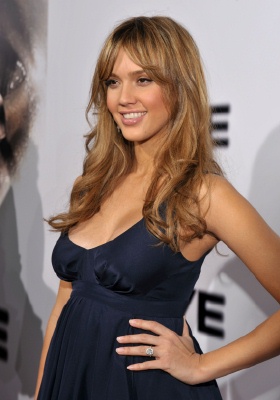 A Cariboo Classic Bassinet and Cariboo Activity Gym (www.cariboo.us)
Cariboo Puretuec Blankets
Lille Baby Euro Tote (www.lileebabyusa.com)
A Svan High Chair, Svan Scooter, and Svan Bouncer (www.svanusa.com)
Yo My Baby Booties (yomybooties.com)
Yo My Booties Zebra and Cheetah Sweaters
Yo My Booties Pom Pom Hat
A Valco Baby Trimode All Terrain Stroller with Infant Bassinet (www.valcobaby.com)
Lautrec Toulouse Diaper Bag, Mommy Chic Diaper Baby and Femme Chic Diaper Bag (www.timiandleslie.com)
Lil Safari Girl Prewalker and Boy Prewalker Shoes (stridrite.com)
Sheep Sheep Sheep on the Go Lavender Lab Baby Sheep Rattle
Bel Bambini Gift Basket $500 and a Gift Certificate worth $1000 to be used at the Bel Bambini store.
A 2nd Jessica Alba Baby Shower:
Jessica Alba had a 2nd shower for approximately 25-30 of her close friends and family at the Ever After Tea House in Studio City, California.
Jessica treated her guests to a selection of tiger shrimp and chicken skewers, white and dark chocolate covered strawberries and mini doughnuts. For drinks, they had lemonade, iced tea, white wine and milkshakes. They also had Peach Bellinis for their guests.
They decorated the event with purple and white balloons and flowers. They displayed baby photos of both Jessica and Cash Warren. Guests were able to write their wishes for the couple in a special guest book. For activities, they had fortune telling, crafts and different activities. I also spotted a diaper cake among the presents she received. Yay!
Guests were given gift bags from Tastybaby that included a recyclable tote bag, organic baby food, recipes and toys.
Jessica is so excited to become a new mom. She is determined to be a good example for her new child. She says, "I drive an eco-friendly car, and I try to recycle as much as I can. I bought a house and I am doing all eco-friendly renovations. Most of my furniture is old, and I am refurbishing it." Way to go Jess!
Update: Jessica and Cash welcomed their new baby girl on June 7, 2008. They named her Honor Marie. We would like to congratulate both Jessica and Cash on their adorable new family member!
sources- momlogic.com (1) people.com (2)
New!

Comments

Have your say about what you just read! Leave me a comment in the box below.