Mod Monkey Baby Shower Cake
by Andrea M.
(Puyallup, WA)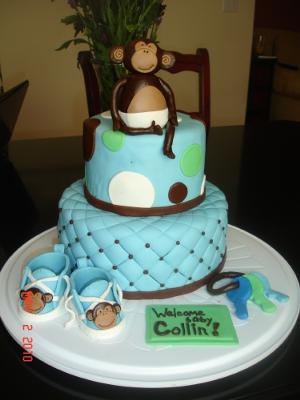 Mod Monkey Baby Shower Cake
I am in LOVE with this adorable cake sent in by Andrea. It is beautiful! The marshmallow fondant gives the whole cake a softer look (and it is quite tasty too!). The quilted look with the polka dots is a nice combination. Great job on the little monkey! He is so-o cute! Thanks so much for sharing your adorable cake with us Andrea! It is fabulous!

Andrea said:
This mod monkey cake was a chocolate cake with chocolate buttercream and fondant. All accents are also made using fondant.

A few days before I needed the cake I made the shoes, the keys and the monkey all out of fondant and let them dry. Next time I will use gum paste as it dries harder. The bottom cake is a 10 inch round cake with 4 layers and 3 layers of chocolate buttercream between.

I crumb-coated it with chocolate buttercream and then covered in light blue marshmallow fondant that I had prepared ahead of time. I repeated these steps for the top 6 inch tier. I placed 3 supporting hidden pillars evenly space in the bottom cake then placed the 6 inch on top of the 10 inch cake.

Using a quilting wheel, I created diagonal lines about an inch apart on the bottom tier and repeated going the opposite direction to create a quilted look. Next time, I think it would be easier to use an artist's triangle to keep the lines all going at the same angle. It was hard to eyeball it. I then rolled tiny balls of chocolate marshmallow fondant and placed them where the lines met on the "quilted" cake using edible glue. Next time, will be more time efficient to pipe it on.

I then rolled out and cut circles of different sizes and randomly placed them on the top 6 inch tier followed by a chocolate fondant "ribbon" around the base of each tier. I placed the accents around the cake on the cake board. I had to transport it without the monkey on top and placed it when I took it out of the cake carrier. It just wouldn't fit with it on top.
Return To Baby Shower Ideas Home