Ever Imagine Making Money From Home?
This is the story of how I did it...
Hi there. This page was written because of all of the emails I've received over the years asking how I started my own website. So if you are interested in how I got started, how I make money with this website and if it can work for you, keep reading.
Like I said on my about me page, I was lucky to land a good paying job and pay off all of our debt (except the mortgage) to become a stay at home mom after having my first child.
I wish I could say we lived Happily Ever After at that point. But we struggled on one income.
When my husband decided to go back to school, I found myself in the same situation as before. Money was tight, to the point that we even moved out of state and rented out our house for a little while so he could get more stable hours, all to keep me at home. There were times that I thought the easiest solution was for me to just go back to work, but with the pregnancy of our second child I knew this was not an option for us.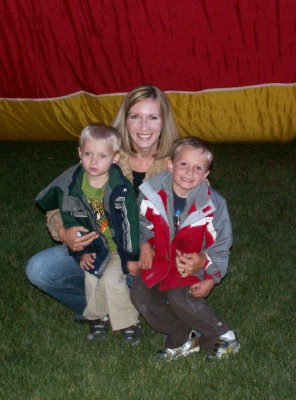 Starting a Website
I started looking for something I could do from home. I sold kids clothing on eBay for a while, but I was ending up making pennies on the hour for the amount of time I was putting into it. So I kept looking.
I've found through my research of a company with webmaster tools called Site Build It. They cater to people who have no prior experience building websites. They provide all the tools for success including their action guide, web design templates, and search engine ranking help. But more importantly, they give people EVERYTHING they need to succeed.
So, using Site Build It I started this website back in 2006.
You might think that starting your own website is only for the technical, boy I did! But for me...it was a perfect fit.
How do I make money with my website?
One of the big questions I get from my visitors is about whether they can make a living from the baby shower crafts they learn how to make on the website. They too are looking for a way to make extra money on the side from their crafts or if they can work from home full time.
I added this section to help those who would like to know more about what I do. I am what you would call an info-publisher. I write about a subject I love and make money from placing relevant ads on the pages I write. The ads come from programs like Google AdSense and Infolinks, and while I don't get to choose the ads they place on my site, they are usually pretty relevant to the subject I am discussing on the page. When a visitor clicks on the ad, I get paid a commission from the program. What I love about this kind of business model is that I am no longer worrying about shipping and carrying inventory to sell. I don't worry about keeping business hours or answering the phone. I am free to work when and where I want to, and still get to spend time with my kids. There are lots of other ways to make money online; this is just one of the ways I choose to make income with my site.
My website is also in the top 1% of the web, which means out of all the millions of websites out there, I am in the top 1% that gets the most traffic.
Pretty cool huh?
A Cool Success Story
One of my favorite success stories is of Elad from coolest-kid-birthday-parties.com. He built his website and was making $2000 within six months based on his hobby.
What Do You Enjoy Doing?
Do you have a hobby or passion you could write about? You should give it a try when you get some time. Just choose a subject that you would enjoy writing about.
It could be something as simple as gardening, scrapbooking, chocolate recipes, or advice on raising children. Perhaps your area of interest would make a good information site!
The best part of SBI is that it's completely risk free. SiteSell.com will give you a FULL refund if it's not for you.
So, if you think you are ready to make money from home, give SBI a try when you get a moment. Your kids will thank you!
Return to Baby Shower Ideas Home
New!

Comments

Have your say about what you just read! Leave me a comment in the box below.