Nicole Richie's Wizard of Oz Baby Shower
Want some trendy celebrity baby shower ideas? Nicole Richie's baby shower was full of them!
Her baby shower was held at a Beverly Hills Hotel and was attended by nearly 100 celebrity guests.
It was hosted by her sister Sophia, mother Brenda and friends Paris Hilton, and Marsha Gordon. It was also perfect blend of a charity baby shower and book shower.
The main theme of the event was The Wizard of Oz, and the main phrase that There's No Place Like Home was used throughout the decor.
As mentioned above, this celebration was also a charity and book baby shower. This is something that most people have a hard time wording on the invitation without it sounding a little offensive. I think the hostesses did a wonderful job wording the invites.
First, they sent out save the date emails followed later by the invitations.
They asked that all gifts be donated to their new children's foundation for underprivileged mothers. Guests brought strollers, teddy bears, car seats, and more to be donated.
Nicole Richie's Invitations
On the invitation it said:
We would love for you to bring a book to start a library for Baby Madden! In lieu of any other gift, we would be thrilled if you could make a donation to the Richie-Madden Children's Foundation.
Nicole and Joel are launching the foundation in honor of their child to bring meaningful opportunities to children around the world.
Nicole Richie Baby Shower Decorations
An Wizard of Oz Theme
So how does a celebrity decorate for a star studded baby party? With a professional event planner and lots of help. Luckily, we've got some great details on the decorations for those of you who would like a similar party.
They had a yellow brick road leading into the party room with a big blue sign that said "Lions and Tigers and Babies, Oh My!
Throughout the room were life size replicas of the characters from the Wizard of Oz movie.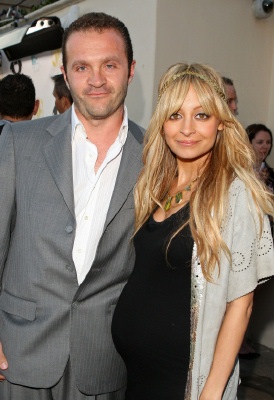 The tables were covered with blue checkered gingham tablecloths. They had custom cookies at each table setting that had to do with the characters of the movie. The napkin rings had miniature red ruby slippers on them.
The table centerpieces were really cute! They had picnic baskets with a stuffed Toto dog and red roses decorating them. Next to them were a pair of ruby slippers and a colorful mini hot air balloon was hung over the basket.
They even had a table dedicated to Munchkin land. They had a cute Munchkin Land sign and a very tempting candy buffet for the guests to enjoy.
The main centerpiece was a huge Wizard of Oz cake with ruby slippers on it. On the front it said, "There's no place like having a baby at home".
They also had a section of the room set aside with pictures of both Joel and Nicole as babies and a live band that played songs from the movie.
Not only were the gifts donated to the foundation, but Joel and Nicole ended up throwing a baby shower of their own for 100 women at the Los Angeles Free Clinic.
sources-coutoureinthecity.com, people.com, jensjuice.com
New!

Comments

Have your say about what you just read! Leave me a comment in the box below.