How to Make Napkin Diaper Nut Cups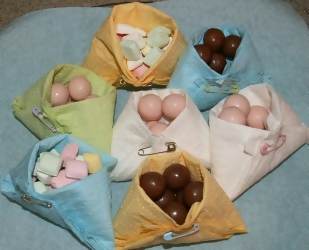 Create fun diaper napkin nut cups to dress up your food table or give to your guests as a favor for your upcoming baby shower. These cute napkin diapers are inexpensive and easy to make and will add a fun and creative touch to the shower.
To Make Your Napkin Diaper Cups, You Will Need:
Napkins- In the colors to match your party theme.
Small safety pins
Food filler items such as nuts, pretzels, mints, whoppers, trail mix, etc.
How to Create the Baby Nut Cups
To begin, start with a napkin sitting in front of you.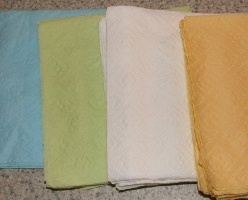 Fold from one point to down to the other so the napkin looks like a triangle. Do not worry if it does not match up perfectly. Just try to get it somewhat close.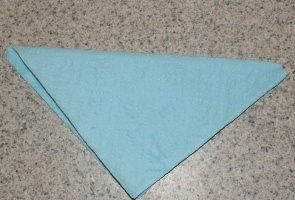 Fold both side points into the middle and hold in place with your fingers.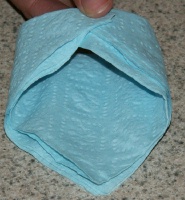 Fold the bottom point up over the two side points and attach everything together using the safety pin. You will want to make sure there is not a big gap in the bottom corners so it will hold your snacks inside.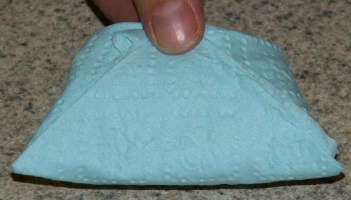 Open the middle of the napkin diaper you just made and push along the inside edges a little to make sure it is sealed.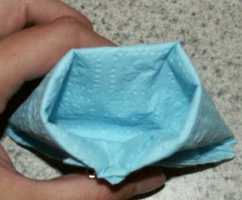 Fill your napkin diaper with your food items. This picture has whoppers in it. The picture at the very top has whoppers, mints and the new pink whoppers (strawberry milkshake flavor - yummy!) in the napkin diapers.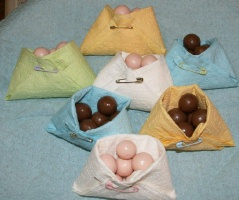 What are you going to fill your baby shower diaper cups with?
Here are some more ideas for fillings:
Popcorn, jelly beans, glazed or candied nuts such as walnuts almonds and pecans, trail mix, party mix, muddy buddies, granola, hard caramel popcorn, chips, pretzels, cookies, chocolate covered Oreos, and candy.
Some additional decorating ideas for your napkin cups:
Use pastel safety pins to give it a fun baby look.
Place in a tulle circle or treat bag to dress it up and keep the food inside each diaper as a baby shower favor for your guests.
Display in a basket or food tier to add a fun touch for your guests.
Place around the room as a decoration and as snacks for the guests to enjoy during the party.
Related Pages:
Diaper Baby Shower Theme Ideas
New!

Comments

Have your say about what you just read! Leave me a comment in the box below.